By Avalyn Hunter
To sire a national Derby winner in the first crop is always a notable feat for a young stallion. Getting a Derby winner in each of the first two crops is still more impressive but getting that second Derby winner before the second crop has even turned 3?
In what appears to be an unprecedented feat, Street Cry has done exactly that. His first Derby winner, of course, is 2007 Kentucky Derby Presented by Yum! Brands (gr. I) winner Street Sense, a member of his 2004 crop. His second, Tomcito, is a member of the 2005 crop and so a 2-year-old by the Northern Hemisphere calendar. But by the South American racing calendar, Tomcito is a 3-year-old of the 2004/05 crop, and on November 17, the colt moved to the head of this year's Peruvian-raced 3-year-olds with a three-and-one-half length victory in the 2,400-meter Clasico Derby Nacional (Peruvian Derby, Per-I).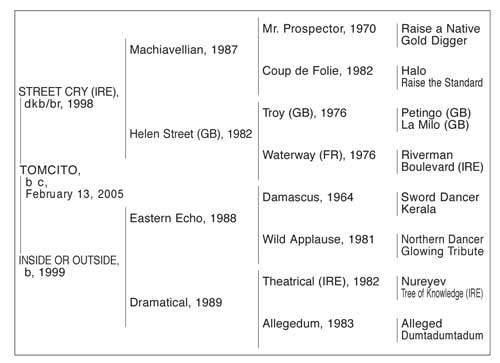 Bred in Kentucky by Chesapeake Farm and Darley, Tomcito was foaled on February 13, 2005. As Thoroughbreds in most South American countries have their official birthday on July 1, Tomcito is as much as seven months younger than his official age-mates in the Southern Hemisphere. But what he lacks in age, he clearly makes up in class; not only has he won the Derby for owner Stud Jet Set, but he has a second and a first in the previous two Peruvian Classics (the Polla de Potrillos–Roberto Alvarez Calderon and the Clasico Ricardo Ortiz de Zevallos, respectively – both Peruvian group I races).
While the Peruvian Derby may not quite be the equivalent of the Kentucky Derby, Tomcito's victory is still impressive and one cannot necessarily conclude that he has simply victimized substandard competition. Although Peru annually breeds only about 500 Thoroughbred foals, the best Peruvian-breds have historically held their own in international competition in South America. Further, at least two top Peruvian race mares have proved the worth of their blood in the Northern Hemisphere: Pamplona, dam of 1976 Derby Stakes (Eng-I) winner Empery, and La Chaposa, dam of grade I winners You and I and Chaposa Springs.
Tomcito's feat of capturing a 2,400-meter (about 1 1/2 miles) group I race as a mere 2-year-old by the standards of his country of origin may be unprecedented, but it is not out of line with his pedigree, which is stocked with stamina sources aplenty. His dam, Inside Or Outside, is an unraced half-sister to 2001 Atto Mile Stakes (Can-I) winner Numerous Times, a connection that would ordinarily suggest speed as her likely potential. But her sire, Eastern Echo, was bred for classic distances. Although injury prevented him from racing after a victory in the 1990 Futurity Stakes (gr. I), the son of Damascus was produced from 1984 Diana Handicap (gr. IIT) winner Wild Applause, a member of the great *La Troienne family, and Eastern Echo's first four damsires are Northern Dancer, Graustark, Hail to Reason, and War Admiral, all names familiar in pedigrees of winners of the world's great classic races.
Dramatical, the dam of Inside Or Outside, failed to win in two starts in Ireland but is a daughter of 1987 U.S. champion turf male Theatrical, by far the best staying son of the great sire Nureyev and a fine stallion in his own right. Her dam, Allegedum, is a stakes-winning daughter of an even better stamina source in Alleged, twice winner of the Prix de l'Arc de Triomphe (Fr-I) and a notable sire of staying turf runners.
A half-sister to 1985 Canadian Turf Handicap (gr. IIT) winner Nepal (by Raja Baba) and to 1985 Barbara Fritchie Handicap (gr. III) winner Dumdedumdedum (by Star de Naskra), Allegedum is out of the stakes-winning *Grey Dawn II mare Dumtadumtadum. The dam of Dumtadumtadum, Miss Swoon (by Swoon's Son–Blue Norka), never raced but is a full sister to a multiple stakes winner in Swoonaway and a half sister to War Censor (by *Gallant Man), whose 23 wins from 82 starts included 11 victories in good stakes events.
This female line traces back to 1930 Alabama Stakes winner Escutcheon, whose daughter Bourtai (a full sister to Miss Swoon's granddam Akron Gal) proved one of the great foundation mares of the mid-20th century. Bourtai, in fact, figured in this year's Breeders' Cup World Championships picture as the ancestress of probable U.S. champion juvenile male War Pass, winner of the Bessemer Trust Breeders' Cup Juvenile (gr. I).
Tomcito fits the pattern of most of Street Cry's best runners, that of returning Northern Dancer through the dam. In his case, he carries a double dose of Northern Dancer on the distaff side of his pedigree via Wild Applause and Theatrical, a daughter and grandson, respectively, of the "Little Giant of Windfields." In addition to the Natalma/Almahmoud linebreeding that was so successful in Street Cry's sire Machiavellian and in many of Machiavellian's best progeny, the mating that produced Tomcito also duplicated another top strain found in Machiavellian's pedigree: Hoist the Flag, the sire of both Machiavellian's granddam Raise the Standard and Alleged.
Could Tomcito win the 2008 Kentucky Derby? That is probably wishful thinking. Even assuming Stud Jet Set's interest in the project, the colt would have to acclimate to Northern Hemisphere conditions and return to peak fitness by May, no easy task. Still, given that Tomcito has already accomplished the seemingly impossible, perhaps the impossible dream is not so impossible after all.