by Alan Porter
Following the Breeders' Cup World Championships each year, a major focus for race fans is the game of "spot the classic candidate," with bragging rights for the earliest identification of a future star. Colonel John was added to several lists when the youngster scored an impressive victory in a seven-furlong maiden at the Oak Tree-at-Santa Anita meet, and in all probability he has now moved several places up those lists following a decisive win in the Real Quiet Stakes at Hollywood Park, an effort which may have earned him a tilt at the Hollywood Futurity (gr. I).
Colonel John is a member of the third crop sired by two-time Breeders' Cup Classic (gr. I) winner Tiznow . By the California-based Relaunch stallion Cee's Tizzy, out of a mare by Seattle Song, Tiznow didn't have the most fashionable of pedigrees, and his first two years with runners were marked by a mixed start. He's now putting together a rather nice resume, however, and looks to be in demand at his 2008 fee of $30,000 at WinStar Farm in Versailles, Ky.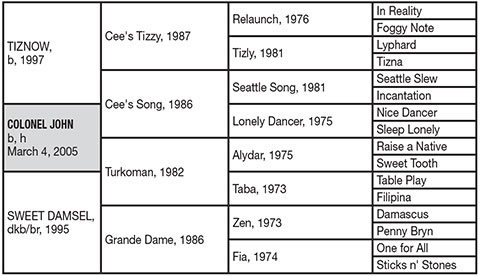 Tiznow did actually upset the pedigree handicappers with his freshman crop because, despite having not starting at 2, he ended 2005 as the leading freshman sire. This was due to almost entirely to his daughter Folklore, who captured the Adirondack Stakes (gr. II), Matron Stakes (gr. I) and Alberto VO5 Breeders' Cup Juvenile Fillies (gr. I) to gain the crown as champion filly of her generation. Unfortunately, Folklore failed to add to her honors at 3, and Tiznow's first crop produced only one other stakes winner, the restricted scorer Lauren's Tizzy. Thus, for much of 2006, little was heard from Tiznow, but help was close at hand in the shape of a very good second crop. The first of these to make his name was Tiz Wonderful, who took the Iroquois Stakes (gr. III) and Kentucky Jockey Club Stakes (gr. II) – edging out Any Given Saturday – at 2, but whose subsequent career was first sidelined, and then ended, by injury. Folklore was out of a Storm Cat mare, and Tiz Wonderful out of a mare by Storm Cat's son Hennessy, but fears that Tiznow might be a "one cross wonder" have now been firmly set aside. With Tiz Wonderful on the sidelines, the banner was picked up very effectively by 2007 second-crop graded winners Tough Tiz's Sis (Lady's Secret Stakes (gr. I) and Hollywood Oaks (gr. II)), Bear Now (Fitz Dixon Cotillion Handicap (gr. II) and Selene Stakes (gr. III)), and Slew's Tizzy (Coolmore Lexington Stakes (gr. II) and Lone Star Derby (gr. III)). In addition to Colonel John, Tiznow's third crop also includes the Lane's End Breeders' Futurity (gr. I) runner-up, Slew's Tiznow.
Unlike many horses being cited as 2008 classic prospects, there is little doubt about Colonel John getting the Kentucky Derby (gr. I) distance. In addition to being a son of a horse whose two finest performances came at 10 furlongs, he is out of Sweet Damsel, a mare by champion Turkoman, a two-time grade I winner at 10 furlongs, and runner-up in the Jockey Club Gold Cup (gr. II) in the days when that event was contested at 12 furlongs. Sweet Damsel herself was a useful performer, winning five times and finishing fourth in the Imp Stakes at Thistledown. She is also dam of the Dogwood Breeders' Cup Stakes (gr. III) third Caroline's Gold (a daughter of Touch Gold).
Colonel John's granddam, Grande Dame, was an Illinois-bred daughter of local stallion standout Zen (by Damascus), and captured the listed Illinois Fillies Stallion Stakes. She is related to a recent classic aspirant, as her half sister Bodhavista is dam of Imperialism, who took third to Smarty Jones and Lion Heartin the 2004 Kentucky Derby and also won the San Rafael Stakes, San Vicente Stakes, and Pat O'Brien Breeders' Cup Handicap (all gr. II). Colonel John's third dam, Fia, (by champion turf horse One For All) never won a stakes, but she was third in the Coaching Club American Oaks (gr. I), beaten only two lengths by champion Our Mims. Rather unusually for a top-class horse, Fia was foaled in Indiana, and the next two dams were born in Tennessee, states not generally associated with taproot families of classic candidates. That said, the immediate female line has produced some other runners of note. Fia's third dam, Tweeny, was also granddam of the Louisiana Derby winner Whirling Bat (one of the few good horses sired by Triple Crown winner Whirlaway). She was also half sister to the Sanford Stakes and Junior Champion Stakes winner First Minstrel, and her dam, Untidy, is also ancestress of grass star London Company and Breeders' Cup Turf (gr. I) heroine Miss Alleged.
Colonel John is one of only three stakes winners produced on a Relaunch/Alydar cross; in this case, however, the key is probably the combination of Seattle Slew (grandsire of the dam of Tiznow) and Turkoman on the inside of the pedigree. Another third-crop sire, Point Given, has had similar results. Point Given's sire, Thunder Gulch, and grandsire, Gulch, have both been generally disappointing when crossed over Seattle Slew line mares. The story is quite different for Point Given, who is out of a Turkoman mare. So far, Point Given has stakes winner Naseem, out of a mare by Seattle Slew; grade I winner Point Ashley, out of a mare by Seattle Slew's son Slew o'Gold; and Canadian Triple Tiara heroine Sealy Hill, out of a mare by Seattle Slew's grandson, Boston Harbor−as well as graded stakes winner Point Determined, whose second dam is by a son of Seattle Slew. The general Seattle Slew/Turkoman cross has far outperformed opportunity, and looking at the reverse, Man From Wicklow, one of only three grade I winners sired by Turkoman, is out of a mare by a son of Seattle Slew.
Comparing the pedigrees of Seattle Slew and Turkoman, it quickly becomes evident why the pair should have such an affinity. Seattle Slew is by a son of a stallion bred on a Nasrullah/Polynesian cross, out of a mare by Poker (by Round Table out of a Nasrullah mare), where Turkoman is by a stallion bred on a Polynesian/Nasrullah cross, out of a mare by Table Play (by Round Table out of a Nasrullah mare). For good measure, Turkoman is heavily linebred to Teddy through sons, where Seattle Slew's dam is inbred to La Troienne, who is the most important daughter of Teddy.