by Avalyn Hunter
To judge by his second-best performance in the Nashua Stakes (gr. III) against Etched in October, Four Roses Thoroughbreds' colt Anak Nakal does not yet rank among the top three or four colts of the 2005 North American crop. But his win in the Kentucky Jockey Club Stakes (gr. II) November 24 indicates that Four Roses does have a promising young racehorse with plenty of potential for improvement. That's a nice thing to have when looking forward to the 2008 Triple Crown trail.
Bred by Buckram Oak Farm, Anak Nakal was the second graded stakes winner of the long Thanksgiving weekend for 1999 champion older male Victory Gallop, the other being Tom Crouch's homebred filly Kettleoneup, who scored in the Falls City Handicap (gr. II) on Thanksgiving Day. The two have helped to cap what has been a breakout year for the WinStar stallion, whose only graded or group stakes winner prior to 2007 was his first-crop filly Victory U. S. A., winner of the 2004 Stonerside Beaumont Stakes (gr. II) as a 3-year-old. Victory Gallop is represented by six graded/group stakes winners of 2007: the other four are Eishin Dover, winner of the Keio Hai Spring Cup (Jpn-II); Eishin Lombard, winner of the Tokyo Chunichi Sports Hai Musashino Stakes (Jpn-III); Sir Gallovic, winner of the British Columbia Premiers Handicap (Can-III); and Texas Fever, winner of the Kentucky Cup Juvenile Stakes (gr. III).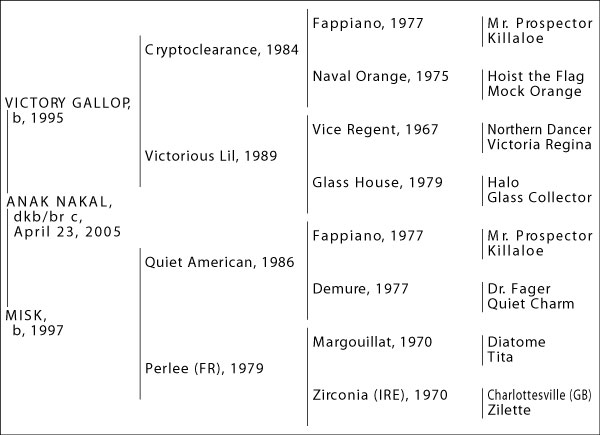 Although Eishin Dover has scored his biggest wins in the range of 1,200-1,400 meters (about six to seven furlongs), most of Victory Gallop's progeny like a bit more distance – hardly surprising considering that Victory Gallop won the 1998 Belmont Stakes (gr. I) as well as running second to Real Quiet in the first two legs of the Triple Crown. In fact, Victory Gallop's profile in this regard is not dissimilar to that of his own sire, Cryptoclearance, himself a Belmont runner-up. Victory Gallop's progeny have an average winning distance of 7.51 furlongs compared to 7.54 furlongs for the sons and daughters of Cryptoclearance. By way of comparison, the popular market sires Storm Cat and Unbridled's Song have average winning distances of 7.08 and 7.21 furlongs, respectively, for their progeny.
Any stamina transmitted to Anak Nakal by Victory Gallop is supplemented nicely by the distaff side of his pedigree. To be sure, his dam, Misk, looks more the part of a miler; not only did she have an average winning distance of 7.66 furlongs herself, but she is a half-sister to the Lyphard mare Pearl Bracelet, winner of the 1989 Dubai Poule d'Essai des Pouliches (Fr-I) over 1,600 meters (the so-called "metric mile"). The longest distance Misk ever tried was nine furlongs, and her best finish at the distance was a badly-beaten third.
Misk, however, is by Quiet American, who actually compares favorably to Victory Gallop and Cryptoclearance as a source of stamina despite being seen as a talented miler during his own racing days. Winner of the 1990 NYRA Mile Handicap (gr. I), Quiet American has an average winning distance of 7.57 furlongs for his progeny, which include the aforementioned Real Quiet and 1997 champion older female Hidden Lake.
Quiet American also has a solid reputation as a broodmare sire. He first captured headlines in that area when his maternal grandson Saint Liam (out of Quiet Dance) won the 2005 Breeders' Cup Classic – Powered by Dodge (gr. I) and Horse of the Year honors along with it. The following year, Quiet American's daughter Cara Rafaela earned Broodmare of the Year honors thanks to her son Bernardini, 2006 champion 3-year-old male. So far, Quiet American's daughters have produced 24 stakes winners (15 graded) from 364 foals.
Misk was produced from the French bred mare Perlee, who scored her biggest win in the 1982 Prix de Minerve (Fr-III) over 2,400 meters. She was sired by Margouillat, who won the 1973 Prix Hocquart (Fr-II) over 2,400 meters and was a close third to the brilliant Allez France in the Prix de l'Arc de Triomphe (Fr-I) the following year at the same distance. Margouillat was sired by the Washington D. C., International (gr. I) winner Diatome, whose sire was French-bred Sicambre, winner of the 1951 Prix du Jockey Club (French Derby) and Grand Prix de Paris. Margouillat's was out of a mare by 1958 Kentucky Derby and Preakness Stakes winner Tim Tam. The stout French strain in Misk's pedigree is continued via Perlee's Irish dam Zirconia, whose English-bred sire Charlottesville (by French-bred Prince Chevalier) duplicated Sicambre's double in the 1960 Prix du Jockey Club and Grand Prix de Paris.
Anak Nakal is the second graded stakes winner to sport inbreeding to Fappiano, the sire of both Cryptoclearance and Quiet American. The first was Symphony Sid (by Fappiano's son Unbridled out of Happy Tune, an A.P. Indy mare out of Fappiano's daughter Hum Along), winner of the 2006 Carleton F. Burke Handicap (gr. IIIT). Given that such inbreeding has been tried very little as yet, as Fappiano's great-grandsons and great-granddaughters are only just now retiring to the paddocks, the results are not unpromising. Anak Nakal is also inbred 5 x 5 x 4 to Dr. Fager and 5 x 5 to Nearctic.
There is not a great deal about Anak Nakal's pedigree that says precocity, so the fact that he has already shown good form as a juvenile is quite promising. Should he live up to both the promise and the stamina inherent in his breeding, he will be one to watch in the spring of 2008.