by Tom LaMarra and Linda Dougherty
Ask people their views on the future of New Jersey racing, and you might get chuckles, rolling eyes, shaking heads, and perhaps groans.
The Breeders' Cup World Championships in late October put venerable Monmouth Park and its $30 million in renovations front and center while plenty more went on back stage. Some believe the future of an industry is at stake.
New Jersey Thoroughbred racing doesn't need to apologize for itself. At one point, it had four of the finest racing plants in the country, and a circuit in the top three along with California and New York. The product and business levels provided evidence.
But circumstances conspired to eliminate the circuit. Garden State Park has been redeveloped, Atlantic City Race Course is crumbling, and Meadowlands, which developed its reputation as the premier harness track in the country, reluctantly hosts a Thoroughbred meet. That leaves Monmouth to race the bulk of the dates.
Barring an extension of a purse subsidy provided by Atlantic City casinos, New Jersey racetracks actually will run more dates in 2008, but for a lot less money. The four-year purse subsidy, which helped boost daily purses to about $300,000 at Monmouth this year, has expired.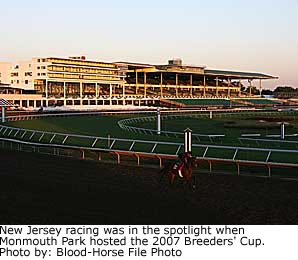 Despite Gov. Jon Corzine's pledge to help the state's racing industry, a deal to renew it hadn't been struck as of early December. The subsidy was provided by the casinos to keep New Jersey's purses competitive with neighboring states that have expanded gaming; in exchange, racing officials agreed not to pursue video lottery terminals at racetracks.
"The governor made it clear VLTs or slot machines aren't going to happen at this time," said Dennis Drazin, a New Jersey owner/breeder president of the New Jersey Thoroughbred Horsemen's Association. "Now we're working very hard on a purse supplement. I'm confident we're going to put it together, but it's premature to comment on dollars."
Under a requirement in the state's off-track betting and account wagering legislation, Monmouth and Meadowlands, operated by the New Jersey Sports and Exposition Authority, must race a combined 141 days in 2008, a total that was reduced to 120 during the four-year subsidy period. That amount is 21 days more than raced in 2007, and without a purse supplement, purse levels may fall to $200,000-$180,000 per day, one of the lowest averages in the Mid-Atlantic region.
In mid-October, Corzine met with representatives of the Thoroughbred and Standardbred industries and vowed to have a financial package in place by the end of the year, stating he would "fight like crazy to keep the 'green' in the Garden State." At the time, Corzine said he was convinced the state "can deliver a package that will keep the industry's purses sustainable for at least three more years."
Meanwhile, the New Jersey Racing Commission had to approve racing dates for 2008, and did so Nov. 28. The action wasn't without controversy.
Monmouth was awarded a 99-day meet, from May 9-Sept. 28. In years past, Monmouth has run two weekends in May before officially opening the season on Memorial Day weekend. Next year, Fridays will be added to the schedule in May.
Meadowlands will run 42 Thoroughbred dates, on a Monday-through-Saturday schedule, from Oct. 1 -Nov. 15. Meadowlands in the past has offered racing five days a week.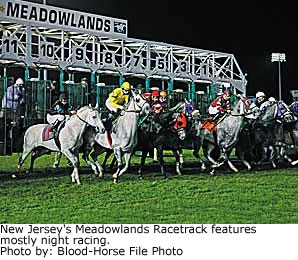 Atlantic City, owned by Greenwood Racing (owner of Philadelphia Park Casino & Racetrack in Pennsylvania), applied for a six-day meet: April 23-25 and April 30-May 2.
While the commission granted Atlantic City's request, it required the South Jersey track to run at least 20 days in 2009. Atlantic City has been running four-day meets, all on turf and without exporting its simulcast signal, strictly to keep its license to offer year-round simulcasts.
Recently, plans were in the works to tear down Atlantic City's grandstand and build a smaller structure that would serve as both a live racing and simulcast venue. Hal Handel, who recently left Greenwood to take a post with the New York Racing Association, was overseeing that project; officials at Greenwood have not commented publicly on the status of Atlantic City since Handel's departure.
With the year-round schedule of about 300 racing dates in New Jersey long gone, what's left is a fight over whether there should be 100 days or 140 days of live Thoroughbred racing each year.
"How many days do you need to have a viable racing industry in the state?" trainer John Forbes stated during a recent interview. "This is the debate in New Jersey."
Forbes has been based in New Jersey since 1977, the year the original Garden State was destroyed by fire. He believes the industry needs an early May-through-late-November schedule to maintain viability.
Forbes said the magic number for average daily purse distribution in New Jersey is $400,000, or about $56 million a year for 140 days. Total purses currently run about $38 million a year, less than the $39 million paid in 1990 when all four tracks were operating, Forbes said.
"The elephant in the room is the casinos are killing us, and legislators are scared of the casinos," Forbes said. "The Breeders' Cup (at Monmouth) may convince legislators that, even though they don't want to give us slots, they have to go to the casinos and say, 'Pick your poison. Either give racetracks the ability to have slots or give them money.' "
Forbes and others believe hosting the World Championships did Monmouth and the state's racing industry a lot of good even though weather conditions were hardly ideal.
"The $30 million was well spent," said Drazin, also a New Jersey Thoroughbred owner and breeder. "The track needed the money, and (Breeders' Cup) gave legislators a reason to spend it."
"It already did what Breeders' Cup said was the goal--it got real money invested in a racetrack," said Bruce Garland, a former NJSEA executive and currently a consultant. "That's the first real major benefit. It's so significant an event that it becomes part of a tracks' resume.
"Breeders' Cup will be a focal point to push for things in the future. I think it has fulfilled all these goals. The fact is, I think it gives everybody a stepping-off point for the equivalent of the next four-year plan. It's the ultimate you can have for this sport."
"I guess it will draw attention to the racing game," said Gerald Sleeter, who has a Thoroughbred breeding operation in South Jersey and whose son, Kevin, is a New Jersey-based trainer. "We need all the help we can get. If the purse structure stays like it is or gets a little better, we'll be fine."
Purses and dates aside, there remains a debate over where Thoroughbred racing should be held in New Jersey. Meadowlands has a strong supporter in Sen. Richard Codey, who served as governor before Corzine took office; Atlantic City, despite its excellent turf course, isn't considered viable unless it's rebuilt or renovated and its meet expanded.
With a longer meet, Atlantic City would be eligible for purse subsidies should they become available. But its rundown barn area no longer can be used; all horses that race there ship in.
The short spring meets have drawn daily crowds in the thousands despite no advertising. There seems to be enough interest from the public locally in limited live racing at Atlantic City. Horsemen, however, may take another view.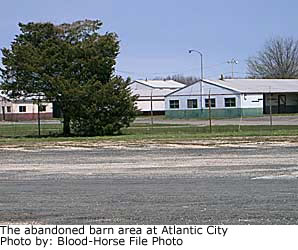 "Why fix up a racetrack that's absolutely demolished to have nobody show up and nobody bet, and have horsemen ship there at great expense?" Forbes said. "Why not take (Monmouth), given Meadowlands is useless as a Thoroughbred facility, and take a terrific facility with something left that matters?
"You can't look at Atlantic City and think anything but, 'My God, did a bomb just go off here?' We need to put the money and emphasis on Monmouth. We outdraw the country pretty much all summer until Saratoga opens. We outdraw Belmont Park. Hopefully, the industry will get a look at Monmouth and realize it's a real special place--the best-kept secret in racing."
Forbes advocates a roughly 140-day season all at Monmouth. He said 140 days would give New Jersey breeders more opportunities to race their horses; with a 100 days or less at Monmouth, there would be too many state-bred races each day.
"Jersey breeders used to have 300 days of racing a year, and that gave them enough opportunities," Forbes said. "If we only run 100 days, you might need four or five Jersey-bred races per day. A short meet at Monmouth is like asking for what would amount to mostly a state-bred product, and that would implode."