by Avalyn Hunter
Matching North American and South American bloodlines has always been a tricky business. Different racing conditions have helped to develop distinct Thoroughbred populations that do not always blend smoothly.
One horse in whom north and south have met successfully is Argentine-bred Latency, champion miler and champion older male in Argentina in 2006 and the impressive winner of the prestigious Gran Premio Carlos Pellegrini (Arg-I) Dec. 15. Now 6, Latency has won 10 of 22 starts and has won group I races at distances from 1,600 meters to 2,400 meters (about 8 to 12 furlongs).
Latency is by Slew Gin Fizz, a 1991 son of Relaunch and Slew Princess, by Seattle Slew out of Mr. Prospector's stakes-winning half-sister Lillian Russell (by Prince John). Slew Gin Fizz is a handsome, well-balanced gray whose physique is marred by his being back at the knee. He showed talent, but was not the soundest of colts, and his win in the 1994 Sheridan Stakes (gr. III) was on the disqualification of Dynamic Asset. Still, he also placed in four other graded stakes, and his race record and pedigree were enough to earn him a chance at stud in Argentina.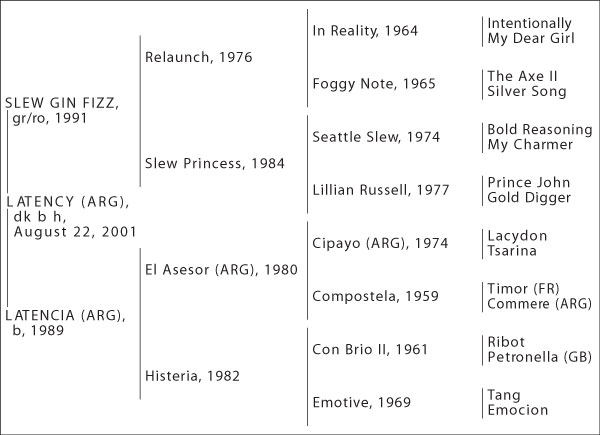 Slew Gin Fizz stood his first season in 1995, and the 39 foals of his first crop yielded six stakes winners, headlined by Argentine champion miler Cafetin and Gran Premio Carlos Pellegrini winner Guarachero. Both were out of mares by the excellent Argentine sire Cipayo, whose daughters and granddaughters have produced many of Slew Gin Fizz's best offspring.
After his auspicious first season, Slew Gin Fizz sank back into inconsistency. He stood the 2001-2005 Northern Hemisphere seasons at Ocala Stud in Florida but failed to make an impression with his Northern Hemisphere foals and returned to Argentina for good following the 2005 Northern Hemisphere breeding season. A review of his stud record suggests that soundness issues have been a major problem for his progeny; only 59% of his foals have even managed to get to the races, and too many last only a few starts before ending their careers. When they do stay sound enough to run and win, they often show some ability – Slew Gin Fizz has three champions and 11 other graded/group stakes winners among his 25 stakes winners but only 38% of his 731 foals of racing age have become winners. (Statistics cited are for combined Northern and Southern Hemisphere foal crops and race records.)
Latency has obviously been an exception to the rule, and part of his happy combination of speed and soundness is attributable to a quality female family. His dam, the Argentine mare Latencia, is by the Cipayo horse El Asesor, winner of the classic Polla de Potrillos (Argentine Two Thousand Guineas, Arg-I) in 1983. Latencia was a good race mare in her own right, winning three group II races and one group III event in Argentina. Latency is her only stakes-winning foal, but she is a full sister to the Argentine stakes winner Sinapsis, and a half-sister to another stakes winner in Cronaxia, by Good Bloke, dam of Argentine Filly Triple Crown winner Emotion Parade and of Argentine group I winner Empenosa Fitz.
Latencia and her siblings were produced from Histeria, a winning daughter of the successful Ribot horse Con Brio II. A full sister to Argentine group I winner Emociones, Histeria was produced from the unraced Tang mare Emotive, a half-sister to 1967 Brazilian champion 3-year-old filly Embuche, by the French-bred Le Haar, and to Embuia, by Sunny Boy, dam of multiple Brazilian group I winner Emerald Hill. The dam of Emotive, Emocion, by the Italian sire Orsenigo, out of Empenosa, by English-bred Full Sail, was rated the champion 3-year-old filly in Brazil in 1958.
This family, which came to South America through the English mare Ante Diem, an 1878 daughter of Musket and the Young Melbourne Mare, 1859, by Young Melbourne, out of Maid of Masham, contributed much to the success of Santiago Luro's famous Haras Ojo de Agua, one of the foremost Argentine stud farms of all time. The Ante Diem family has accounted for at least 19 Argentine Classic winners, among them 1931 Triple Crown winner Mineral, as well as many other winners of top races in both Argentina and Brazil.
As might be expected, Latency is a complete outcross within five generations. He has no duplications closer than a 6 x 7 cross to Blenheim II in his pedigree. While this genetic diversity may have helped contribute to his own versatility and ability, it may make it more difficult for him to reproduce himself at stud. On the other hand, his unusually low coefficient of inbreeding (0.278% through eight generations; most North American Thoroughbreds have coefficients of inbreeding between 1 and 4%) suggests the possibility that inbreeding to one of Latency's best ancestors, such as Seattle Slew or Cipayo, might help fix desirable traits without sacrificing too much genetic variety in the offspring.
Of course, since the current South American racing season extends through June 2008, Latency probably has more racing to do before he retires to stud. Nonetheless, he has already proven himself one of the best racehorses in Argentina, and he will doubtless get plenty of opportunities when the time comes for him to pass on his heritage.