by Avalyn Hunter
When Fumie Takahashi's 4-year-old colt Matsurida Gogh swept across the finish line of the Arima Kinen (JPN-I), all Japan was once again reminded of the loss of Sunday Silence. A member of the stallion's last crop, Matsurida Gogh's upset victory, his first in a group I event, placed an exclamation point on the legacy of Japan's greatest sire.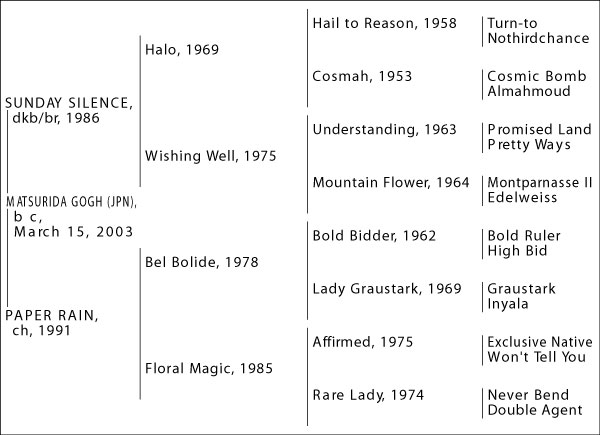 If few believed in Matsurida Gogh prior to the Arima Kinen (he started at odds of 52.30-to-1), that was also in keeping with the legend of his sire. Certainly, no one thought of Sunday Silence as a future classic winner and champion sire when he failed to meet his reserve on a bid of $17,000 at the 1987 Keeneland July sale. The colt's breeder, Oak Cliff Thoroughbreds, declined to even take the colt back, leaving consignor Arthur Hancock III with him. Then the colt wound up as a buyback for $32,000 at the California Thoroughbred Sales' 1988 sale of 2-year-olds in training.
Hancock would come to bless his good luck in failing to unload Sunday Silence. Under the care of trainer Charlie Whittingham (who purchased a half interest in the colt for $25,000), the son of two-time leading U.S. sire Halo and 1980 Gamely Handicap (gr. II) winner Wishing Well burst onto the 1989 Triple Crown scene with authoritative wins in the San Felipe Handicap (gr. II) and the Santa Anita Derby (gr. I). With the help of a muddy Churchill Downs track, Sunday Silence won the Kentucky Derby (gr. I) over heavy favorite Easy Goer, who was known to dislike off going, by two and one-half lengths, then repeated his conquest by a determined nose in the Preakness Stakes (gr. I) over a fast track.
Although Easy Goer turned the tables with a smashing eight-length victory in the Belmont Stakes (gr. I), Sunday Silence nailed down both champion 3-year-old male and Horse of the Year honors when he passed under the Breeders' Cup Classic (gr. I) finish line a neck to the good of Easy Goer's furious closing charge. The colt looked better than ever when he came out at 4, winning the Californian Stakes (gr. I), but after a close defeat behind eventual Horse of the Year Criminal Type in the Hollywood Gold Cup (gr. I), Sunday Silence damaged a ligament while in training and was forced into retirement.
Hancock later took a good deal of criticism for letting Sunday Silence go to Japan, but at the time of the colt's retirement, American breeders were showing little interest in him. Not only was the colt not the most prepossessing of individuals for all his demonstrated talent, but the distaff side of his pedigree was decidedly unfashionable. Although his sixth dam, English bred Belle Mere, was a full sister to the top stallion Beau Pere, the female family had not had much success in the Northern Hemisphere until Wishing Well came along. (In the Southern Hemisphere, Belle Mere's daughter Sugar Kandy produced the New Zealand Oaks winners Sweet Nymph and Sweet Spray and is the ancestress of a number of good horses.) Nor were the first five damsires along the female line exactly household names; Understanding, Montparnasse II, Hillary, Free France, and Figaro.
As a son of Halo, however, Sunday Silence was genetically primed to take advantage of the abundance of Northern Dancer blood in Japanese pedigrees. Like Northern Dancer, Halo is a grandson of the foundation mare Almahmoud. Further, there are genetic similarities between Royal Charger, the great-grandsire of Halo, and Nearctic, the sire of Northern Dancer, as both are by the undefeated Italian champion Nearco out of granddaughters of 1918 English Triple Crown winner Gainsborough.
Given his chance as a sire, Sunday Silence succeeded beyond anyone's wildest expectations, leading the Japanese general sire list for 13 consecutive seasons (1995-2007). Of his 1,527 Northern Hemisphere foals of racing age, 167 have won stakes (10.9%) and 25 have been named champions or divisional highweights, and as of Dec. 27, his progeny have earned the fantastic sum of $692 million. Granted, most of those earnings have come within Japan, which has the highest purses of any major racing nation, but the total is still all but unbelievable. The one thing Sunday Silence has not done is to sire a clear-cut successor, but several of his best sons, including 2004 Japanese Horse of the Year Zenno Rob Roy and 2005 and 2006 Japanese Horse of the Year Deep Impact, have yet to have progeny come to the races.
Bred by Okada Stud, Matsurida Gogh is atypical of Sunday Silence's best offspring in that he is wholly free of Northern Dancer blood. His pedigree has plenty of quality, however. His dam, the winning Bel Bolide mare Paper Rain, is a half sister to the Kikuka Sho (Japanese St. Leger, JPN-I) winner Narita Top Road and was produced from Floral Magic, a stakes-winning daughter of 1978 Triple Crown winner Affirmed. A half sister to 1998 La Brea Stakes (gr. I) winner Magical Allure (by General Meeting) and to stakes winners Write Off (by Wajima) and Devine Force (by Habitony), Floral Magic is, in turn, a daughter of the winning Never Bend mare Rare Lady, a half sister to the high-class stakes mare and multiple stakes producer Deceit (by Prince John). The female line traces back to 1948 champion handicap female Conniver, a huge 17.0 hand daughter of the great handicap champion Discovery, whose other descendants include 1984 Canadian champion juvenile filly Deceit Dancer, 1983 Coaching Club American Oaks (gr. I) winner High Schemes, 1987 Breeders' Cup Sprint (gr. I) winner Very Subtle, and 2006 Ruffian Handicap (gr. I) winner Pool Land.