by Avalyn Hunter
When Lord Charles Cornwallis made his formal surrender to Gen. George Washington at the conclusion of the Battle of Yorktown, the British military band reportedly played a tune called "The World Turn'd Upside Down." The current state of racing affairs in California doesn't rival the American Revolution for historical significance, but horseplayers on the West Coast may be singing much the same song. Since the installation of synthetic surfaces on all the major Southern California tracks, the one thing that has been predictable is unpredictability, as some horses have been running well below their previous dirt form and others have moved up — some by lengths, others by light-years.
One beneficiary is Dearest Trickski, who just eight months ago was claimed for a mere $10,000 from dirt racing at Lone Star Park. Her form had improved over Polytrack at Del Mar, where she was claimed for current owner Tom Mankiewicz for $32,000 in August. But it seems that in Cushion Track, the new surface at Hollywood Park and Santa Anita Park, the Florida-bred filly has found a surface she really likes. A winner in track record time of 1:14.56 for six and one-half furlongs at Hollywood on Nov. 18, Dearest Trickski proved that performance was no fluke when she scampered home first in the grade I La Brea Stakes on Dec. 29 at Santa Anita.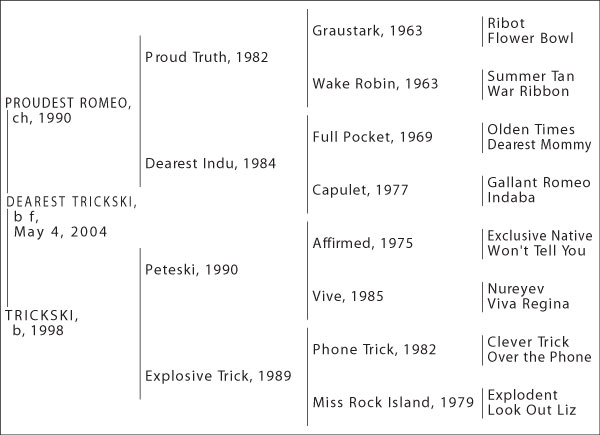 Dearest Trickski's conception is the result of the faith her breeders, Dr. Kalarikkal K. Jayaraman and Dr. Vilasini D. Jayaraman, placed in their homebred stallion Proudest Romeo. Now standing for $1,000 at Kilkerry Farm in Arkansas, Proudest Romeo won four of 21 starts and was second to eventual U.S. champion 3-year-old male Prairie Bayou in the Jim Beam Stakes (gr, II) in 1993. His career earnings totaled $205,445. To date, Proudest Romeo has sired six stakes winners. The best, other than Dearest Trickski, have been Comic Truth, winner of the 2003 Oklahoma Derby (gr. III), and Abounding Truth, winner of the 2006 Whimsical Stakes (Can-III); both were bred by Jayaraman and Jayaraman.
Proudest Romeo is by 1985 Breeders' Cup Classic (gr. I) winner Proud Truth, who sired 39 stakes winners before his death in August 2005. Sent to Haras Cerro Punta in Panama after the 1998 breeding season, Proud Truth sired at least 10 Panamanian champions and was leading sire there in 2003, 2004, and 2005. In North America, Proud Truth's best runners included 1992 Canadian champion 2-year-old male Truth of It All, multiple grade II winner Aztec Hill, and multiple grade III winners Stem the Tide and Low Tolerance.
Produced from the Full Pocket mare Dearest Indu, Proudest Romeo has an unusual pedigree in that both his sire and his broodmare sire are out of mares by Summer Tan, a name not encountered too often in modern pedigrees. A classy racehorse who had the misfortune to come along in the same year as Swaps and Nashua, Summer Tan nonetheless managed to pick up seven stakes wins, numbering the rich Garden State Stakes and the Pimlico Special among his victories. He was sired by two-time U.S. leading sire *Heliopolis, a son of the great English sire Hyperion. As Hyperion is also the sire of *Alibhai, maternal grandsire of Proud Truth's sire Graustark, Proudest Romeo is line bred 5 x 5 x 6 to Hyperion through two of Hyperion's best sire sons.
The mating of Trickski to Proudest Romeo was clearly not a random choice, for Trickski (also bred by Jayaraman and Jayaraman) is by 1993 Canadian Triple Crown winner Peteski, also the sire of Proudest Romeo's stakes-winning half-sister My Blonde Beauty. Aside from being a recombination of bloodlines already successful with one another, the mating also represents an outcross between inbred parents, for Trickski is inbred 5 x 5 x 4 to Nearctic through all three of his successful sire sons: Northern Dancer, Icecapade, and Explodent. Further back, she is also line bred to Hyperion 7 x 7 x 7 x 7 x 6 (three of those crosses via *Lady Angela, the dam of Nearctic), so the mating that produced Dearest Trickski created substantial line breeding to the great English racer and sire.
A stakes-placed half-sister to stakes winners Tricky Band (by Dixie Brass) and Tricky Storm (by Summer of Storms), Trickski is out of the winning Phone Trick mare Explosive Trick, a half-sister to listed stakes winner Beauty's Sake (by Lyphard's Ridge). Explosive Trick was produced from Explodent's stakes-winning daughter Miss Rock Island, whose dam Look Out Liz (The Axe II–Sulenan, by Tompion) is a full sister to stakes winner Swinging Lizzie, dam of grade I winners Swing Till Dawn and Lively One. Look Out Liz is also a half-sister to Sleep Lonely (by Pia Star), great-granddam of two-time Breeders' Cup Classic winner Tiznow.
Though the field she defeated may have been relatively weak for a grade I race, Dearest Trickski is one of those horses who holds out hope that even the small breeder with a modest band of mares can turn the world upside down. It takes equal parts of study, patience, persistence, and luck to beat racing's big wheels at their own game, but the victory of Dearest Trickski reminds us all that in racing, anything can happen — and often does.