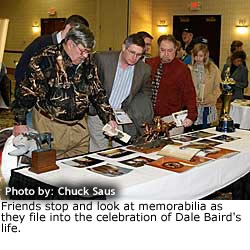 The life and accomplishments of Dale Baird, the all-time leading trainer by wins, were remembered in a "Celebration of Life" gathering at Mountaineer Casino, Racetrack & Resort Jan. 14.
Baird, 72, died in multiple car crash in Hancock County, Ind., Dec. 23. An owner/trainer at Mountaineer for more than 40 years, Baird had won 9,445 races at the time of his death.
Racetrack Chaplain Jim Smith spoke briefly on the events of Baird's life, after which those attending were able to share their condolences and memories of Baird with his family.
"Dale Baird left an indelible impression on racing and on Mountaineer," said Rose Mary Williams, Mountaineer's director of racing.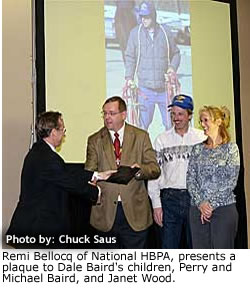 The celebration was attended by family, friends, horsemen, and Mountaineer management and employees. Baird has been a mainstay at the West Virginia racetrack and was active in the Mountaineer Horsemen's Benevolent and Protective Association.