by Avalyn Hunter
Being the owner of an improving youngster in the spring of the year is always a pleasant experience, but for Ken and Sarah Ramsey, it's not a new one. Their latest stable star is U. S. Cavalry, who demonstrated a new level of maturity with a four-wide, determined run to capture the Turfway Prevue Stakes Jan. 5.
Bred in Kentucky by Blackrock Bloodstock, U. S. Cavalry is a gelded son of Officer, who stands at Taylor Made Stallions. Probably the best North American-based juvenile of 2001, Officer went into the Bessemer Trust Breeders' Cup Juvenile (gr. I) undefeated off impressive wins in the Best Pal Stakes (gr. III), Del Mar Futurity (gr. II), and Champagne Stakes (gr. I) but got into an early speed duel with Came Home and faded to fifth behind the victorious Johannesburg. The remainder of Officer's juvenile season was anticlimactic, as he was upset by Yougottawanna in the California Cup Juvenile off only a week's rest and then finished a leg-weary third behind Siphonic in the Hollywood Futurity (gr. I). As a 3-year-old, the colt won the restricted Zany Tactics Stakes before being retired due to injury.
A son of 1993 U.S. champion older male and perennial California leading sire Bertrando, Officer is out of St. Helens Shadow, one of three juvenile stakes winners produced from the stakes-winning Raise a Man mare Little Bar Fly. Officer's broodmare sire, the Seattle Slew horse Septieme Ciel, also showed talent as a juvenile, winning the 1989 Criterium de Maisons-Laffitte (Fr-II) and the Prix Thomas Bryon (Fr-III). At 3, Septieme Ciel trained on to win the Prix de la Foret (Fr-I) and the Prix Messidor (Fr-III).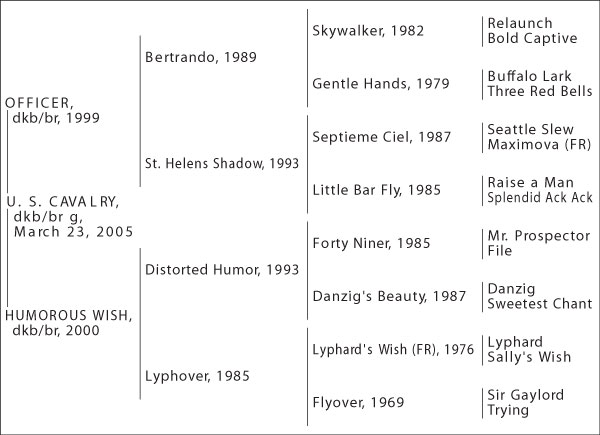 Bertrando was also a grade I winner at 2, and with so much juvenile talent in his background, there was every reason to believe that Officer would get off to a fast start at stud. He has indeed. U.S. Cavalry is the 14th stakes winner from the 178 named foals of Officer's first two crops of racing age, which also include 2007 Sovereign Award finalist Officer Cherrie, winner of the Mazarine Breeders' Cup Stakes (Can-III); the English-bred 2006 Arlington-Washington Breeders' Cup Futurity (gr. III) winner Officer Rocket; and 2007 Japanese stakes winner Apollo Dolce. Nine of those stakes winners won black type events as juveniles, and all three of Officer's graded/group stakes winners captured their most important races at 2.
Officer has been doing well with mares from the Northern Dancer line, particularly the Danzig branch, which accounts for six of his stakes winners, including Apollo Dolce and Officer Cherrie. Officer has also shown some good results with inbreeding to Raise a Native, sire of Raise a Man.
Through year-end, Officer had sent out a total of 48 juvenile winners, 23.6% of his named foals. His first crop of 85 named foals, now 4-year-olds, has yielded 10 stakes winners and 44 winners, strike rates of 11.8% and 51.8%, respectively. At this time, two gaps remain to be closed in Officer's resume: he has yet to sire an unquestioned "big horse," and he has yet to sire a stakes winner at further than 8.5 furlongs.
Whether U. S. Cavalry will become a top horse remains to be seen, of course. One question he must answer is whether he is a Polytrack specialist, as he is undefeated on that surface and has three of his four lifetime wins on it. Another question is his staying ability. On the surface, he would seem best-suited to distances of no more than a mile, but appearances can be deceiving. Officer's pedigree contained hints that, had he remained sound, he might have stayed further than the one and one-sixteenth miles of the Champagne, and U. S. Cavalry's pedigree contains similar hints.
One of those hints, surprisingly, is his broodmare sire, Distorted Humor (who, probably not coincidentally, is a maternal grandson of Danzig). Although usually classed as a sprinter, his biggest wins coming in the seven-furlong Commonwealth Breeders' Cup Stakes and Churchill Downs Handicap (both gr. II), Distorted Humor stayed well enough to run good seconds in the 1996 Fayette Stakes (gr. II) and the 1997 Kentucky Cup Classic Handicap (gr. III), both run at nine furlongs. Distorted Humor is, of course, the sire of 2003 Kentucky Derby and Preakness Stakes (both gr. I) winner Funny Cide and has also sired 2005 Travers Stakes (gr. I) winner Flower Alley, 2007 Haskell Invitational Stakes (gr. I) winner Any Given Saturday, and Schweppes Australasian Oaks (Aus-I) winner Rinky Dink (AUS).
U. S. Cavalry is the first stakes winner for Distorted Humor as a maternal grandsire and was produced from unraced Humorous Wish, whose dam Lyphover was a five-time stakes winner at distances up to nine furlongs. Lyphover was also a good second to grade I winner Lady Shirl in the 1991 Modesty Stakes (gr. IIIT) over 9.5 furlongs, the distance of her sire Lyphard's Wish (FR)'s win in the 1980 United Nations Handicap (gr. IT). Lyphard's Wish also won the Mecca-Dante Stakes (Eng-III) over 10.5 furlongs as a 3-year-old.
Flyover, the dam of Lyphover, is a winning daughter of the intermediate/classic chef-de-race Sir Gaylord out of the stakes-winning mare Trying (by Endeavour II), whose dam, Seaton Pippin, is a winning half-sister to 1945 Kentucky Derby winner Hoop, Jr. Seaton Pippin, further, is a daughter of 1939 Kentucky Derby and Belmont Stakes winner Johnstown. Thus, there is no shortage of classic connections in U. S. Cavalry's background. Further, the gelding has already won on the dirt at Churchill Downs, and has shown the ability to make the pace, stalk the pace, or come from off the pace as the situation demands. If his classic connections come through in his performance, and if he can carry his form between surfaces, he will be among this spring's more interesting hopefuls.