By Alan Porter
I have long been intrigued by the potential upgrading effects of inbreeding through brothers, sisters, three-parts brothers and sisters, and other close relatives. Thus, I was pleased to find that the Dec. 9 international meeting in Hong Kong provided two interesting examples of inbreeding via siblings.
A good third in last year's Cathay Pacific Hong Kong Mile (HK-I), Ramonti (FR) was then purchased by Godolphin and moved to England. In Italy, Ramonti had proved himself to be a tough, versatile, and consistent performer. He'd won the Premio Parioli Italian Two Thousand Guineas (Ity-II) on only his third outing, and came within a head of taking the Derby Italiano (Ity-I) at 3. Last year, at 4, he captured three group events in his home country, including the Premio Vittorio di Capua (Ity-I) to stamp himself as Italy's leading miler.
This term, Ramonti has rewarded Godolphin extremely well for its purchase, capturing the Queen Anne, BGC Sussex, and Queen Elizabeth II Stakes (all Eng-I), and running second in two other group Is on his only other outings. Returning to Hong Kong 12 months after his third in the mile, Ramonti was this time set for the Hong Kong Cup (HK-I), a contest which saw him tackle a distance in excess of nine furlongs for the first time since the Italian Derby. The trip proved no problem, and battling on in his usual determined fashion, Ramonti got the better of the locally-trained Viva Pataca, winning by a half-length.
Ramonti is from the first crop of the little known Italian sire Martino Alonso (IRE). This son of Marju (by Breeders' Cup Mile (gr. I) winner Last Tycoon (IRE)), scored his only stakes victory in the Premio d'Aprile as a 5-year-old, but he also took second in the Premio Roma and third in the Premio Vittorio di Capua (both Ity-I). From distinctly limited opportunities, Martino Alonso has sired 19 winners from 37 foals and 26 starters, and in addition to Ramonti, they include the Italian listed-winning and group II-placed Rumsfeld.
Ramonti's dam is the U.S.-bred Fosca. Sent to Italy at 2, Fosca was returning to her roots, as she is a daughter of La Locandiera, an Alleged mare who earned black type in Italy with a win in the Premio Alberto Zanoletti di Rozzano. Fosca's half sister Black Wood (by Woodman) is dam of Italian black type winners Moriwood and Ceprin. The third dam, Moon Ingraver (IRE), a daughter of Kalamoun (GB), won the Premio Appia Antica and Premio delle Repubbliche Marinare in Italy, and captured the Prix d'Astarte (Fr-III). The fourth dam, Engraving, was placed second in the Park Stakes and Railway Stakes at 2 in Ireland and is notable for being inbred 2 x 4 to Italian Derby winner Donatello II (FR) through his two best sons, Crepello (GB) (sire of Engraving) and Alycidon (GB). Here the Alycidon strain is represented by Ramonti's sixth dam, the great mare Meld (GB), heroine of the One Thousand Guineas, Epsom Oaks, and St. Leger in 1955.
Ramonti has a fascinating pedigree pattern. As mentioned, his sire, Martino Alonso, is by Marju, a son of Last Tycoon, who in turn is by English and Irish champion 2-year-old Try My Best. This becomes of particular interest when we realize that Ramonti's broodmare sire is El Gran Senor, a brother to Try My Best, which means that Ramonti has the siblings 4 x 2. Looking at the overall pedigree in terms of what the sire and the immediate family have produced, it's hard to avoid the conclusion that the inbreeding to the siblings is responsible.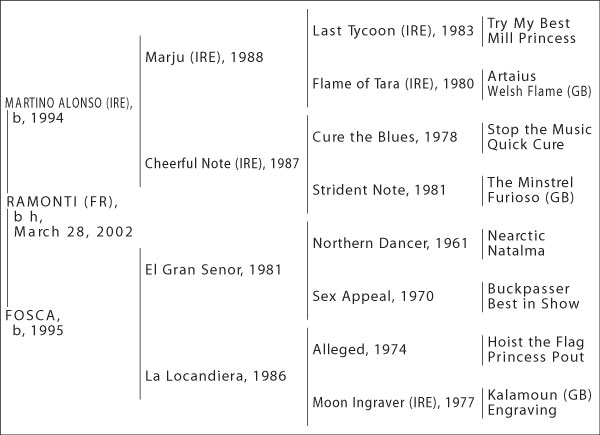 While the Hong Kong Cup saw a Godolphin color-bearer foil one of the home team, the Hong Kong Mile witnessed the reverse as Good Ba Ba defeated Godolphin's Creachadoir (IRE) by a short head.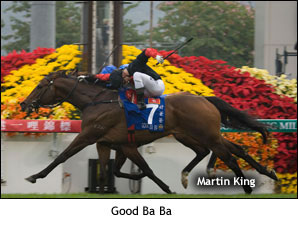 Bred in the U.S., Good Ba Ba was an $85,000 Keeneland September yearling purchase. He is a son of the Roberto stallion Lear Fan. Himself a top miler, Lear Fan earned his highest honor with a victory in the Prix Jacques Le Marois (Fr-I) at 3. Now retired, Lear Fan still resides at Gainesway Farm near Lexington. During a long and honorable stud career, Lear Fan sired 80 stakes winners (9%) from 912 foals.
This year, in addition to Good Ba Ba, he has also been well represented by the 3-year-old filly Lear's Princess, who took the Gazelle Stakes (gr. I), and Vacare, who was successful in the First Lady Stakes (gr. II). Other major runners for Lear Fan include champion U.S. turf mare Ryafan; Windsharp, champion older mare and turf mare in Canada, and a multiple grade I winner in the U.S.; Verveine, champion older mare in France; Loup Solitaire, champion 2-Year-old colt in France; Tiraaz, champion older male in France; Italian highweights Sikeston, Melpomene, and Lear White; and other group and grade I winners Labeeb (GB), Sarafan, Dublino, and Glaieul.
Good Ba Ba's dam, Elle Meme, has bred one other winner to date from six foals of racing age, that being the Broken Vow filly Ruban Bleu, who also placed third in this year's Life's Magic Stakes at Belmont. Elle Meme's dam, Holy Tobin, a daughter of J.O. Tobin, didn't win herself, but she did produce eight winners from 11 named foals. None of these won a black type event, but her Bering (GB) colt, Sakura Bering, was group placed in France, and the Stately Don filly Vittoria Colonna was black type placed in Ireland.
The family improves dramatically under the third dam, Santa Quilla, however. In addition to unraced Holy Tobin, Santa Quilla produced the Brooklyn Handicap (gr. I) victor Silver Supreme (by Al Hattab), and — more importantly in the long term — the two-time French listed winner Pasadoble. Of course, that mare produced the magnificent miler Miesque (by Nureyev, the grandsire of Elle Meme), and she is ancestress of a host of major winners around the world, among them Kingmambo; the French One Thousand Guineas (gr. I) and Oaks (gr. I) winner East of the Moon; European champion 2-year-old filly Rumplestiltskin (IRE); and NetJets Breeders' Cup Mile (gr. I) heroine Six Perfections (FR).
The pedigree of Good Ba Ba shows a tried and trusted sibling inbreeding. Lear Fan's damsire, Lt. Stevens, is a brother to Thong, the granddam of Nureyev (grandsire of Good Ba Ba's dam), both by the Nasrullah stallion Nantallah out of the multiple stakes producing mare Rough Shod II. Lear Fan has sired at least nine stakes winners out of mares by Nureyev and his sons, with Good Ba Ba, Loup Solitaire, and Dublino comprising a trio of group/grade I winners with the pairing.
There are also at least five stakes winners with Nureyev on the sire side, and Lear Fan on the dam side. One of those is also a major winner in Hong Kong, the Hong Kong Vase (gr. I) heroine Vallee Enchantee (IRE), who is by Nureyev's son Peintre Celebre, out of Verveine, and who has Nureyev 2 x 3 and Thong/Lt. Stevens 4 x 4 x 5.