by Avalyn Hunter
These days, a durable stakes horse is a rare gem. A mare that falls into that category is rarer still, as most of the veteran campaigners are geldings. But when a mare proves both talented and hardy enough to compete year after year, she can draw a fan base every bit as enthusiastic and loyal as those accorded to the males.
Such a mare has been Stephen Quick and Christopher Feifarek's homebred Silmaril, whose name derives from the legendary jewels in J. R. R. Tolkien's fantasy classic The Silmarillion. Now 7 years old, the daughter of the Mr. Prospector son Diamond said goodbye to her Maryland fans in style Jan. 12. By winning the listed What a Summer Stakes at Laurel, multiple grade III winner Silmaril became a stakes winner for the fifth consecutive year, notched her 16th career victory from 36 starts, and became the 17th equine millionaire in Maryland breeding history.
Diamond also showed fair durability by modern standards, making 22 starts. He was not quite as talented as his full sister Educated Risk, a multiple grade I winner, or his half-sister, 1995 U.S. champion older female Inside Information (by Private Account), but was good enough to earn a listed stakes victory at age 4 in the 1999 Skip Trial Stakes. The sire of four stakes winners to date, Diamond began his stud career at Maryland's Northview Stallion Station in 2000 but moved to the Oklahoma Equine Hospital in 2006, where he currently stands for $2,500.
Diamond is from a family that was literally pure profit for the Phipps family, for that was the name of his dam. A daughter of Key to the Mint, Pure Profit won four of five starts, proving herself the proverbial "New York allowance filly," but did not last long enough to collect a black type win. She proved a fine broodmare before her death in 1999, however, and her daughter Inside Information has carried on the family heritage by producing 2005 U.S. champion 3-year-old filly Smuggler to the cover of Unbridled.
Pure Profit is a half-sister to 1980 One Thousand Guineas (Eng-I) winner Quick as Lightning (by Buckpasser), 1981 Waterford Candelabra Stakes (Eng-III) winner Stratospheric (by Majestic Light), and 1983 Garden City Stakes winner Infinite (also by Majestic Light). The dam of these talented sisters, Clear Ceiling (by Bold Ruler), was produced from the remarkable matron Grey Flight and so is a full or half-sister to no less than nine stakes winners, including two-time U.S. leading sire What a Pleasure and Bold Princess, dam of the good sire Sovereign Dancer.
Silmaril's distaff side is not quite so regal but is not exactly from the wrong side of the tracks either. Her dam, Kattebuck, is a daughter of 1985 U.S. Horse of the Year Spend a Buck and has six winners from six foals to race. (The most recent of those winners, Another Jewel, is not only a 2005 full sister to Silmaril but broke her maiden on the same card as Silmaril's last race.) Kattebuck, in turn, is one of three winners from four foals produced by Kattegat's Pride. Similar to her granddaughter Silmaril in talent and durability, Kattegat's Pride notched 19 wins from 54 starts at ages 3 through 6, her victories including the 1984 Gallorette Handicap (gr. III) and nine other stakes events, all on the Mid-Atlantic circuit.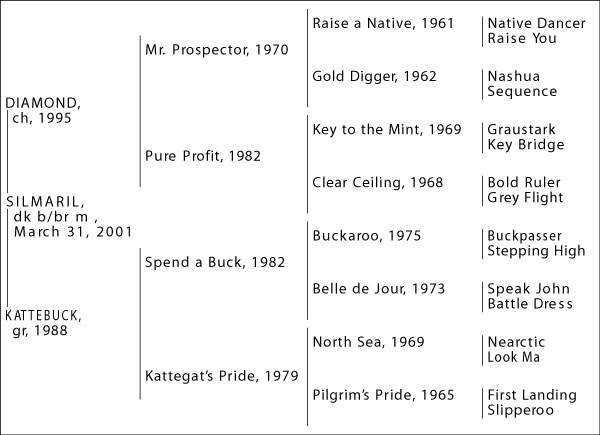 Kattegat's Pride was the leading runner sired by 1973 Westchester Handicap (gr. II) winner North Sea, who was bred similarly to Northern Dancer and Icecapade, as he was sired by Nearctic from a Native Dancer mare. He was not nearly as successful as either of his relatives, however, getting only 10 stakes winners all told from 222 named foals. His only other graded stakes winner was Magic North, who took the 1986 National Jockey Club Handicap (gr. III) before retiring to stud in Illinois.
Kattegat's Pride was produced from Pilgrim's Pride, a winning daughter of 1958 U.S. champion juvenile male First Landing out of the *Nasrullah mare Slipperoo. The female line traces back to Maggie B. B., dam of three 19th Century Classic winners (including the 1881 Derby Stakes and St. Leger hero Iroquois) and a notable foundation mare. With the exceptions of Kattegat's Pride and Silmaril herself, the branch descended from Pilgrim's Pride has not been notable for class, but it has been a consistent producer of winners, many of them quite hardy.
Silmaril is inbred 4 x 5 to Native Dancer and 5 x 5 x 6 x 5 to *Nasrullah. As she is free from Northern Dancer and Seattle Slew and has only a remote cross of *Turn-to, she should have a wide selection of mates open to her. As of this writing, breeding plans have not been finalized, but it is to be hoped that Silmaril's foals will carry on both their mother's toughness and her consistency and class, to the delight of future racing fans.