By Alan Porter
As the guest in a recent "Talkin' Horses" question-and-answer segment on BloodHorse.com, I was asked the following question: Favorite Trick exhibited such talent at 2, then tailed off some as a 3-year-old. Why do you think his offspring didn't do much on the track?
I was reminded of that question Jan. 19, when Favorite Trick's 5-year-old daughter Trick's Pic took the Tuzla Handicap (gr. III) at Santa Anita to gain her first stakes win. This made her only the 11th stakes winner and second graded scorer — following the 2006 Kentucky Breeders' Cup Stakes (gr. III) scorer Datrick — to appear from the first five Northern Hemisphere crops sired by Favorite Trick (who tragically died in a barn fire at JEH Stallion Station in New Mexico in June 2006).
The fact that he was in New Mexico at all tells us something about the career arc of a sire who less than 10 years earlier had become the first 2-year-old to be voted Horse of the Year since Secretariat achieved that distinction in 1972. While he never created the impression that he was the second coming of his predecessor, Favorite Trick did put together an outstanding juvenile campaign, winning all eight of his starts, including stakes events from five to 8 1/2 furlongs. He recorded daylight margins in all but one of those victories, and ended the year with a 5 1/2 lengths tally in the Breeders' Cup Juvenile (gr. I).
At 3, Favorite Trick moved into the barn of Bill Mott because Pat Byrne, who had trained him at 2, had taken on a role as private trainer for Frank Stronach. The colt appeared not to have progressed as much as many of his contemporaries, but with Mott doing a stellar job of placing him, Favorite Trick was able to retain much of his credibility. Winner of the Swale Stakes (gr. III) on his seasonal reappearance, Favorite Trick suffered his first defeat when he was caught in the dying strides of the Arkansas Derby (gr. II), going down by a pair of heads to Victory Gallop and Hanuman Highway (IRE). Despite the loss, Favorite Trick still started as one of the favorites for the Kentucky Derby (gr. I). There he made his bid, but faded to finish eighth as Real Quiet held off Victory Gallop, leaving the distinct impression that the distance was too far for him. Given a break, Favorite Trick returned in mid-July to take the Long Branch Breeders' Cup Stakes by a head over Tomorrows Cat, after battling for the lead through the entire 8 1/2 furlongs.
He gained another narrow win when taking the Jim Dandy Stakes (gr. II) at Saratoga, then cut back from the nine furlongs of that trip to the seven furlong King's Bishop (gr. II), where he finished fifth, beaten only two lengths, after meeting with traffic problems. Given another break, Favorite Trick reappeared in the Keeneland Breeders' Cup Mile (gr. II) on the turf, and gave his best performance of the year in scoring by 3 1/2 lengths over the tough European gelding Soviet Line (IRE). This effort was impressive enough to see him dispatched as favorite for the Breeders' Cup Mile (gr. I); but after leading through the opening half, he weakened as Da Hoss come through to score his historic second victory in the race.
Retired to Walmac Farm in Lexington, Ky., and shuttling to Swettenham Stud in Australia, Favorite Trick never seemed to enjoy the whole-hearted support of the local breeding community. In part, that might have been a function of a pedigree that was not the most simple to interpret. Favorite Trick's sire, Phone Trick, was a brilliant sprinter and an excellent sire of fast and precocious runners – including champion 2-year-old filly Phone Chatter – but never sired a commercially successful stallion son. Favorite Trick's dam, Evil Elaine, was a stakes winner and multiple stakes producer, but was by Medieval Man (by the Australian-bred Noholme II), out of a mare by Distinctive, with a granddam by Prince Dare, names more likely to confuse breeders than to inspire them.
After a quiet beginning with his first runners, Favorite Trick transferred briefly to Florida, where he stood at Cloverleaf Farm in Ocala, before moving on to New Mexico for the 2006 covering season.
Trick's Pic was bred by Joseph LaCombe, who also owned Favorite Trick. She is the second foal of her dam, Nice Pic. That mare was a daughter of the Fappiano stallion Piccolino, a brother to the grade I winning filly Serape, but himself a non-winner in five starts. Nice Pic won once in nine starts, but is a sister to Evil's Pic, a stakes winner who captured four of her five juvenile starts, and subsequently a black-type winner at 3 and 4 and heroine of the Interborough Handicap (gr. III) at 6.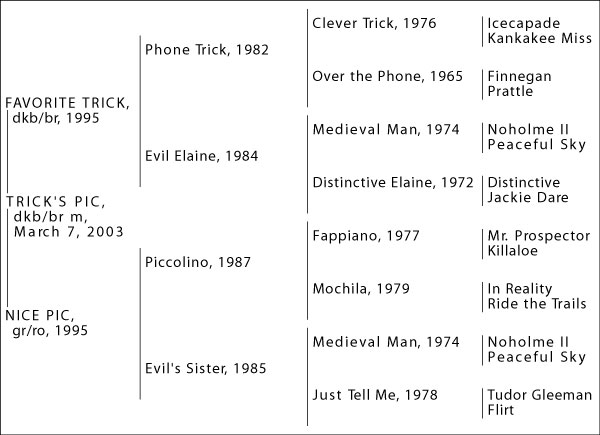 At stud, Evil's Pic produced a graded stakes winner in the shape of the Deputy Minister colt Evil Minister, successful in the Sapling Stakes (gr. III). Another sister to Nice Pic, Matti's Pic, was stakes-placed in state-bred company at Charles Town and is dam of the 2007 Maryland Million Classic Stakes winner Evil Storm. Evil Pic's dam, Evil's Sister, is by Medieval Man, which means that Trick's Pic is inbred 3 x 3 to that horse.
As a product of the Favorite Trick/Mr. Prospector cross, Trick's Pic earns an A++ TrueNicks rating. This isn't surprising, as seven of Favorite Trick's 11 Northern Hemisphere stakes winners are out of Mr. Prospector line mares. (Incidentally, two of the other four are A and A+ rated by TrueNicks, making nine of the 11 stakes winners A or better).
A closer look shows something else interesting happening in several of these stakes winners. Favorite Trick's granddam, Distinctive Elaine, is by the Never Bend horse Distinctive. His dam, Precious Lady, is by a son of Questionnaire out of a Bull Dog mare, which gets interesting when one recalls that Rough'n Tumble (sire of Dr. Fager and broodmare sire of In Reality) is bred on the same formula. A look at Trick Pic's broodmare sire, Piccolino, reveals that he is inbred 4 x 4 to Rough'n Tumble through Dr. Fager and My Dear Girl (as dam of In Reality). The only mare to produce two stakes winners by Favorite Trick is Missuma, the dam of listed scorers Disappearing Trick and Sum Trick. She is by the Mr. Prospector horse Procida, whose dam is by Distinctive out of a mare by Rough'n Tumble, giving her Questionnaire and Bull Dog 4 x 4.
Favorite Trick's listed winner, Crafty Tricker, is out of a mare by Crafty Prospector (by Mr. Prospector out of an In Reality mare). Looking at Favorite Trick's other stakes winners, graded scorer Datrick, goes back to a half-sister to In Reality (again bringing in Rough'n Tumble through My Dear Girl) and Tricks of Glory is out of a mare by Relaunch, a son of In Reality. Thus, Rough'n Tumble appears in six of 11 Favorite Trick stakes winners (55%). Clearly, it may pay dividends for owners of Favorite Trick mares to breed to stallions carrying Rough'n Tumble.