Cat Thief Looking to Steal Another Classic
by Blood-Horse Staff
Date Posted: 10/24/2000 5:04:49 PM
Last Updated: 10/26/2000 5:46:15 PM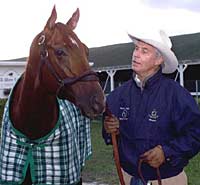 Trainer D. Wayne Lukas poses with Cat Thief after a workout at Gulfstream Park before last year's Breeders' Cup Classic.
Photo: Associated Press / Peter Cosgrove

Churchill Downs barn notesHall of Fame trainer D. Wayne Lukas never knows quite what to expect when defending Breeders' Cup Classic (GI) winner Cat Thief steps on the track -- whether he's racing or training. Overbrook Farm's son of Storm Cat, who has not won in nine races since his 1999 Classic upset at Gulfstream Park, turned in a strong workout on Tuesday at Churchill Downs -- perhaps a bit stronger than Lukas had planned.Cat Thief worked five furlongs handily over a "fast" track in :59 1/5 -- the fastest of 51 works at the distance. Exercise rider Stacey Maker was in the irons.Afterward, Lukas was less than glowing in his review of the morning's activity by his Classic winner -- but still managed to find a silver lining."He's not a real good work horse, so it was impressive to see him do what he did," Lukas said. "The girl that worked him is our normal exercise rider, but she didn't think he'd be quite that responsive this morning. What I really had in mind was I wanted her to cruise along there behind a prompter and, at the head of the stretch, just grab the bit and roll by."Well, when she moved on him over there at the three-eighths pole, he jumped into it and blew by that one and did a little more than we probably had prescribed. But he's good right now and when they get good they'll do things like that."Cat Thief is coming off a dismal showing in the Kentucky Cup Classic (GII) at Turfway Park in which he finished last in a field of six. Lukas said he displaced his soft palate, a stress-induced condition that causes a restriction in a horse's breathing, in that disappointing race -- but has thrived at Churchill Downs since that race."Like Reggie Jackson was 'Mr. October,' this is 'Mr. November' -- I can see that right now," he said. "It's just like he knows when this Breeders' Cup comes around because is absolutely changing every day. I don't know why. I do the same things with him all the time and I keep trying to figure him out -- he's not easy to figure out -- but I like what I see.I'm not predicting a win by any means -- it's very difficult to repeat in the Classic, let alone win it once. But I think we'll scare the hell out of a bunch of them."Cat Thief will bring a career record of 4-9-8 in 29 starts with earnings of $3,951,012. And despite his victory drought this year, the colt has earned $496,900."It's hard to be frustrated with a horse that has won $4 million and the Classic," Lukas said. "He keeps the handicap horses honest all the time and he might really keep them honest here again. There will be a verylong silence in the press box if he wins this a second time."In other news Tuesday:Columbine Stable's Manndar gave Kentucky-born trainer Beau Greely the biggest win of his young training career when he won the Woodford Reserve Turf Classic on the Churchill Downs grass course in May -- and gave Greely another thrill Tuesday when he returned to that course for a work as he prepares for a run in the $2 million Breeders' Cup Turf.The British-bred son of Doyoun, who was ridden by regular exercise rider Andy Durnin, breezed six furlongs around the dogs on firm turf in 1:18. The time was not spectacular, but Greely loved the way Manndar went about his work."It was phenomenal," Greely said. "Manndar was just going along as easy as can be, then when he galloped out he just was unreal. He worked probably as well as he's ever worked."Greely said Durnin agreed that the work may have been the colt's best --but said it is not surprising that Manndar moved so well over a turf course that he obviously relished in the spring."I think that's the key -- he really likes this course," said Greely. "As long as everything is good tomorrow,we're all happy today."Irving and Marjorie Cowan's Oak Tree Breeders' Cup winner War Chant, one of the likely favorites for the $1 million Breeders' Cup Mile (GI), seemed to be very comfortable in his first trip on the Churchill turf course.The Danzig colt breezed five furlongs around the dogs on firm turf in the company of his Neil Drysdale-trained stablemate Irish Prize. He covered the distance under exercise rider Marcellino Olguin in 1:01, the second-fastest of nine turf works at the distance."He worked well," said Drysdale. "It was his first work since he ran and he was just out there enjoying himself."Drysdale said War Chant will have one more work -- "something a bit more serious" -- before the Mile.In other workouts, Shadwell Stable's Shadwell Keeneland Turf Mile winner Altibr (Mile) breezed four furlongs on turf (dogs up) in :48 3/5 ... Aly's Alley (Turf) breezed 1 1/4-miles in 2:10 1/5 on turf (dogs up) for trainer John Tammaro ... Kentucky Cup Turf and United Nations winner Down the Aisle (Turf) breezed six furlongs on turf (dogs up) in 1:19 ... Brahms (Mile) breezed five furlongs on turf (dogs up) in 1:02 4/5 for trainer Elliott Walden, who said the colt would likely be made a supplemental entry to the River City at Churchill on Nov. 5 if he does not make it into the field for the Mile ... Mr. Miesque (Juvenile) breezed four furlongs in :50 1/5 in his first trip over the Churchill Downs track for trainer Keith Desormeaux ... Cradle winner Mongoose (Juvenile) breezed six furlongs in 1:13 for trainer Bill Mott.Among the contenders scheduled to work on Wednesday are Stronach Stable's Golden Missile (Classic) and Perfect Sting (Filly & Mare Turf); Heritage of Gold (Distaff) and Williams News (Turf) for trainer Tom Amoss; Beautiful Pleasure (Distaff) for trainer John Ward; Five Star Day (Sprint) for trainer Beau Greely; and Spain (Distaff) and Cash Deal (Juvenile Fillies) for trainer D. Wayne Lukas.



Copyright © 2014 The Blood-Horse, Inc. All Rights Reserved.