Jockey Russell Baze became the first rider in North America to win 10,000 races Feb. 1 at Golden Gate Fields and said afterward that he's not planning to slow down any time soon.
"It's a milestone, but not the final milestone," the 49-year-old Baze told the small crowd at the Northern California track after winning the third race on the card aboard Two Step Cat in a blanket finish. "Milestones are points along the way, and I still have a lot of laps left in me. I think that in three years I could be standing here again (after 11,000 wins)."
The Hall of Fame jockey survived a three-nose photo to reach the benchmark in a $4,000 claiming race, driving Two Step Cat along the inside to nip Brite Oakie and Unusual Men.
"Wow, I got a seriously good nod there," Baze said of the blanket finish after looking at the replay of the race.
Baze surpassed Laffit Pincay Jr.'s record of 9,530 wins at Bay Meadows Dec. 1, 2006. He then proceeded to lead the nation with 399 wins in 2007, his highest yearly total since 2003. He has led the nation in annual victories nine times.
How many victories is 10,000? If you put them on video tape end-to-end, it would take more than nine days to watch them all. Other riders may hope to someday match his totals, but right now they are chasing more than a moving target. At a 31% win clip during the current meeting, this guy is streaking.
"That number (49) is just chronological," he said of his age. "I don't feel that old physically or spiritually. It's just a number in my head. But not in my heart."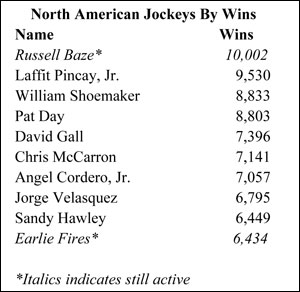 Now in his 34th year as a rider, he hit his mark with 44,006 career mounts. Later, he won the sixth race aboard Royal Wager and the seventh on Hawaiian Afleet, giving him 10,002. His mounts have earned nearly $153 million.
The milestone victory came in a typically cheap race, the kind Baze has excelled in. Though he has taken on the leading jockeys in the nation on many occasions, Northern California is where he's always been most comfortable.
"After the first 20 years, you kind of get into a rhythm," he said of his racing regimen.
Baze has never won a Triple Crown or Breeders' Cup race and has competed in only a handful of them.
Riding the late-running 5-year-old gelding Two Step Cat for the first time for trainer Armando Lage, nothing went right. Lage had told him to keep his mount on the outside and at the back of the pack in the one-mile heat on Golden Gate's Tapeta racing surface. Instead, Two Step Cat raced into contention on the first turn and slid into a tight opening at the rail. The California bred fell back a bit on the final turn but then rallied in tight quarters mid-stretch to just get up in a desperate finish.
Lage, who also trained the third-place finisher Unusual Men, joked that he "would have to think hard" about using Baze again if he had lost the race.
"I was screaming bloody murder," he said. "I had two horses in the photo finish, and I'm going to get beat by the one in the middle. Unbelievable!"
But the veteran trainer said the race was typical of the effort Baze always gives.
"He tries so hard," Lage said. "He'll ride the $4,000 claimer just the way he'll ride the stakes horse. He just wants to win races."
Baze, who turns 50 in August, said he felt much less pressure to win his 10,000th than he did in breaking Pincay's record. Pincay was on hand at Bay Meadows for five days before Baze finally eclipsed the old mark.
"This one was much more enjoyable," he said.
He said he would celebrate on Super Bowl Sunday. "I got to ride tomorrow, so there's not going to be a whole lot of celebrating."
Sunday is also the winter meet's closing day at Golden Gate, where he will wrap up his 32nd riding title. He has won 39 across town at Bay Meadows.
Two Step Cat paid $4.80, $3, and $2.20 as the 6-5 wagering favorite.
Baze, needing one victory, finished second in the day's first race, getting passed in the final strides. He was third on the beaten favorite in the second, losing to jockey and son-in-law Kyle Kaenel.
The 46-year-old Brazilian jockey Jorge Ricardo has emerged as a challenger to Baze. He passed Baze on the career victory list last February and hit 10,000 on Jan. 9. Ricardo had won 10,041 races through Jan. 31. Ricardo rides in Argentina, where he races at three tracks that offer up to 14 races daily.
The two could meet later this year. Baze plans to make his first trip to England to compete against top jockeys from Britain and Ireland at Ascot. Organizers are trying to entice Ricardo to join Baze on "the rest of the world" team.
Baze began his career in 1974 in Yakima, Wash., when he rode his first winner, a horse trained by his father, Joe.
Golden Gate Fields and Bay Meadows honored Baze's latest mark with a presentation. The tracks donated $10,000 in Baze's name to two charities chosen by him: Racetrack Chaplaincy of America and the Winners Foundation..
"Does this mean I get to deduct that on my (tax) return," he quipped.