Racing journalists – and for that matter journalists in general – are noted for their weakness for a bad pun, and the impressive Risen Star Stakes (gr. III) winner Pyro has already given rise to more than a few. Therefore, I must ask the reader's indulgence, or at least credit for having made nothing more than a Freudian Slip, when I say that my first thought on looking at Pyro's pedigree was that the family has been "on fire" in recent years.
The journey of the family, from one that had virtually unheard-of names and a record of extreme mediocrity, to consistent quality production, has been a very rapid and sudden one. In fact, for some reason, after generations of producing mediocrities, the female line suddenly exploded with Pyro's fifth dam, Brighton View. Born in 1962, Brighton View gave no hint of what was to happen during her racing career, as she won just once in 18 starts for earnings of $1,661. What's more, she owned a pedigree which was obscure even in that era. By Tuscany (by The Rhymer, a son of the imported English horse St. Germans), she was out of a mare by Fritz Maisel (a Domino-line horse who appears in the pedigrees of stakes winners through only one other mare), with a second dam by Dartle (a horse who doesn't seem to appear in any animal of note, other than through Brighton View, and who was a grandson of Jim Gaffney, best known as the sire of Jim Dandy).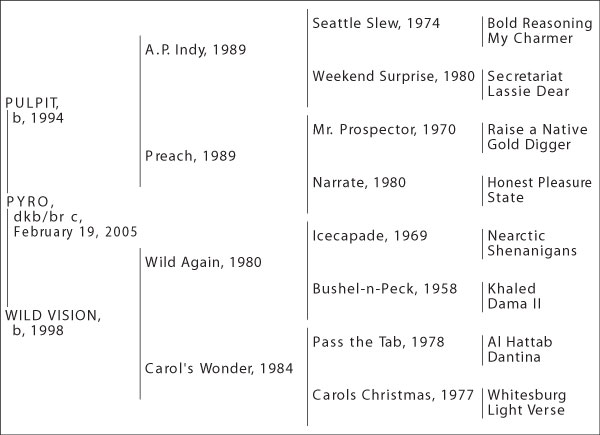 Determining what factors caused the upgrading in the family from Brighton View onwards is something of a guessing game, but she is interesting in having a considerable accumulation of old American strains, which even at the time of her birth had been mostly pushed aside by imports such as Nasrullah, Bull Dog, and Sir Gallahad III. Particularly striking is that her dam was inbred 4 x 4 to High Time (who reigned as leading sire once and leading sire of 2-year-olds three times), a horse who himself had the tremendously influential stallion Domino (3 x 3 x 2 in his pedigree), and she also has another cross of Domino's great son Commando (the grandsire of High Time). Meanwhile, Brighton View's sire had three crosses of the great Domino-line stallion Peter Pan (by Commando), one through Pennant, a closely related half brother to Transvaal, the sire of Brighton View's fourth dam.
Whether or not this created a latent genetic potential in Brighton View's genotype, the fact is the change she wrought in a direct female line which hadn't produced a stakes winner in at least four generations, and had only one stakes winner (and that twice indented) in the first four dams, was remarkable. Her very first foal, by Nashver, was the dual stakes winner Weekend Fun, who subsequently became the dam, granddam, and third dam of stakes winners, the most notable being her grandson, the California Derby (gr. II) winner All Thee Power. Weekend Fun was to be Brighton View's only stakes winner, but three more of Brighton View's daughters would go on to become stakes producers. Of these, the most important was Light Verse, an unraced daughter of the Turn-to horse Reverse. Like her dam, Light Verse would throw a stakes winner at her first attempt, this being Al Stanza (by Al Hattab), who was exported to Europe, where she won the Princess Margaret Stakes, and was subsequently group placed in England and Germany. Al Stanza, Light Verse's only stakes winner, never produced a black type winner herself, but two of her half sisters did. By far the most important of these was Carols Christmas. A daughter of Whitesburg (by Crimson Satan, who — significantly, in view of Brighton View's pedigree — was a Domino-line horse whose sire, Spy Song, was inbred to Peter Pan), Carols Christmas won four times at 3 and 4, but never earned black type. However, she produced three stakes winners, headed by Olympio (by Naskra), winner of the 1991 Hollywood Derby (gr. I) and five other graded events, and Call Now (by Wild Again), heroine of the Del Mar Debutante Stakes (gr. II) and runner-up in the Oak Leaf Stakes (gr. I). As had become the tradition of the family, several of Carols Christmas's daughters went on to become good producers. Bistra, a daughter of Classic Go Go, is dam of graded stakes winners Fun House (by Prized) and Early Flyer (by
Gilded Time
); Dana Nicole, by Flying Paster, is dam of the multiple graded stakes winning millionaire Bien Nicole; and Christmas Star (by Star de Naskra and therefore a closely related half sister to Olympio) is dam of Experimental Free Handicap co-highweight and 2008 freshman sire Cuvee (by Carson City), and of the 2007 True North Handicap (gr. II) victor Will He Shine, a son of
Silver Deputy
who retired to stud at Millennium Farms in Kentucky for 2008.
It is another of Carols Christmas' daughters, however, who is the ancestress of Pyro. This is Carol's Wonder. A daughter of the Al Hattab horse Pass the Tab and therefore a close relative to Al Stanza, Carol's Wonder was a useful performer in her own right, finishing second in two stakes including the listed Chapman Stakes and third in the the A Gleam Handicap (gr. III). Bred to Wild Again (who is inbred to English Derby winner Hyperion and Italian Derby winner Nearco), Carol's Wonder produced Wild Wonder (linebred to Nearco and to English Derby winners Dante and Mahmoud). An extremely speedy horse, Wild Wonder also proved to be a very versatile one. A multiple stakes winner at six furlongs, he also set a track record when winning the Longacres Mile (gr. III) and ran the race of his life when taking the 8 1/2 furlong Mervyn LeRoy Handicap (gr. II) by 5 1/2 lengths over Budroyale. It's Wild Wonder's sister Wild Vision, a 2-year-old winner in her only lifetime start, who is dam of Pyro.
Pulpit
, Pyro's sire, has been in and out of fashion, but having dropped to $35,000 in the year in which Pyro and another weekend graded winner, Bsharpsonata, were conceived, he rose again to $60,000, and then his current fee of $80,000, and is firmly established as the leading son of his sire,
A.P. Indy
. With the Kentucky Derby in mind, we should note that Pulpit has tended to be less of a stamina influence than his sire, with his best including the grade I winning milers Corinthian and Purge; Hopeful Stakes (gr. I) victor
Sky Mesa
; plus Wood Memorial Stakes (gr. I) winner
Tapit
and Del Mar Oaks (gr. I) winner Rutherienne, who both took their grade I victories at nine furlongs. On the other hand, his sons
Essence of Dubai
and Wend were grade II winners at 10 furlongs, and Devil's Preacher scored over 12 furlongs at the level. Overall, Pyro's pedigree suggests that, at very least, he will have no problem with nine furlongs and more often than not that degree of stamina allied to class will prove sufficient for the Kentucky Derby test.
Pyro earns an
A++
TrueNicks rating on the basis of the Pulpit/Wild Again cross, but even before he had won a stakes, he was an
A++
horse, as Pulpit sired first crop stakes winners Sly Butterfly (dam by Wild Again) and Bema (dam by Wild Again's sire, Icecapade) from Pyro's broodmare sire line. The key may be that Icecapade (by Nearctic out of a Native Dancer mare) supplies another variation of the ubiquitous Nearco/Polynesian combination which is found in Pulpit through Boldnesian (by a grandson of Nearco out of a mare by Polynesian), Mr. Prospector (by a grandson of Polynesian out of a mare by a grandson of Nearco), and Northern Dancer (a close genetic relative to Icecapade and by a son of Nearco out of a mare by a son of Polynesian).