by Avalyn Hunter
With only 16 starts under his belt as a 6-year-old, Surf Cat is far from the most durable runner in North America. But when he is right, there are few with more sheer talent. Having run down grade I winner Greg's Gold in the San Carlos Handicap (gr. II) Feb. 16, Surf Cat has now recorded his fifth win in a grade II race for co-owners Aase Headley and Marsha Naify, and only a dead-game front-running performance by Bilo kept Surf Cat from becoming a grade I winner in last year's Triple Bend Invitational Handicap.
Surf Cat combines two of the most fashionable bloodlines in North America, Storm Cat and Mr. Prospector, but does so through lesser sons of those sires – undoubtedly one reason why he was not packed off to stud following an injury shortly after his victory in the 2006 Mervyn LeRoy Handicap (gr. II). He was bred in Kentucky by the partnership of William Taylor Nicholls and Gainesway and is by Sir Cat, who was sold for permanent relocation to Haras Jockey in Chile following the 2005 Northern Hemisphere breeding season (he had previously shuttled to Chile in 2003 and 2004).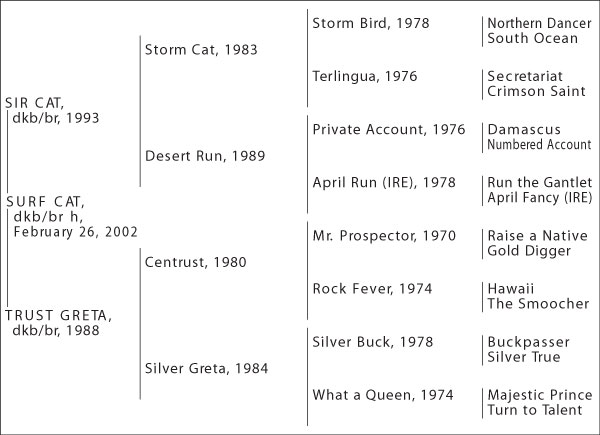 Sir Cat began his stud career at Gainesway at a fee of $7,500, which seems relatively modest for a four-time graded stakes-winning son of Storm Cat. The hitch was that all of his stakes wins were on turf. His biggest victories were in the 1996 National Museum of Racing Hall of Fame Stakes (gr. IIT) at Saratoga at age 3 and the 1998 Appleton Handicap (gr. IIT) at Gulfstream as a 5-year-old. Overall, Sir Cat won seven of 14 starts and earned $401,085.
Sir Cat was also perhaps handicapped by his immediate female family. His granddam, the Run the Gantlet mare April Run (Ire), was a two-time champion in France and was also the U.S. champion turf female of 1982 but proved a poor broodmare, producing three minor winners from five foals. The dam of Sir Cat, Desert Run (by Private Account) did not run, and the only stakes winner produced by either of her half sisters was Weekend Madness (Ire) (Dance of Life–Spring Break, by Cure the Blues), a multiple grade III winner on turf.
From his first seven crops, totaling 418 foals, Sir Cat has sired 218 winners (52.2%), including 15 North American-bred stakes winners and three Chilean-bred ones. Aside from Surf Cat, his best North American runners have been Barbara Fritchie Handicap (gr. II) winner Cativa and Jefferson Cup Stakes (gr. IIT) winner Inca King, while his best Chilean-bred runners are 2007 Chilean champion juvenile male Matto Mondo and Chilean group I winner Laguna Plateada.
Surf Cat is the second stakes winner produced from Trust Greta, the first being 1995 Tremont Breeders' Cup Stakes (gr. III) winner Rosie O'Greta (by Fight Over). Trust Greta herself was a decent runner, winning five of her 12 starts, and was about as good as anything sired by Centrust, one of Mr. Prospector's less distinguished sons. Best described as a good allowance-class sprinter, Centrust (who was produced from the *Hawaii mare Rock Fever) won four of 16 starts while racing in North America and the United Kingdom before retiring to a brief and undistinguished stud career. He died in 1990.
Trust Greta is one of three winners produced from Silver Greta, an unraced daughter of Buckpasser's good son Silver Buck. Silver Greta's dam, the Majestic Prince mare What a Queen, is a winning half-sister to Hay Patcher (by Hoist the Flag), the dam of the excellent racehorse and sire Broad Brush and a stakes winner in her own right.
What a Queen and Hay Patcher were produced from the stakes-winning *Turn-to mare Turn to Talent, whose half sister Too Bald (by Bald Eagle) was not only an extremely fast sprinter but earned honors as the Kentucky Broodmare of the Year in 1986. Too Bald's five stakes winners include the top international runner Exceller and the good sires Baldski (by Nijinsky II) and Capote (by Seattle Slew). Perhaps not coincidentally, Capote is the second damsire of Inca King.
The dam of Turn to Talent and Too Bald, Hidden Talent (by Dark Star), won a division of the 1959 Kentucky Oaks and is a full sister to 1959 Matron Stakes winner Heavenly Body, dam of 1978 Prix Perth (Fr-III) winner A Thousand Stars (by Hoist the Flag), and granddam of the English group II winners Celestial Storm (by Roberto) and Thawakib (IRE) (by Sadler's Wells). Surf Cat, thus, is from one of the weaker branches of a family that has produced plenty of both racing talent and sire power since the importation of his sixth dam, the *Nasrullah mare Dangerous Dame.
Surf Cat may have better prospects as a stallion than his immediate antecedents might indicate, for his pedigree is constructed somewhat similarly to those of many of the fine breeding animals produced by the 17th Earl of Derby, featuring a pattern of successive inbreedings that reinforce different parts of the pedigree. In Surf Cat's case, the pattern begins with Turn to Talent, who is inbred 3 x 4 to Nearco, 4 x 4 to Mumtaz Begum, 4 x 4 x 5 to Pharos, and 4 x 5 to Plucky Liege. Her daughter, What a Queen, is inbred 3 x 3 to *Royal Charger and 4 x 4 x 5 to Nearco, and the next dam in the female line, Silver Greta, is inbred 4 x 3 to Turn-to. This is quite a buildup of the Turn-to/Royal Charger/Nearco sire line, and the mating of Centrust (himself inbred 4 x 3 to Polynesian) to Silver Greta reinforced an entirely different part of the pedigree, with Trust Greta being inbred 3 x 4 to Raise a Native. Surf Cat himself is inbred 5 x 4 to Buckpasser.