by Avalyn Hunter
Most of the South American horses that end up making headlines in North America are already well-proven in their native lands. Einstein (BRZ), however, is the exception to the rule. Unraced prior to his importation in 2004, the Midnight Cry Stable runner now has victories in three graded turf stakes on his resume, including the 2006, Gulfstream Park Breeders' Cup Stakes and this year's Gulfstream Park Turf Stakes (both gr. IT).
Bred by Fazenda Mondesir, a perennial leader among Brazilian breeders, Einstein is from the second-to-last crop of 1985 Horse of the Year Spend a Buck, whose dominant stud career in South America is in sharp contrast to his performance in the United States. The sire of 38 stakes winners worldwide (22 of them of graded/group class), Spend a Buck begot three grade/group I winners during the 15 seasons that he stood in North America – all of them, ironically, with South American connections. Multiple grade I winner Antespend (dam of Airdrie Stud's freshman sire Friends Lake) was produced from the high-class Argentinian race mare Auspiciante, while Clausen Export and Black Coffey (a two-time Peruvian Horse of the Year) earned group I victories following export to Brazil and Peru, respectively.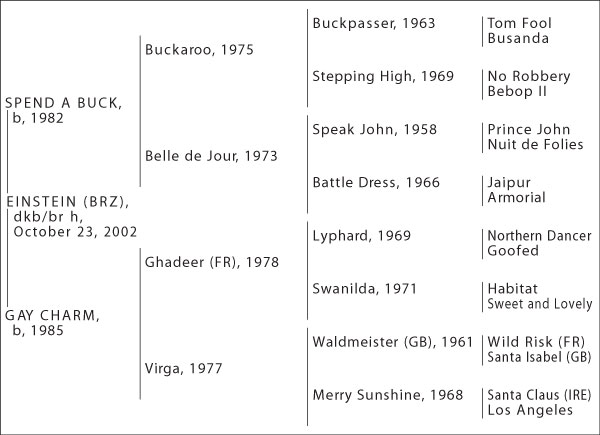 Spend a Buck stood just four seasons in Brazil, shuttling there in 1997 and 1998 and standing as a permanent acquisition in 2001 and 2002 before his death from anaphylactic shock Nov. 24, 2002. But during his time there, he begot Brazilian Horse of the Year Pico Central (BRZ), Brazilian champion juvenile male Investor's Dream, Brazilian champion 3-year-old filly Irish Lover, and Brazilian-bred grade/group I winners Hard Buck, Hatif, Jockey's Dream, Forever Buck, and L'Amico Steve – and, of course, Einstein. He was particularly effective with mares by the great Brazilian-based sire Ghadeer (FR) (by Lyphard), whose daughters produced Investor's Dream, Irish Lover, Einstein, Forever Buck, Jockey's Dream, and L'Amico Steve, as well as the Brazilian group II winner Farenheit and the Brazilian group III winner Big Spartan.
Spend a Buck's success in Brazil should probably not have been surprising given the excellent results the male line of Buckpasser has generally enjoyed in South America. While Buckpasser did beget an American leading sire in Buckaroo (whose 1985 title was based largely on Spend a Buck's championship season) and is the male-line ancestor of Kentucky Derby (gr. I) winners Lil E. Tee (1992) and Silver Charm (1997), his tail-male influence is seen more in South America, where he has two important Argentinian-based stallions in Egg Toss (leading sire in 1988 and 1993) and Logical (twice runner-up as leading sire and a four-time leading broodmare sire), as well as the good Chilean-based sires Settlement Day and Chairman Walker.
To date, Einstein is the only winner produced from Gay Charm (by Ghadeer), a fine race mare whose victories include the 1989 Grande Premio Henrique Possolo and Grande Premio Marciano de Aguiar Moreira (both Brz-I). Gay Charm, in turn, was produced from Virga, winner of Gavea's Grande Premio de Diana (Brz-I) in 1981 and a half-sister to the 1977 Cheshire Oaks winner Brightly (by Aureole (GB)).
Einstein may well have drawn much of his stamina from Waldmeister (GB), sire of Virga. A winner of several staying events in France including the 4,000-meter Prix du Cadran – historically France's most prestigious long-distance race – Waldmeister went on to become an excellent sire in Brazil. He is by Wild Risk (FR), a notable stamina influence who is best known in North America as the sire of 1964 Prix du Jockey Club winner *Le Fabuleux, a successful stallion in North America and the broodmare sire of Unbridled.
Virga was produced from Merry Sunshine, an English-bred daughter of 1964 Epsom Derby and Irish Sweeps Derby winner Santa Claus (IRE) who was exported to Brazil. A half-sister to Never Angel (by Never Say Die), dam of the 1979 Premio Parioli (Ity-II) winner Good Times (ITY), Merry Sunshine is out of Los Angeles, a winning daughter of the high-class Supreme Court (GB).
Despite Einstein's own demonstrated class and the quality of his immediate pedigree, his prospects as a sire in North America seem dim. None of Spend a Buck's North American-bred sons have cut much ice as sires, and his Brazilian-bred sons have had great difficulty in attracting mares in either quantity or quality sufficient to have a chance of making it as stallions in the North American market. Hard Buck, a distance-loving turf runner, was expected to be a hard sell in the United States and was; after just one Northern Hemisphere season in Florida at Cloverleaf Farms II, during which he covered 18 mares, he was sent back to Brazil for good in 2005. More surprisingly, Pico Central, a horse with multiple grade I wins on American dirt from six furlongs to one mile, also had difficulty attracting mares while standing at Florida's Padua Stables in 2006-07 (he got but 35 mates his second season there) and was sold to Korea following the announcement of Padua's relocation to Kentucky.
Nonetheless, Einstein has certainly done enough already to merit a chance at stud, perhaps in his native land if not in North America. If only for sentimental reasons, one can certainly hope that he or one of the other top sons of Spend a Buck will succeed in continuing the male line of Buckpasser to a new generation.