by Avalyn Hunter
When the afterburners kicked in for Absolutely Cindy in the listed John Battaglia Memorial Stakes on March 1, the results were absolutely devastating — at least as far as the filly's 10 male rivals were concerned. Tenth at the six-furlong mark of the 8.5 furlong race, Ronald Keith Kinmon's filly made up over 10 lengths in a powerful six-wide move and won going away by one and three-quarters lengths.
Bred in Kentucky and now trained by Kinmon, Absolutely Cindy has the look of an improving filly. She broke her maiden in her fifth start, a maiden special weight over nine furlongs on the Polytrack at Keeneland, and has raced exclusively in stakes company ever since. Absolutely Cindy finished out her juvenile season with a win in the one-mile Caressing Handicap on the turf at Churchill Downs and a third in the six-furlong Gowell Stakes on Polytrack at Turfway Park. At 3, she finished a game third to Bsharpsonata in the Tropical Park Oaks on turf at Calder Race Course on New Years Day, a performance that looks all the better since Bsharpsonata went on to win the Forward Gal Stakes and the Davona Dale Stakes (both gr. II) at Gulfstream Park.
Since her maiden win, the only real blotch on Absolutely Cindy's record is a floundering sixth behind Indian Blessing in the Silverbulletday Stakes (gr. III) at the Fair Grounds Feb. 9. This was the filly's only start to date on dirt and was easily the worst race of her career so far.
An apparent preference for turf and synthetic surfaces is not really surprising given Absolutely Cindy's pedigree. She is a daughter of 1998 Super Derby (gr. I) winner Arch, who has put together a solid record while standing at Claiborne Farm. From his first six crops of racing age (a total of 291 named foals), Arch has 158 winners (54.3%) and 20 stakes winners (6.9%) in the Northern Hemisphere, including champions or highweights Arravale, Les Arcs, and Overarching.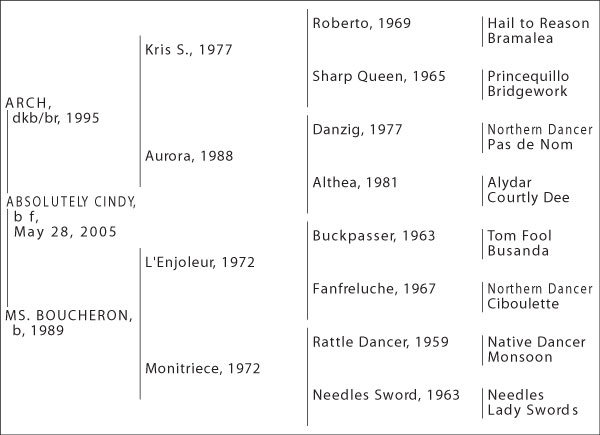 Although Arch was himself a high-class runner on dirt and has certainly shown the ability to get a good dirt runner, as evidenced by the ill-fated Pine Island (2006 Alabama Stakes and Gazelle Stakes, both grade I), most of his progeny have shown a preference for turf. In fact, he seems more turf-oriented than his own sire, Kris S., who could also get high-class runners on both surfaces. A son of Roberto and the Princequillo mare Sharp Queen, Kris S. was also a solid influence for stamina, most of his runners needing at least a mile to show their best and many requiring more distance.
Given the distance-loving proclivities of Arch's male line, it seems somewhat surprising that both Les Arcs (highweight older male in England at five to seven furlongs) and Overarching (three times champion sprinter in South Africa) should have been speedsters, especially since neither had particularly speed-happy distaff-side pedigrees. There is plenty of speed in Arch's female line, however, which is that of 1983 Kentucky Broodmare of the Year Courtly Dee. Althea, Arch's granddam, was 1983's champion juvenile filly and set a track record in winning the Arkansas Derby (gr. II) the following year, and Aurora, the dam of Arch, was a speedy mare who won the listed Aqueduct Budweiser Breeders' Cup Handicap in a front-running performance as a 4-year-old in 1992.
Absolutely Cindy is the first foal of Ms. Boucheron, a tough mare who raced for eight seasons and won eight of 87 starts. Ms. Boucheron, whose only other produce is a 2007 colt by Perfect Soul (IRE), was one of five winners produced by the mating of 1974 and 1975 Canadian Horse of the Year L'Enjoleur to the 1975 Michigan Oaks winner Monitriece, a daughter of Rattle Dancer and the Needles mare Needles Sword. The female line traces back to the French import Balancoire II, also the ancestress of Hall of Famers Equipoise and Seabiscuit, 1954 Kentucky Derby winner Determine, and 1959 champion sprinter Intentionally.
Absolutely Cindy is inbred 4 x 4 to Northern Dancer through three-time leading sire Danzig, the sire of Aurora, and 1970 Canadian Horse of the Year Fanfreluche, the dam of L'Enjoleur. The cross of Danzig's descendants over those of Fanfreluche has been a very productive one worldwide and is responsible for at least 15 graded stakes winners, including the top Australian sire Flying Spur (AUS) and the high-class Holy Roman Emperor (IRE), winner of the 2006 Independent Waterford Wedgwood Phoenix Stakes (Ire-I) and Prix Jean-Luc Lagardere (Fr-I).
Despite Absolutely Cindy's conquest over the colts, no one is talking about the filly as a potential Derby horse; even the Kentucky Oaks (gr. I) is by no means a certain target. The filly's next race will most likely be the Ashland Stakes (gr. I) on Keeneland's Polytrack, where it is a strong possibility that she will once again cross paths with Bsharpsonata. Regardless of the results, however, Absolutely Cindy seems likely to have a bright future as she continues to mature. Arch's progeny have generally done better with maturity, and if Absolutely Cindy follows that pattern, it seems absolutely certain that her best days are yet to come.