On a crisp October 2007 afternoon as the "Best of Ohio" program got under way at Beulah Park, Norm Barron, former chairman of the Ohio State Racing Commission, offered his assessment on the state of horse racing in the Buckeye State. Not surprisingly, it wasn't good.
"It's going to get worse before it gets better in Ohio," said Barron, an attorney, horse owner, and racing fan. "There's no promotion. There's no reason to come to Ohio racetracks anymore.
"The quality is going to be diluted, and that has a snow-balling effect. The backbone of Ohio racing has been the Ohio Thoroughbred Race Fund, which relies on handle. I predict total handle this year will be less than the year we got full-card simulcasts. It could be $50 million lower this year than last year."
When the books closed on 2007, Barron's words proved true. In 2007, total handle in Ohio was $371.8 million; in 2006, it was $430 million. In 1996, the year full-card simulcasts began in the state, total handle was $448.3 million, according to OSRC statistics.
Handle spiked at $628.7 million in 1998. It hovered above $600 million for several years before the slide began in 2002. The last time total handle in the state was under $400 million was in 1984.
To call it crunch time for Ohio's horse racing industry would be laughable. It was crunch time years ago. After only two months of racing in 2008, statewide handle again is down 12%, which doesn't bode well for the next 10 months.
Horsemen at Beulah Park, in Grove City near Columbus, are racing for $35,000 a day in purses, currently the lowest figure for a Thoroughbred track in North America. At Lebanon Raceway, a harness track north of Cincinnati, total handle a recent Saturday night was $39,000; purses that night totaled $34,000.
The group Save Ohio Racing, in a 2008 report on the outlook for Ohio, noted the impact of expanded gambling in neighboring states. The border states of Indiana, Michigan, Pennsylvania, and West Virginia have casino-style gambling. It remains to be seen whether legislation for casinos in Kentucky will even make it through the General Assembly this year.
Racetracks in Pennsylvania and West Virginia have gaming. Two Indiana tracks will begin operating slot machines this year.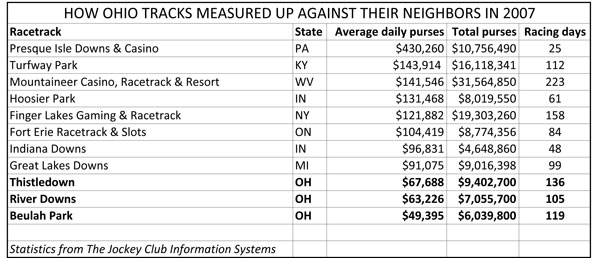 In state, growth in Ohio is hindered by pari-mutuel laws, one of which makes opening off-track betting parlors financially prohibitive. There also is lingering breed animosity brought about by a simulcast law through which Thoroughbred and Standardbred tracks share purse revenue.
Recent developments have caused further hardship. Weather and track conditions have led to the cancellation of 17 full or partial programs at Beulah Park; horsemen have lost more than 150 races since early January. And the Ohio Horsemen's Benevolent and Protective Association is in a battle with Thistledown over racing dates that jeopardizes the meet scheduled to begin May 1.
"Ohio is in the middle of a perfect storm raging against the future of horse racing, breeding, and training," said Elisabeth Alexander, president of Ohio Thoroughbred Breeders and Owners. "At a time when our leaders should be making every effort to protect a viable, home-grown industry contributing $779 million a year to the state economy, the storm just keeps growing with the legislature having no appetite to help our plight."
"We are in survival mode," said Tom Aldrich, general manager of Northfield Park, Ohio's top harness track. "Survival mode for Northfield is trying to hang on to as much of our business model as we can. But the business model is fraying at the edges."
Things don't add up
If you drive around Ohio and take in the sights, it's hard to fathom how the horseracing and breeding industry can be in such poor shape given the state's strong agricultural base. Outside of the major cities of Cincinnati, Cleveland, Columbus, Dayton, and Toledo, there are numerous small cities surrounded by farmland.
In addition, more than 60 counties have fairs with limited pari-mutuel harness racing each year. That provides a fairly strong political base in many counties, but calls for help haven't been heard in Columbus, the state capital.
Ohio also is home to harness racing's premier pacing event, the Little Brown Jug, which attracts the largest on-track crowd of any harness race in North America. It's held the Delaware County Fair just north of Columbus.
Supporters of gaming machines at racetracks were dealt a crushing blow in November 2006 when a statewide referendum to authorize them was defeated. Racing officials at the time vowed to revisit a vote in perhaps two years, but it's not going to happen this year if comments from industry officials are an indication.
In 2007, there was a flurry of activity when two tracks—Beulah Park and River Downs—installed video gambling machines that weren't regulated by the state and returned nothing to purses. The Ohio legislature soon outlawed the devices, which were removed.
In between, legislation to authorize Instant Racing, the pari-mutuel version of a video lottery terminal, failed to progress through the legislature.
Despite his anti-gaming stance, Ohio Gov. Ted Strickland this year announced an expansion of the Ohio Lottery to offer keno in an attempt to raise more than $70 million for state programs. Up to 2,000 bars, private clubs, and restaurants may be offering the games by the end of the year under the auspices of the Ohio Lottery Commission.
Racetracks qualify for keno under what is called a "D1 license." The tracks plan to be involved; more will be known when licensing regulations and rules are in place.
"We're going to deploy keno when it becomes available (this summer)," Beulah Park owner Charlie Ruma said.
If there will be assistance for the horseracing and breeding industry, no one knows where it will come from or when it will be realized. There are, however, some longshots: The Instant Racing bill is still out there, and further expansion of the state lottery to other video gaming machines at tracks may not be out of the question.
Strickland has fought casinos but supports keno in part because it's regulated and run by the state. There is hope in the industry if keno is a success, the governor may call for the lottery to further expand its offerings.
Keno could mean some extra cash for the tracks, but it would have to far exceed revenue estimates for it to produce money for purses. There has been no word from horsemen's groups whether they intend to pursue negotiations to get a cut from keno should it prove successful.
Northfield is in the process of renovating part of its first floor to accommodate a sports bar, lounge, and keno area. Aldrich said the project, which could cost close to $500,000 when completed, was planned before the keno announcement, but having the one-every-four-minutes game available at the track won't hurt.
"It's an attraction that will fit in well," Aldrich said. "There's a chance it could be an entrée into expanded gambling down the road. It's my belief the racing industry in Ohio is past the point of fashioning expanded gambling without it being under the umbrella of a state agency."
The fact Northfield is spending money on capital improvements is an unexpected positive given the state and mood of Ohio racing. Not much is happening at the other six tracks in the state, and there certainly is no buzz about legislation this year.
"I don't hear anything on any level that makes me think something is going on," said Rolf Obrecht, a longtime Thoroughbred owner, breeder, and racing fan. "At some point, we have to start making some noise."
Obrecht regularly goes to River Downs near Cincinnati or Turfway Park in Northern Kentucky to watch his horses compete. But he has diversified his interests; he now owns a bar near the riverfront in downtown Cincinnati.
"The bar business is more fun than the horse business," Obrecht said.
Racing feels squeeze
Obrecht said that as of mid-March, things weren't looking good for the state's three Thoroughbred tracks. The weather has clobbered Beulah Park, River Downs continues to fight competition from Indiana casinos and Kentucky racetracks, and Thistledown is for sale.
"I think we're definitely headed in the wrong direction—no question," Obrecht said. "I don't see anything happening in Ohio that's remotely positive. People are struggling so badly. If you go up to Beulah Park, better than 50% (of horsemen) are struggling to pay basic bills like straw and feed."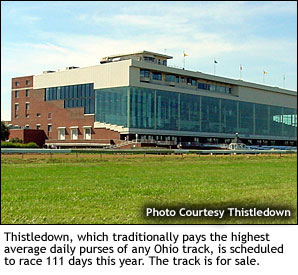 Thistledown, which traditionally pays the highest average daily purses of any Ohio track, is scheduled to race 111 days this year. Track owner Magna Entertainment Corp. and the Ohio HBPA are currently negotiating a dates deal, but Thistledown already has said it won't accept stall requests until the matter is resolved.
The Cleveland-area track is for sale, but there hasn't been word of definitive offers. Last fall, it was rumored a group of horsemen was interested in buying Thistledown.
Ruma said the threat of Thistledown's closure is real.
"All of sudden, there could be two (Thoroughbred) tracks in Ohio this year unless somebody buys it," Ruma said. "And why would anybody in their right mind buy Thistledown? You have to deal with 10 unions, and there's not a chance of making a profit. The building is a huge white elephant."
Beulah Park, on the other hand, "is fine," Ruma said. "Last year, we had that huge sale (of AmericaTAB) to Churchill Downs Inc., our debt is practically nothing, and our (on-site) handle right now is up from 2007. We watch purses like a hawk, though right now we're overpaid. I think we know how to manage a racetrack better than most."
The sale of AmericaTAB, an account wagering entity owned mostly by Beulah Park and River Downs, brought $35.3 million. Ruma said he expects Beulah Park to be around for a while.
"For the next five years, we'll probably tread water," he said. "But I think sometime in the next five years, there will be slot machines at racetracks."
A stumbling block to progress in Ohio Thoroughbred racing is ongoing friction between horsemen and the tracks. Early last year, Beulah Park and horsemen ended up in a legal battle over simulcast signals, and it still hasn't been resolved. Their relationship tanked.
"Beulah Park refuses to talk to the horsemen," Ruma said. "That lawsuit is still out there, and I'm willing to press it all the way. I'm actually much better off having a lawsuit than having to deal with these guys. I drew a line in the sand."
A different story
Such isn't the case at Northfield, where horsemen race for a steady diet of $2,000-$4,000 purses. Northfield, located in the lake effect snow belt off Lake Erie, is one of those grind-it-out tracks that rarely cancels live racing and makes a living by maximizing export of its signal at every opportunity.
Some may say the harness horsemen aren't proactive enough; others contend they're doing what they can to maintain an industry.
"I'm constantly amazed at the stamina, faith, and just the stubbornness of horsemen in the state of Ohio," Aldrich said. "They've been very fair, and almost protective of Northfield. I'm proud of the fact that even though we can't compete with other states (in regard to quality), we still project a good, competitive card that a lot of people in other states seem to like."
For purses, a $2,000 minimum is the magic number for Northfield. Aldrich said he doesn't want to see it drop, so further changes may be necessary to maintain it. This year, the track was awarded more than 200 days; next year, 190-200 is possible, he said.
The track reached its high point in the late 1980s with 238 live racing days a year. Without an alternative revenue source for purses, there could be a return to the late 1970s, when Northfield raced about 150 days.
"We'd be back to that by 2011 if nothing changes, and it will not be a product that is very enticing," Aldrich said. "The anchor for live racing in Ohio is Northfield. There has to be a place where the participants in Ohio can count on getting their horses raced."
Despite the overall gloom in Ohio, there isn't any talk of racetracks closing for financial reasons. River Downs, Ohio's flagship track now in terms of overall ambiance and perhaps racing product because of its turf couse and proximity to Kentucky, is said to be profitable.
Aldrich said Northfield is, too. The track is owned by the family of Brock Milstein, who Aldrich said values Northfield and is proud of its history.
"That's not to say he doesn't want to make a profit--he does, and we do," Aldrich said. "We just look forward for a better day. We have no plans to close. Nobody is giving up here. We'll just keep tucking and pruning."
Breeding industry suffers
All four of Ohio's harness tracks have cut racing dates this year. Low purses and fewer racing opportunities have impacted the Standardbred breeding industry, which at one time led the United States in number of foals.
In 1995, Ohio had 1,940 registered Standardbred foals. In 2006, the number had fallen to 1,468. Last year, the number of mares bred was down 37% from 2006, according to the United States Trotting Association.
Growth in Standardbred breeding has come in states with programs tied to revenue from alternative gaming. Even New Jersey, which has the premier harness track in the country, is losing numbers.
Dr. John Mossbarger, an Ohio Standardbred breeder and owner, said the numbers in Ohio dropped soon after the defeat of the 2006 racetrack gaming referendum.
"We desperately need Ohio's leaders and citizens to find a way to work with us instead of against us, so we can keep our mares and breeding operations here in our state," Mossbarger said. "The equine racing industry is about real people and real jobs. Horse racing doesn't operate in a vacuum. Its presence has a profound impact on Ohio's agricultural community."
The Thoroughbred numbers have slipped as well. In 1997, the number of Ohio-accredited or –registered foals was 611. In 2006, the number was 292. It is expected to be much lower than that this year.
Some Ohio Thoroughbred breeders have found ways to compensate. Those with more money will send mares to Kentucky but foal in Ohio; those with lesser stock play the game in the hope of getting a decent runner that can grab breeders' awards and purse supplements in overnight races.
Holding out hope
Laurie Hickman, a local breeder and racing enthusiast who had a horse in last year's Best of Ohio series, acknowledged the financial difficulties but said her heart is in the industry.
"I have four mares," Hickman said. "It's almost stupid not to put them in Pennsylvania or Indiana. But the way we play the game at the lower level, Ohio's not a bad place to be. You can make a lot more with an Ohio-bred $5,000 claimer in Ohio than in Kentucky. And if you get a good one, you can make money in the Ohio program."
Thoroughbred breeder and owner Ron McKay, who races in Illinois, Indiana, Kentucky, and Ohio, has numerous trophies won by his Ohio-bred champions. McKay and his trainer, Mike Nance, are regulars on Best of Ohio day despite declining purse money.
"This is day is good," McKay said. "For Ohio, it's tremendous. We're going to be here even if the pot is $50,000. We're breeding to challenge the Ohio market and be competitive here, but we have a whole lot less foals each year.
"It's getting to the point where we can't race our horses in Ohio. To be honest with you, I have to look at the Pennsylvania program."
Obrecht said he has five mares and plans to have them foal in Ohio for the time being. He said he expects the struggling state-bred stakes program will remain intact for the foreseeable future.
"If you have a decent horse, it's going to go through its conditions fairly easily in Ohio because of the smaller crop, but in the long run, it's devastating to the program," Obrecht said.
Barron, the longtime racing commissioner, hasn't given up, either. Last year, he put together a partnership that purchased an Ohio yearling.
"Is it a good financial decision? Probably not," Barron said. "It was an emotional decision."
And there are many people with such ties to Ohio racing and breeding. Save Ohio Racing reports the industry contributes about $770 million a year to the state's economy, and is responsible for about 16,000 jobs. The trickle-down is substantial in a largely agricultural state.
"You don't have to be very smart to understand it," Barron said. "You have so many elements that feed into horse racing. It's an economic thing. But the lawmakers turn their backs on it, and we have a multimillion-dollar industry going to the crapper."