The field for the 134th running of the $2-million guaranteed Kentucky Derby Presented by Yum! Brands (gr. I) Saturday, May 3, at Churchill Downs is limited to 20 horses. If more than 20 are entered, preference will be given to entrants based on earnings in graded stakes races. Here is a look at earnings in those races for Kentucky Derby 134 nominees through April 23, 2008. Compiled by Ben Huffman, Churchill Downs racing secretary.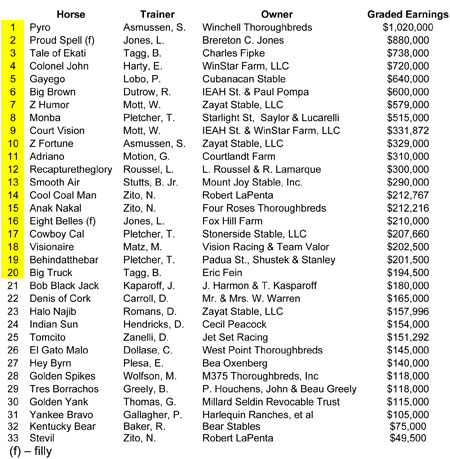 The conditions for the 134th Kentucky Derby, as stated in the Churchill Downs condition book, are as follows:
Supplemental nominations may be made upon payment of $200,000 and in accordance with the rules set forth. Starters shall be named through the entry box on Wednesday, April 30, 2008, at 10:00 a.m. Eastern Daylight Time ("the Closing"). The maximum number of starters shall be limited to twenty (20). Supplemental Nominees will be allowed to enter but will not have preference over any Original Nominee and will not be allowed to start in the Race if the maximum number of starters has otherwise been
reached by Original Nominees prior to or at the Closing. If the number of nominees exceeds the number of available starting positions at the Closing, these conditions shall be applied to determine which nominees will be allowed to start. In the event that more than twenty (20) entries pass through the entry box at the Closing, the starters shall be determined at the Closing from Original Nominees first, then to Supplemental Nominees if starting positions are still available with preference given to those horses that have
accumulated the highest earnings in the Graded Stakes races, including all monies actually paid for performance in such Graded Stakes races. For purposes of this preference the graded status of each race shall be the graded status assigned to the race by the International Cataloguing Standards Committee in Part I of the International Cataloguing Standards as published by The Jockey Club Information Systems,
Incorporated each year. Should additional starters be needed to bring the field to twenty(20) the remaining starters shall be determined at the Closing with preference given to those horses that have accumulated the highest earnings in Non-Restricted Sweepstakes. For purposes of this preference, a "Non-Restricted Sweepstakes" shall mean those Sweepstakes whose conditions contain no restrictions other than that of age or sex. In the case of ties resulting from preferences or otherwise, the additional starter(s) shall be
determined by lot. Any horse excluded from running because of the aforementioned preference(s) shall be refunded the $25,000 entry fee and $200,000 supplemental fee, if applicable. An "also-eligible" list will not be maintained and in no event will starters be added or allowed to run in the Race which are not determined to be starters at the Closing.