by Avalyn Hunter
While this year's Triple Crown hopefuls are staging the usual spring drama, the 3-year-old fillies have been putting on some pretty good shows themselves on the road to the Kentucky Oaks (gr. I), not least among them Eight Belles' performance in the Honeybee Stakes (gr. III) at Oaklawn Park. Not only did she defeat previously unbeaten grade II winner Pure Clan without breaking a sweat, but her time was only .03 seconds off the time posted by Sierra Sunset in Oaklawn's Rebel Stakes (gr. II) at the same distance the previous day.
Racing for Fox Hill Farms, Eight Belles has three consecutive impressive wins under her belt and will now be the likely favorite for Oaklawn's major Oaks prep, the Fantasy Stakes (gr. II),on April 6. She is a daughter of Unbridled's Song, who was a pretty impressive racehorse on his own account when he was right. The son of 1990 champion 3-year-old male Unbridled (by Fappiano, by Mr. Prospector) and the winning Caro (IRE) mare Trolley Song won the 1995 Breeders' Cup Juvenile and 1996 Florida Derby, both grade I events, but was troubled by foot problems by the time the 1996 Kentucky Derby rolled around and flattened out to finish fifth after having briefly assumed the lead. He never seemed to come back to his best form after that and retired after a brief campaign at 4.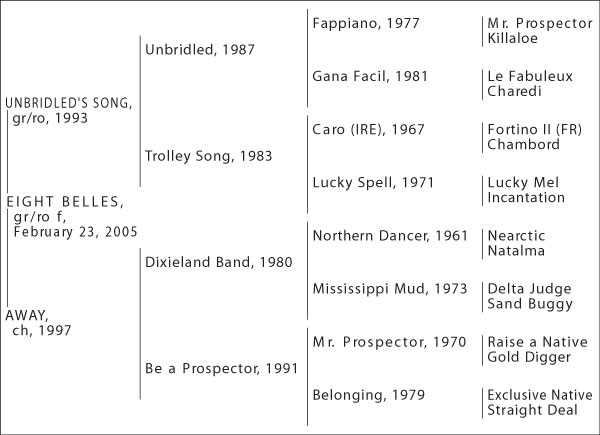 A tall, lengthy, elegant gray who stands at Taylor Made Farm, Unbridled's Song has been one of the more popular commercial sires of the early 21st century. His progeny have not done badly on the track, either. To date, his first eight crops, totaling 846 foals, have yielded 432 winners (51.1%) and 67 stakes winners (7.9%) worldwide — a good record, if no threat to the memories of Northern Dancer or Mr. Prospector. His 25 graded stakes winners include last year's grade I winners Octave and Political Force, who were the first of their sire's progeny to win grade I races at the American classic distance of 10 furlongs.
Bred by Robert Clay and Serengeti Stable, Eight Belles is the third graded winner by Unbridled's Song to feature inbreeding to Mr. Prospector. The others are 2005 Honorable Miss Handicap (gr. II) winner Forest Music and 2006 Durham Cup Handicap (Can-III) winner Barracuda Boy, whose dams both descend from Mr. Prospector in the male line. Eight Belles' Mr. Prospector inbreeding takes another route, as she gets her second cross of Mr. Prospector through a daughter of the great sire and broodmare sire.
Eight Belles is the second foal of the Dixieland Bandmare Away, previously the dam of the winning Elusive Quality colt Escape Route. A solid sprint filly, Away won seven of her 24 starts, including the 2002 Minaret Stakes, and placed in two grade III races. She is a half-sister to another stakes winner in Rich Find (by Exploit) and a full sister to stakes-placed Fiddler's Find.
Away is a daughter of multiple grade II winner Dixieland Band, who has forged a fine record even among the many excellent sire sons of the great stallion Northern Dancer. The sire of 114 stakes winners as of March 17, including champions Drum Taps, Cotton Carnival, and Check the Band, Dixieland Band is also the maternal grandsire of 111 stakes winners and led the broodmare sire list in 2004. As of this writing, Dixieland Band is still active at Lane's End Farm.
Away was produced from the Mr. Prospector mare Be a Prospector, an unraced half-sister to the multiple grade III winner and good sire Belong to Me. The siblings' dam, Belonging (by Exclusive Native), is, in turn, one of three stakes winners produced by 1967 champion handicap female Straight Deal, a great-granddaughter of the remarkable matriarch *La Troienne. Straight Deal was a great success as a "dam of dams," for she had three other daughters that produced graded stakes winners. Desiree (by Exclusive Native's sire Raise a Native and, thus, closely related to Belonging) produced multiple grade I winner Adored (by Seattle Slew); So Endearing, a full sister to Desiree, produced 1986 Del Mar Futurity (gr. I) winner Qualify; and Reminiscing (by Never Bend) produced three stakes winners headed by 1986 Sanford Stakes (gr. II) winner Persevered (by Affirmed).
Be a Prospector is a closely inbred mare (2 x 3 Raise a Native), which may not have helped her on the track but obviously did not hurt her as a broodmare. Away, a better racer, is inbred 4 x 4 x 5 to Raise a Native's sire, Native Dancer (also the sire of Natalma, dam of Northern Dancer), while Eight Belles is inbred 4 x 3 to Mr. Prospector, Raise a Native's best son. This type of repeated inbreeding to a prepotent sire line has been touted by some pedigree theorists as increasing the chances of success for a stallion prospect. How well it works as a strategy for producing a good broodmare may be another question, but in this case, it certainly has not hurt in producing a good racehorse.