by Avalyn Hunter
Relaunch was not particularly expected to be a great stud success. A son of In Reality, he was not from one of the fashionable sire lines, and he was only a grade III winner on the track. But the handsome gray beat the odds, becoming one of the few stallions free of Northern Dancer, Mr. Prospector, and Seattle Slew to become a popular sire during the 1980s and 1990s.
Among Relaunch's best sons was Honour and Glory, a member of the 1993 crop. While he did not stay much beyond a mile, Honour and Glory had enough talent to win four graded stakes in his career. His crowning moment was in the 1996 Metropolitan Handicap (gr. I), in which he defeated the older grade I winners Afternoon Deelites, Lite the Fuse, and Flying Chevron while zipping the mile in 1:32.81.
Honour and Glory was physically sound at the end of his 3-year-old season, but two factors helped contribute to the decision to retire him. One was that Relaunch died in November 1996, leaving a gap in the stallion ranks that his other top racing sons, Skywalker and Waquoit, had not been able to fill. The other was that Honour and Glory seemed to be losing his zest for racing. The colt retired to Ashford Stud having won six of his 17 starts for earnings of $1,202,942.
Produced from the Al Nasr (FR) mare Fair to All, a half-sister to multiple grade I winner Ogygian, Honour and Glory is from the immediate family of the very good sire Fappiano. As such, he was expected to be a top prospect to replace his sire in the commercial ranks. He got off to a promising start, getting 2000 champion juvenile filly Caressing, Japanese group I winner Name Value, and six other stakes winners from the 82 named foals of his first Northern Hemisphere crop. But since then, he has had a spotty record. To date, Honour and Glory has sired nine Northern Hemisphere crops of racing age — a total of 861 named foals, including 88 juveniles of 2008. His 773 Northern Hemisphere foals aged 3 and up have so far yielded 31 stakes winners (4.0%).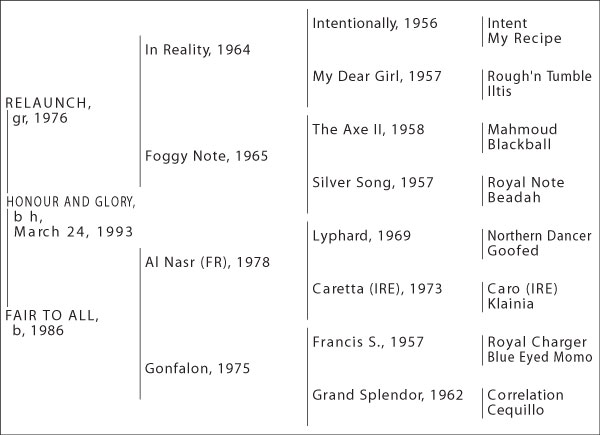 Honour and Glory has had an even worse struggle in Australia, where he shuttled in 1997-2001. Of the 323 foals he sired Down Under, only four have won stakes to date, headed by group II winner Only Glory (AUS). But the stallion's initial results from Argentina have told a very different story. From his first Argentine-sired crop, 94 named South American foals of 2004, Honour and Glory has sired stakes winners Codigo De Honor (Polla de Potrillos-Roberto Alvarez Calderon Rey, Per-I), Cuestion de Honor (Gran Premio Raul y Raul E. Chevalier, Arg-I), Indio Glorioso (Consagracion de Potrillos and Gran Premio Jockey Club, both Arg-I), Mach Glory (Gran Premio Estrellas Juvenile, Arg-I), Enjoy Glory (Premio Fortunato Damiani, Arg-III), Honour Devil (Gulf News UAE Two Thousand Guineas, UAE-III), and Linda May (Premio General Luis Maria Campos, Arg-II). More stakes winners may well emerge from this crop, which has not yet completed its 3-year-old season on South American time.
It will be interesting to see whether Honour and Glory can follow up at the same level with his second Argentine crop, still 2-year-olds by South American time. So far, the stallion has just one stakes winner from the 93 named foals in this group, but that one stakes winner is Bouclette Glory, winner of the Gran Premio Saturnino J. Unzue (Arg-I) and the Clasico Carlos Casares (Arg-II).
The success of Honour and Glory in Argentina is not unprecedented as he is following in the hoof prints of another son of Relaunch, Slew Gin Fizz. While an inconsistent sire, Slew Gin Fizz has gotten some very good individuals in South America, among them 2006 Argentine Horse of the Year Latency, 2000 Argentine champion miler Cafetin, and 2000 Gran Premio Carlos Pellegrini (Arg-I) winner Guarachero. Given that Honour and Glory was both sounder and more talented as a racer than Slew Gin Fizz, it was certainly reasonable to expect that he might also do well in Argentina.
One interesting development has been the emerging cross between sons of Relaunch and mares sired by the excellent Argentine stallion Cipayo and his sons. While this cross has not necessarily outperformed opportunities in terms of numbers of winners, it has produced some excellent racers when it has clicked. All three of Slew Gin Fizz's top performers are from this cross, as are Cuestion de Honor, Bouclette Glory, and Honour Devil. With regards to Honour and Glory himself, other pedigree elements that appear to be working well with him include War Admiral, War Relic, and strains of Man o' War that he does not already have (the more the merrier, it seems); Caro (IRE), and Prince John.
Honour and Glory was sold to La Mission Stallion Station in June 2006, so he appears to have an assured future in Argentine breeding, though he remains under lease to Wintergreen Stallion Station for the Northern Hemisphere season through 2010. One can hope that he will have a long, honorable, and glorious career in his new country.