by Alan Porter
The travails of War Emblem's stud career in Japan have been fairly well documented. Less realized, however, is that the results from his few representative runners have been extremely good, and that in 2008 he is already sire of three 3-year-old black type winners.

Bred in the name of Charles Nuckols Jr. & Sons for owner Russell Reineman (under an arrangement where Nuckols leased all of Reineman's mares), War Emblem won two of three juvenile starts, but only sprang to national prominence after his fourth start as a 3-year-old, when he led throughout to take the Illinois Derby (gr. II) by 6 1/4 lengths over Repent, earning a Beyer speed figure of 112.

Shortly afterwards, War Emblem was purchased for around $900,000 by the late Prince Ahmed bin Salman's Thoroughbred Corporation and transferred to the barn of Bob Baffert. He again led throughout in the Kentucky Derby (gr. I) scoring by four lengths over Proud Citizen and Perfect Drift. The Preakness Stakes (gr. I) proved tougher, as War Emblem wasn't allowed to establish an early daylight lead as he had in the Derby. Taking command after a swift half, he quickly shook off a challenge from Proud Citizen, but had to dig in to hold off the late charge of locally-trained longshot Magic Weisner by a half length. Odds-on favorite to capture the Triple Crown, his Belmont Stakes (gr. I) challenge evaporated when he stumbled at the break. The dedicated front-runner was never able to get back into contention, and trailed home eighth, beaten nearly 20 lengths, as longshot Sarava narrowly defeated Medaglia d'Oro .

War Emblem bounced back to lead throughout the Haskell Invitational (gr. I), and took the race by 3 1/2 lengths over old rival Magic Weisner. But he ended his career finishing unplaced in the Pacific Classic and Breeders' Cup Classic (both gr. I), and in all probability the knee and ankle chips that had been present even at the time of his purchase had caught up with him.

War Emblem is by Our Emblem, a late-closing sprinter by Mr. Prospector out of the undefeated champion Personal Ensign. Although grade I-placed, Our Emblem never won a stakes. Apart from producing War Emblem, he was a major disappointment at stud who sired a total of only eight stakes winners and only two other graded winners. Due to that fact - and because War Emblem's female line was not a particularly commercial one - it was no great surprise when, just a few weeks after the death of his owner, it was announced that War Emblem would commence his stud career in Japan after being purchased for approximately $17 million by Shadai Farm, Japan's leading stallion station. That move actually might have turned out to be an inspired one, had it not been for War Emblem's mysterious lack of libido.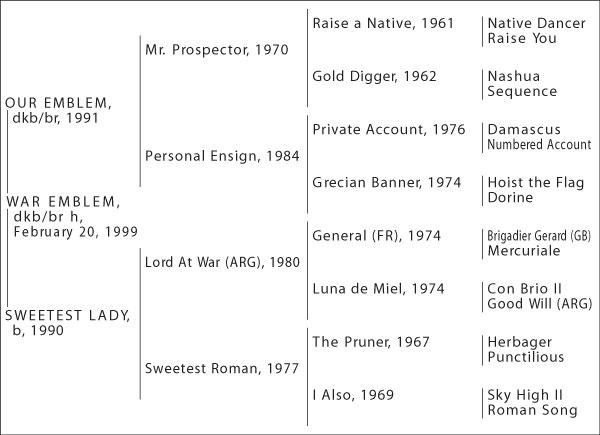 Showing an almost complete lack of interest in breeding, War Emblem sired only four foals in his first crop – born in 2004 – two of which have won races that are considered stakes in Japan, although they don't qualify for black type in U.S. catalogs. War Emblem did much better in his second season, getting 22 named foals, but that proved to be a false dawn, as he had no named foals in 2006, saw fit to cover only one mare that fall, failed to get her in foal, and didn't breed any mares at all in 2007.
Still, it is that second crop - foals of 2005 - that is making waves this year. Between Feb. 11 and March 22, three of War Emblem's foals captured black type events.

The first of these was the colt Shonan Alba (JPN), who captured the nine-furlong Kyodo News Service Hai. Out of a mare by Nureyev's son Great Commotion and from the family of Thunder Gulch, he might be the first stakes winner inbred to the great British runner, Brigadier Gerard (grandsire of War Emblem's broodmare sire, Lord At War (ARG), and sire of the second dam of Shonan Alba). The Nureyev strain in Shonan Alba is an interesting one, as it pulls together Argentine elements in the sire and dam of War Emblem. It is also interesting to see a Japanese-bred foal with inbreeding to a great British runner, where the key to the background is horses bred in Argentina.

Our Emblem's third dam, Dorine, was a champion sprinter in Argentina, and was by Aristophanes (GB) out of a mare by Advocate, with a second dam by Congreve (ARG). Lord At War was also a champion in Argentina, and his granddam, Good Will (ARG), is by Atlas (ARG), an Aristophanes son whose second dam is by Congreve. Forli, a great performer in Argentina, is by Aristophanes out of a mare by Advocate, and is closely related to Dorine. What's particularly interesting about Aristophanes is that his granddam, Riot (GB), is a half-sister to the very good English miler and sire Fair Trial (GB), who in turn is the sire of Advocate. As a result, Dorine and Forli have the part-siblings Riot and Fair Trial 3 x 3. This gets really intriguing when we recall that Shonan Alba is inbred 5 x 3 to Brigadier Gerard, as that horse is by Queen's Hussar (GB), who was inbred 3 x 3 to Fair Trial. So, what appears to be something of an international outcross is linked by an accumulation of concentrations of the closely-related Riot and Fair Trial.