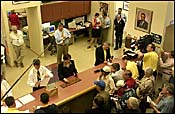 2. Funny Cide
3. Outta Here
4. Lone Star Sky
5. Buddy Gil
6. Brancusi
7. Empire Maker
8. Peace Rules
9. Indian Express
10. Atswhatimtalknbout
11. Ten Cents a Shine
12. Domestic Dispute
13. Eye of the Tiger
14. Ten Most Wanted
15. Sir Cherokee
16. Scrimshaw
17. Supah Blitz It looks like two of the top closers – Ten Most Wanted and Sir Cherokee – will be breaking from the outside, unless the rail is open and their connections opt to choose it, which is unlikely, considering post 1 has been taboo in recent years. Of the contenders, Buddy Gil, Empire Maker, and Peace Rules, will come away with excellent posts. Scrimshaw, with his running style, may be the one hurt the most by the draw. Indian Express, the likely pacesetter will probably wind up outside the speedy Peace Rules, Brancusi, and Funny Cide, unless Bob Baffert decides to snatch up one of the inside posts if any decent ones are available by the ninth pick. He'll at least have the advantage of knowing where the other speed horses are before choosing.No one was having more fun this morning than Buddy Gil's Desperado Stables crew -- longtime buddies, led by Donnie McFadden, who bred Buddy Gil and raised him at his Billingsley Creek Ranch in Hagerman, Idaho. This morning, Buddy Gil jogged a mile and galloped a mile under assistant trainer Amy Mullins, wife of trainer Jeff Mullins. The son of Eastern Echo is one of those who are thriving at Churchill Downs. He seems to have put on more muscle since we saw him at Santa Anita, and he's becoming more aggressive every day. This is one horse who should be sitting on a big effort.Funny Cide, runner-up to Empire Maker in the Wood Memorial, was scheduled to board a 1 p.m. flight in New York, and is expected to arrive at Churchill Downs late this afternoon. Brancusi, runner-up in the Blue Grass Stakes, is still cloistered away at Keeneland and is not expected to arrive at the Downs until tomorrow.Ten Most Wanted, as usual, was strong this morning, as he was accompanied to the track by trainer Wally Dollase, aboard his pony, Blackie. The son of Deputy Commander is really feeling good these days, and is showing all the right signs.Peace Rules -- remember him? -- is back to his old ways, galloping strongly with his head down and into the bit. You won't find a more radiant coat on any of the Derby starters.Outta Here, fourth in the UAE Derby, had a very smooth gallop this morning. He schooled in the paddock on Tuesday and was soaking wet, walking around the ring in the near 80-degree weather. He'll likely return to the paddock on Thursday.