by Avalyn Hunter
Many horses that undergo knee surgery never seem to be quite the same afterwards even if they return to racing. Surgical techniques have been improving rapidly over the last few decades, and more and more horses do make successful comebacks. Even now, however, few manage what Bustin Stones has done. Not only has the Roddy Valente homebred come back from surgery on both knees, but he has successfully made the jump from restricted stakes company prior to his surgery to graded stakes company afterwards. Unbeaten in six starts, the colt joined the elite of his breed April 5 with a gutsy win in the Carter Handicap (gr. I) and must now be considered a potential contender for an Eclipse Award in the sprint division.
Bustin Stones is unquestionably bred for speed. His sire, City Zip, racked up six graded stakes wins at seven furlongs or less, including the 2000 Hopeful Stakes (gr. I). Although not blessed with the most perfect of forelegs, City Zip also proved durable enough to make 23 starts in his two seasons of racing, quite good by modern standards. From his first three crops of racing age, totaling 185 foals, City Zip has sired 104 (56.2%) winners and 9 stakes winners (4.9%).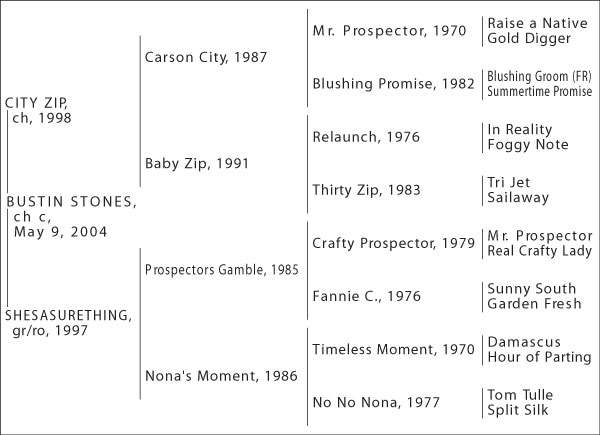 City Zip is by the late Carson City, a very fast son of Mr. Prospector and the Blushing Groom (FR) mare Blushing Promise. Although both Mr. Prospector and Blushing Groom could get top runners over nine or 10 furlongs and his second dam was sired by the high-class stamina influence Nijinsky II, Carson City was strictly a sprinter, his biggest scores coming in the six-furlong Sapling Stakes (gr. II) at 2 and the Boojum Handicap (gr. III) over a similar distance at 3. Most of Carson City's progeny were sprinters like himself, but he is also the broodmare sire of ill-fated 2006 Kentucky Derby Presented by Yum! Brands winner Barbaro.
On the dam's side, City Zip is out of the stakes-winning Relaunch mare Baby Zip, making him a half-brother to 2004 Horse of the Year Ghostzapper(by Awesome Again). Although Ghostzapper could stay 10 furlongs, he possessed exceptional speed in his own right, winning the 2003 Vosburgh Handicap (gr. I) in 1:14.73 for the 6.5 furlongs and the 2004 Tom Fool Handicap (gr. I) in 1:20.42 for seven furlongs.
Bustin Stones is out of Shesasurething, a multiple winner at sprint distances and a half-sister to the restricted sprint stakes winner Ryan's Moment (by Raise a Native's son Recognized). She is by Prospectors Gamble, a graded stakes winner at distances from six furlongs to one mile, with an additional stakes win at 8.5 furlongs — a typical range for a son of Crafty Prospector. Although Crafty Prospector himself stayed well enough to miss by just a neck against champion filly Christmas Past in the 10-furlong Gulfstream Park Handicap (gr. I), his progeny were for the most part sprinters and milers. Given a chance at stud, Crafty Prospector made the most of it; one of the most reliable sources of soundness and durability among Mr. Prospector's sons, Crafty Prospector has sired 91 stakes winners from 1,064 foals of racing age. He was pensioned in March 2007. Prospectors Gamble, who died in February 2003, was not the equal of his sire at stud but did get 16 stakes winners, among them 1999 Futurity Stakes (gr. I) winner Bevo and multiple graded stakes winner Proper Gamble.
Shesasurething was produced from Nona's Moment, a winning daughter of Timeless Moment. Although a son of the excellent stayer Damascus, whose victories included the Jockey Club Gold Cup over two miles, Timeless Moment preferred much shorter distances; in fact, he had the speed to hand the mighty Forego a loss in the 1974 Nassau County Handicap (gr. III) over seven furlongs, albeit with the help of a hefty weight concession. Timeless Moment proved quite capable of passing speed on to his progeny as well; among them were French champion juvenile filly Culture Vulture and U.S. champion juvenile male Gilded Time.
Bustin Stones' heritage of speed doesn't end there. He is inbred 3 x 4 to Mr. Prospector via Carson City and Crafty Prospector. While Mr. Prospector never won a championship or even a graded stakes, he nonetheless showed tremendous speed during his racing career, hanging up a track record of 1:07 4/5 for six furlongs at Gulfstream Park that was not equaled until his great-grandson Artax's win in the 1999 Breeders' Cup Sprint (gr. I). Bustin Stones is also inbred 4 x 5 to In Reality, a good speed source, and 5 x 5 to Native Dancer, whose many racing accomplishments included a world record-equaling performance for 6.5 furlongs in the Futurity Stakes as a juvenile.
Tentatively, the Metropolitan Handicap (gr. I) at one mile has been penciled in as Bustin Stones' next dance. Realistically, his pedigree suggests that a mile is about as far as he is likely to stay, and the competition will doubtless be tough. But there is no questioning either Bustin Stones' speed or the courage he displayed in fending off a determined Executive Fleet virtually gate to wire in the Carter. If he proves able to stay the mile, that stamina will simply add one more set of options for one of the more exciting new faces seen so far this year.
See also: Regional Sires Bustin' Out by Alan Porter