by Alan Porter
In recent Derby trials we've seen surprise victories combined with the eclipse of many high-profile classic candidates. Offspring of Cherokee Run finished on both ends of the spectrum.
In the Wood Memorial Stakes (gr. I), Cherokee Run's 2007 champion 2-year-old, War Pass, was gallant in defeat, battling on after being pushed to suicidal early fractions by a "rabbit" but still gave the impression that the Kentucky Derby Presented by Yum! Brands (gr. I) trip may be a "bridge too far." A little later in the day, Cherokee Run's son Recapturetheglory started at nearly 16-1 for the Illinois Derby (gr. II) but triumphed by four lengths, with the highly-rated Denis of Cork and Atoned finishing off the board.
Recapturetheglory is owned by Louie Roussel III and Ronnie Lamarque, and trained by Roussel. The glory they are hoping to recapture is what the duo experienced with Secretariat's son Risen Star. Third in the 1988 Derby, Risen Star went on to capture the Preakness and Belmont (both gr. I), earning an Eclipse Award as the best 3-year-old colt of his crop. Recapturetheglory has something in common with him, as Risen Star cost $300,000 as a 2-year-old at the Fasig-Tipton February 2-year-olds in training sale, and Recapturetheglory was a $215,000 purchase at the same sale. Recapturetheglory had previously realized $160,000 at Fasig-Tipton Kentucky July as a yearling and $130,000 as a Keeneland November weanling.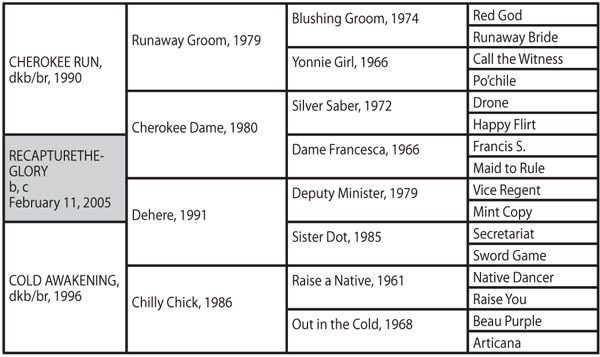 Recapturetheglory took a while to demonstrate the potential to justify his price. Off the board first time out, and third in his second start — both of which came in sprints — he gained a nose victory when stretching out to an extended mile at Hawthorne Sept. 29. Runner-up to subsequent Fountain of Youth Stakes (gr. II) winner Cool Coal Man in an 8 1/2-furlong Churchill Downs allowance event to close out his juvenile career, Recapturetheglory started his sophomore campaign Feb. 29 with a third in an 8 1/2 furlongs turf contest at Fair Grounds. The nine furlongs of the Illinois Derby (gr. II) was the furthest that Recapturetheglory has been asked to go, and he finished strongly with a last three-eighths in :36.17.
This pattern of improvement with distance is the opposite shown by Cherokee Run. A winner of five of seven starts at 2, Cherokee Run ran second in the 8 1/2-furlong What a Pleasure Stakes (gr. III) in his only juvenile stakes start. At 3, Cherokee Run impressed in the spring, equaling the track record while capturing the seven-furlong Lafayette Stakes (gr. III) and taking the one- mile Derby Trial (gr. III), before running Prairie Bayou — the champion 3-year-old of his crop — to half a length in the Preakness Stakes (gr. I). An unplaced effort in the Belmont Stakes (gr. I) was followed by a six-length victory in a muddy Dwyer Stakes (gr. II), but defeats in the Haskell Invitational and Travers Stakes (both gr. I) indicated that Cherokee Run was not best suited by middle distances. The following year confirmed that Cherokee Run's true forte was as a sprinter/miler. The campaign began with an allowance win before a series of minor rewards: thirds in the Westchester Handicap (gr. III) and Carter Handicap (gr. I); a second, behind a rampaging Holy Bull, in the Metropolitan Handicap (gr. I); and another second, beaten a head by Virginia Rapids, in the Tom Fool Stakes (gr. II). Cherokee Run gained his first graded success of the year in the Frank J. De Francis Memorial Dash (gr. II) — then contested in July — and followed up with a second in the A Phenomenon Handicap (gr. III) and a third in the Vosburgh Stakes (gr. I). Although far from dominant through the season, Cherokee Run's consistency made him the starting favorite for the Breeders' Cup Sprint (gr. I), and he narrowly justified the backers confidence with a late charge that carried him to the wire a head to the good of the filly Soviet Problem. In a year when there had been no clear leader in the ranks of the speedsters, this effort was sufficient to earn Cherokee Run an Eclipse Award as champion sprinter. Kept in training, Cherokee Run won the Gulfstream Park Sprint on his first start of the year, but came out of the Bold Ruler Handicap (gr. III) with an injury. He worked towards a return but was never seen in competition again.
Cherokee Run retired at a modest stud fee but made a bright start with champion 2-year-old filly Chilukki in his first crop, and another grade I winning juvenile, Yonaguska, in his second. There were only two stakes winners in Cherokee Run's third crop, but he was then represented by a fourth crop that was deeper than any of the three preceding it, producing seven stakes winners, headed by the multiple graded winners During, Kafwain, and Sir Cherokee. Cherokee Run then went through something of a quieter phase, just when an upsurge with his "post-Chilukki" crops might have been predicted. However, he enjoyed a very good year in 2007, with nine stakes winners including the 5-year-old mare Indian Flare, winner of the Vagrancy Handicap (gr. II); 3-year-olds Zanjero, who took the Indiana Derby (gr. II) and West Virginia Derby (gr. III) on his way to earnings of over $1.1 million; and Chelokee, successful in the Barbaro Stakes and Northern Dancer Stakes (gr. III); and juvenile champion War Pass.
That Recapturetheglory would improve as the distances lengthened would have been hard to predict from a look at either side of his pedigree. In addition to Cherokee Run's influence for speed (only five of his stakes winners have won at as far as nine furlongs, the best at that distance being During, who took the Swaps Stakes (gr. II); Sir Cherokee, who was successful in the Arkansas Derby (gr. II); and Zanjero. The distaff side of Recapturetheglory's pedigree doesn't exactly shout stamina, either. Recapturetheglory's dam, Cold Awakening, a daughter of champion 2-year-old Dehere, broke her maiden over seven furlongs, and ran second in the one-mile Kentucky Cup Juvenile Fillies Stakes. However, after finishing nearly 50 lengths behind Silverbulletday in the 8 1/2-furlong Walmac International Alcibiades Stakes (gr. II) she was never asked to go as far again, and spent most of the latter part of her career running over 5 1/2 and six furlongs. Cold Awakening is half-sister to a very fast horse in Rotsaluck, winner of the Hollywood Turf Express and Phoenix Gold Cup Handicaps (both gr. III), Morvich Handicap, and Foothill Stakes. Another of Cold Awakening's siblings, Chilly Rooster, did have more stamina. A son of Arch, he won the Fort Marcy Handicap (gr. III) over 8 1/2 furlongs but was also third in the 13-furlong Gallant Fox Handicap.
Recapturetheglory's second dam, Chilly Chick, a daughter of Raise a Native, was half-sister to Exuberant, a fleet 2-year-old, who won the 5 1/2-furlong Cabrillo Stakes and was second in the Arlington-Washington Futurity and Hopeful Stakes (both gr. I) and third in the Hollywood Juvenile Championship (gr. II), all of which were then run at six to 6 1/2 furlongs. Further back in the pedigree we do find some potential stamina sources — the third dam, Out in the Cold, won 10 times and earned a stakes placing with a third in the 10-furlong Vineland Handicap (gr. II). She was by Beau Purple, a dedicated front-runner who was Kelso's nemesis during the 1962 campaign and who set a new track record when defeating that champion in the 12-furlong Man o' War Stakes. The female line arrived in the U.S. with Recapturetheglory's fifth dam, Nato II, an English stakes winner by English Derby winner Court Martial, and was half-sister to 1957 Irish One Thousand Guineas heroine Even Star (GB). The family goes back to the great foundation mare Marchetta.
Recapturetheglory follows the 2003 Mazarine Breeders' Cup Stakes (Can-II) victress, Dream About, as the second stakes winner bred on the Cherokee Run/Deputy Minister cross, and is TrueNicks rated A. He also shares a pedigree factor with Cherokee Run's millionaire, Zanjero: both Recapturetheglory and Zanjero are out of mares sired by stallions, who in turn are out of daughters of Secretariat. This is potentially significant, as Cherokee Run's broodmare sire, Silver Saber, is a grandson of Secretariat's half-brother Sir Gaylord.