by Avalyn Hunter
With his game victory in the Arkansas Derby (gr. II) April 12, Cubanacan Stables' Gayego answered not one but two questions: He showed himself able to stay nine furlongs, and he demonstrated the ability to carry his form from a synthetic surface to dirt. He now appears poised to tackle the ultimate test for a 3-year-old in the spring: the Kentucky Derby Presented by Yum! Brands (gr. I).
Bred in Kentucky by Hargus Sexton and Sandra Sexton, Gayego has one of the more offbeat pedigrees among this year's Derby candidates, although one that is not without quality. His sire is Gilded Time, champion juvenile male of 1992. On the sidelines due to injury for most of 1993, Gilded Time came back in one of the toughest of spots, the Breeders' Cup Sprint (gr. I), and ran third behind the late-running Cardmania and the extremely fast filly Meafara.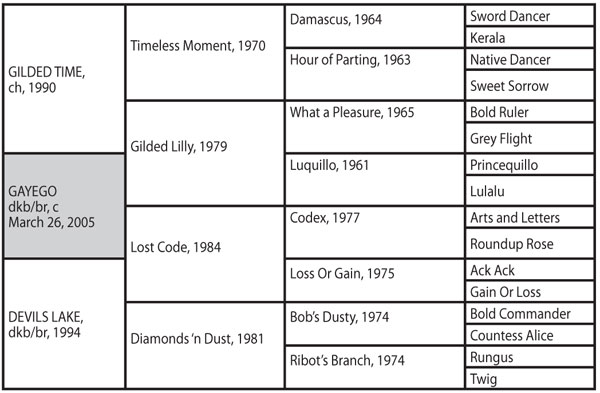 Retired to Vinery in Kentucky, Gilded Time never managed to break into the top ranks as a sire but has had a fairly useful career nonetheless. To date, he has sired 52 stakes winners from 1,065 foals of racing age worldwide, among them grade/group I winners Elloluv, Mandy's Gold, Barely a Moment (AUS), Band Gipsy, and Emit Time (AUS). Generally speaking, his offspring have been at their best over a mile or less, which is not too surprising given both his pedigree and his powerful, muscular build. For 2008, he has moved to Bar None Ranches in Alberta, Canada.
Gilded Time is by Timeless Moment, a sire of fairly similar merit. Although sired by the great Damascus, a horse that could stay up to two miles, Timeless Moment preferred shorter distances. His biggest win came in the 1974 Nassau County Handicap (gr. III), a seven-furlong race in which he managed to defeat the great Forego, albeit with the help of a sizable weight concession. Timeless Moment sired 35 stakes winners before his death in 1998. His other top runners included Culture Vulture, highweighted juvenile filly in England,Ireland, France, and Italy, and grade I winners Moment to Buy and All Fired Up.
The dam of Gilded Time, Gilded Lilly, is by What a Pleasure (Bold Ruler–Grey Flight) out of Luquillo, by Princequillo. This is a similar genetic background to that of champion juveniles Bold Lad and Successor, both by Bold Ruler out of Misty Morn (Princequillo–Grey Flight). The mix was not nearly as successful for Gilded Lilly, however; although a half-sister to 1970 Belmont Stakes winner High Echelon, she won but four minor races from 25 starts. Gilded Time was her only stakes winner as a broodmare.
Gayego is out of Devils Lake, a winning half-sister to 1992 Monmouth Oaks (gr. II) winner Diamond Duo (by Badger Land). As Devils Lake is by Lost Code out of Diamonds 'n Dust, she is bred on a very similar pattern to Diamond Duo; both Lost Code and Badger Land are sons of 1980 Preakness Stakes (gr. I) winner Codex.
One of the best colts of the 1984 crop — a group that included Alysheba, Bet Twice, and Gulch — Lost Code had withering speed and used it with devastating effect over his favorite range of eight to nine furlongs. His nine graded stakes victories included grade I scores in the Arlington Classic at 3 and the Oaklawn Handicap at 4. He sired 53 stakes winners prior to his death in 2001. His best runner was the popular Kalookan Queen, whose five graded stakes wins included a win over males in the Ancient Title Breeders' Cup Handicap (gr. I). He has also had his moments as a broodmare sire, as his daughters have produced 2001 U.S. champion sprinter Squirtle Squirt and 2005 Japanese champion miler Hat Trick (JPN), who is currently standing his first year at Walmac Stud in Lexington.
The sire of Diamonds 'n Dust, Bob's Dusty, was a solid runner but of a lower class than Lost Code, winning three grade III races at nine furlongs. Diamonds 'n Dust was produced from Ribot's Branch, whose sire Rungus was closely related to full brothers Graustark and His Majesty (both by Ribot out of Flower Bowl, by Alibhai–Flower Bed) as he was by Ribot out of Flower Bowl's full sister Floral Park. Given that Floral Park was a stakes winner, if not quite in the same class as Flower Bowl, one might have expected good results from this mating, but Rungus never made it to the races and did little as a sire.
Overall, Gayego's pedigree is dominated by horses whose maximum effective range was between eight and nine furlongs. His performance in the Arkansas Derby, thus, is within the limits indicated by his ancestry, but his ability to last 10 furlongs is more questionable, especially given that it took him :38.54 to cover his final three furlongs at Oaklawn Park after getting a near-perfect stalking trip. Still, he has proven himself more than a pure sprinter, and he has punched his ticket to the Kentucky Derby with consistent performances throughout the spring. That kind of consistency is always nice to see and should bode well for his career even after this year's Triple Crown campaign is in the books.