by Alan Porter
With the victory of his son Monba in the Toyota Blue Grass Stakes (gr. I), Maria's Mon became one of a handful of horses who have sired a grade I winner on dirt, turf, and all-weather surfaces. All the more tragic, then, that he died last year at the age of 14, during his most successful season to date.
A son of Wavering Monarch — from the Majestic Prince branch of the Raise a Native line — Maria's Mon was voted champion 2-year-old of what, on reflection, turned out to be an exceptional juvenile crop. At 2, Maria's Mon won four of his five starts, including the Sanford Stakes (gr. III) and the Futurity Stakes and Moet Champagne Stakes (both gr. I), and accounted for such as Unbridled's Song, Hennessy, Honour and Glory, Louis Quatorze, Gold Fever and Editor's Note. Maria's Mon raced twice at 3 without winning, which when coupled with a less than fashionable pedigree, is the reason his fee was set at just $7,500 when he retired to Pin Oak Stud in Versailles, Ky.
From that inexpensively-sired first crop of 74 foals came 10 stakes winners, headed by Kentucky Derby (gr. I) winner Monarchos, and graded winners Wander Mom and Silver Tornado. Maria's Mon sired six more stakes winners in his second crop, including grade I winner See How She Runs, but none in his third, which at 58 foals was his smallest to date.
Monarchos' Kentucky Derby came in 2001 and as a result, the mares that Maria's Mon received in the next few years were of much higher quality. Having sired South American grade I victress Cheiron in his fourth crop and four graded winners from his fifth, Maria's Mon really took off with his 2003 crop — the first conceived after Monarchos' 3-year-old campaign — which included the champion turf filly Wait a While; Malibu Stakes (gr. I) winner Latent Heat; Dwyer Stakes and Super Derby (both gr. II) victor Strong Contender; Cause to Believe, successful in the El Camino Real Derby (gr. III); and Criminologist, who took the Cardinal and Athenia Handicaps (both gr. III).
Sky Mom, winner of the WinStar Sunland Park Oaks, and Monba are stakes winners from Maria's Mon's current crop of 3-year-olds. For Monba, the Blue Grass was his first stakes victory (he won his first two starts at 2, before ending the year with a closing fourth in the CashCall Futurity (gr. I) at Hollywood Park, and his only other outing was an unplaced run in the Fountain of Youth Stakes (gr. II) earlier this year).
Bred by Mill Ridge Farm and Jamm Ltd., Monba is out of Hamba, a winner of two races and placed second twice in five starts. Hamba is dam of five other runners, headed by the listed stakes-placed Red Ransom filly Gijima. Out of the Pocahontas Stakes winner Ciao, Hamba is a half-sister to a trio of stakes-winning siblings sired by Private Account. They are Secret Hello, winner of four graded stakes including the Arlington-Washington Futurity (gr. I); Silent Account, who took the Alcibiades Stakes (gr. II), and who is dam of stakes winner and sire Gold Case; and the Anne Arundel Stakes winner By Your Leave. Hamba is also a half-sister to Hadif, a group winner in England and stakes winner in the U.S. and Canada, who was a successful and now-pensioned regional sire in Texas.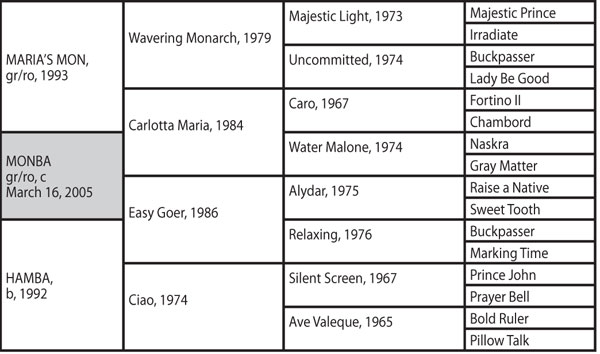 What is interesting about Easy Goer (the sire of Hamba) and Private Account (the sire of Hamba's trio of talented siblings) is the similarity between the distaff sides of their pedigrees: Both are out of mares by Buckpasser, and both go tail-female to the great mare La Troienne, who is also the third dam of Buckpasser. When combined with Hamba's bloodlines, this pedigree pattern becomes an intriguing one for many reasons. Through her third dam, Pillow Talk, heroine of the 1957 Black Eyed Susan Stakes, Hamba traces back to the Kentucky Oaks victress Alcibiades. That mare was a home-bred from the Beaumont Farm of Hal Price Headley (it is on land once occupied by Beaumont Farm that Mill Ridge Farm, owned by Headley's daughter, Alice Chandler, now stands). Alcibiades turned out to be a great foundation mare for Beaumont and Mill Ridge, producing champion 2-year-old Menow and the good stakes winners Sparta, Salaminia (third dam of Sir Ivor, the first top-class horse raised at Mill Ridge), and Lithe. Hamba's fourth dam, Hipparete, was a minor winning full sister to Menow, and this becomes important when noticing that Buckpasser is by Menow's great son Tom Fool. As a result, Hamba and her stakes-winning Private Account siblings all have the brother and sister Menow and Hipparete 5 x 4.
That's not all. Hamba's dam, Ciao, is by Silent Screen, who in turn is out of a mare by Better Self. Better Self was a talented performer — he won several important races, including the Carter Handicap, and ran second in the Belmont Stakes — but his long-term influence has been significantly greater than his immediate impact as a runner or sire would have suggested. This is because he is by Bimelech, the most successful son of La Troienne, out of a mare by War Admiral, which makes him a reverse cross to the legion of important producers who are by War Admiral out of daughters of La Troienne (including Busanda, Striking, Busher, and Mr. Busher). Since Buckpasser is out of Busanda, the matings of Easy Goer and Private Account with Ciao gave the relatives Busanda and Better Self 4 x 4.
While these clever patterns proved an explosive mix in the case of the Private Account siblings, they didn't ignite in the same way for Hamba. However, when a clever pattern fails to produce the desired results, intensifying it in the next generation can often pay dividends, and Monba is an excellent example of that dictum. A look at the pedigree of Maria's Mon's sire, Wavering Monarch, shows that his dam is by Buckpasser out of a Better Self mare who is herself closely related to the dam of Silent Screen. Therefore, this mating strongly reinforces the La Troienne sources in the pedigree of Hamba (in total there are five crosses of the great mare in the pedigree of Monba).
In addition, since Wavering Monarch is a product of the Raise a Native/Buckpasser cross, he has a pattern that is a parallel to that of Easy Goer. Duplicating the Raise a Native/Buckpasser cross – as here – has proved to be a very effective technique. Maria's Mon's only other graded winner out of a Raise a Native-line mare, Criminologist, has a dam by Seeking the Gold (again Raise a Native/Buckpasser), and he also sired grade I winner Latent Heat, whose second dam, Proflare, was bred on the same pattern. Other examples of inbreeding to this successful cross (with the sources of the cross in parentheses) include last year's brilliant 2-year-old Ready's Image (Woodman/Wavering Monarch); group I winner Teggiano (IRE) (Woodman, and the mare Beautifully Aly); group winner La Chunga (Woodman/Wavering Monarch); and graded winners Petionville (Seeking the Gold/Wavering Monarch), Watchmon (by Maria's Mon; Wavering Monarch/Miswaki), Happy Hunting (Seeking the Gold/Easy Goer), and Sue's Good News (Woodman/Easy Goer).