by Avalyn Hunter
When Behindatthebar won the Coolmore Lexington Stakes (gr. II) on April 19, Padua Stables and minority partners Michael Shustek and Don Stanley were presented with a dilemma: should they wheel the colt back around for the Kentucky Derby — Presented by Yum! Brands (gr. I) in just two weeks, or wait for the Preakness Stakes (gr. I) in two more weeks as originally planned? Their final decision — to wait for the Preakness — certainly benefitted the connections of Denis of Cork, who was able to get into the Derby field based on that defection and finished a late-running third. How much the decision will benefit Behindatthebar will be seen when the colt tackles Derby winner Big Brown in the Preakness.
Bred in Kentucky by Dr. Frank Justice and Meadow Oaks Farm LLC, Behindatthebar is by Forest Wildcat, a son of Storm Catand the unraced Bold Native mare Victoria Beauty who stands at Brookdale Farm near Lexington. A half-brother to multiple graded stakes winner Queen Alexandra (by Determined King) and to multiple stakes winner Medieval Victory (by Medieval Man), Forest Wildcat proved to be a late-maturing speedster who had his best year at age 5, when he won the Maryland Breeders' Cup Handicap and Finger Lakes Breeders' Cup Stakes, both grade III events.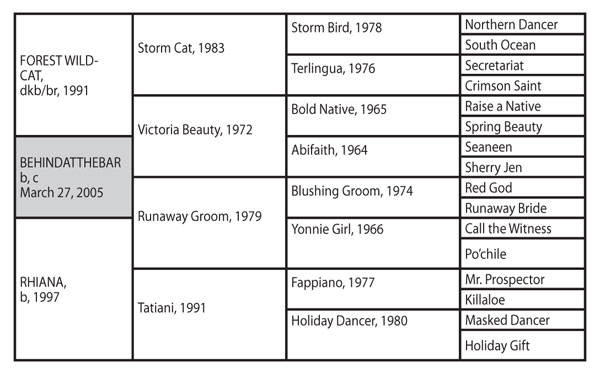 Including Behindatthebar, Forest Wildcat has been represented by eight stakes winners in 2008 as well as by grade I-placed Brownie Points. From his first eight crops of racing age, totaling 592 foals age 3 and up, Forest Wildcat has sired 356 winners (60.1%) and 53 stakes winners (9.0%). His best include 2003 Puerto Rican Horse of the Year D'Wildcat Speed, 2004 English champion older male Var, and grade I winners Forest Secrets, D'Wildcat, and Wildcat Heir.
Although best known as the sire of 1994 champion sprinter Cherokee Run, Runaway Groom also got horses that could go a distance, among them 1996 Suburban Handicap (gr. I) winner Wekiva Springsand 2000 United Nations Handicap (gr. IT) winner Down the Aisle. Runaway Groom was sired by the excellent stallion Blushing Groom (FR) out of Yonnie Girl, a stakes-winning daughter of the Better Self horse Call the Witness.
The dam of Rhiana, Tatiani, was unplaced in her only start. She is from the last crop of Fappiano, who stands at the head of what is arguably the most classically-inclined branch of the Mr. Prospector male line. The sire of 1990 Kentucky Derby winner Unbridled and 1987 Belmont Stakes (gr. I) runner-up Cryptoclearance, Fappiano is also the grandsire of 1996 Kentucky Derby winner Grindstone (by Unbridled), 1998 Kentucky Derby and Preakness winner Real Quiet(by Quiet American), 1998 Belmont Stakes winner Victory Gallop (by Cryptoclearance), and 2000 Preakness winner Red Bullet(by Unbridled). Tatiani was produced from Holiday Dancer, a stakes-winning daughter of the Nijinsky II horse Masked Dancer and the Seaneen mare Holiday Gift.
The key to Behindatthebar's pedigree may be the genetic similarities between his paternal granddam, Victoria Beauty, and his maternal granddam, Tatiani. To begin with, Bold Native, the sire of Victoria Beauty, is bred along similar lines to Mr. Prospector, sire of Fappiano: both are sons of Raise a Native out of mares from the family of the notable taproot mare Myrtlewood (also the ancestress of Masked Dancer). Then, on the dam's side, Victoria Beauty is out of Abifaith, a stakes-winning daughter of Seaneen, while Tatiani is out of a granddaughter of Seaneen. Thus, both mares are sired by similarly-bred Raise a Native-line horses out of mares with Seaneen close up. In addition, Behindatthebar carries Northern Dancer 4 x 6 through the successful Storm Bird/Nijinsky II cross.
Behindatthebar finished fifth in his only previous start on dirt, the El Camino Real Derby (gr. III) at Bay Meadows, so his ability to make his Keeneland form translate to the Pimlico surface is a serious question mark. There is also the question of whether he – or anything else in the Preakness field – has the talent level to be competitive with Big Brown if the latter colt is at his best. Still, the colt has as good a set of credentials as any of Big Brown's new rivals and should be fresh and ready to go at Pimlico.