by Avalyn Hunter
Not too many horses are as solidly bred for stamina as is Lattice, recent winner of the Louisville Handicap (gr. IIIT). As yet, he has not proven he belongs in the elite of the turf division — but if his bloodlines have anything to do with his future, he may well be there before the year is out.
Racing as a homebred for Claiborne Farm and Adele Dilschneider (who co-owns the colt with Seth Hancock), Lattice is by Arch, who has stood at Claiborne throughout his stud career after proving his racing merit with victories in the 1998 Super Derby (gr. I) and Fayette Stakes (gr. III). In the latter race, Arch set a Keeneland track record for 9.5 furlongs, but he subsequently ran next to last in the Breeders' Cup Classic (gr. I) at Churchill Downs and was retired having won five of his seven starts.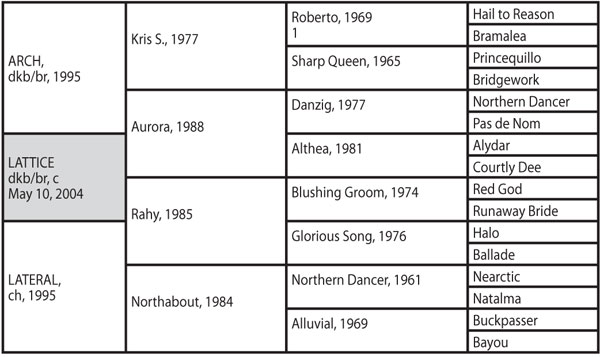 Arch is by Kris S., a son of Roberto and the Princequillo mare Sharp Queen. With such a pedigree, one would normally expect to get a stayer, and Kris S. appeared to be developing in that direction before injury forced him into retirement following his fifth start. Beginning his stud career in Florida at the modest fee of $3,500, Kris S. worked his way into a position among the elite American sires, commanding a fee of $150,000 by the time of his death in 2002.
While Kris S. could and did get top-class juveniles — his daughters Cheval Volant and Stocks Up both won the grade I Hollywood Starlet Stakes — his forte was transmitting stamina and often a taste for turf as well. The sire of 1993 champion 3-year-old filly Hollywood Wildcat and 1999 champion turf female Soaring Softly, Kris S. has been represented by two other useful sire sons in 1989 Breeders' Cup Turf (gr. IT) winner Prized and 1993 Haskell Invitational Handicap (gr. I) winner Kissin Kris.
Arch is arguably blessed with a better pedigree on the distaff side than either Prized or Kissin Kris, for his dam is the stakes-winning Danzig mare Aurora, also the dam of Jebel Ali Hotel & Resort Godolphin Mile (UAE-III) winner Festival of Light and listed stakes winner Alisios. Aurora, in turn, is one of four stakes winners (including Japanese champion Yamanin Paradise) out of five foals produced from 1983 champion 2-year-old filly Althea (by Alydar). Still not impressed? Then consider that Althea is one of eight stakes winners — seven of them graded stakes winners — produced by 1983 Kentucky Thoroughbred Owners and Breeders Broodmare of the Year Courtly Dee (by Never Bend).
Given the quality of his breeding, it was reasonable to expect that Arch would be a successful stallion, and he has done fairly well. Of his 292 foals 3 years old and older, 169 have won (57.9%) and 22 (7.5%) have won stakes, including 2006 Canadian Horse of the Year Arravale, 2006 English highweight older male Les Arcs, and three-time South African champion sprinter Overarching. His main drawback is that he tends to be a sire of late-developing types that often prefer turf, which has not endeared him to the commercial market.
Lattice is stoutly bred on the distaff side. His dam, Lateral, is by Rahy, whose reputation for producing turf runners capable of handling a distance of ground is well-deserved. Still active at Three Chimneys Farm, Rahy is represented this year by Fifth Third Elkhorn Stakes (gr. IIT) winner Dancing Forever, Selene Stakes (Can-III) winner Verdana Bold, and 2006 champion juvenile filly Dreaming of Anna, a multiple grade III winner in 2008.
One of the better sons of Blushing Groom (FR) at stud, the diminutive Rahy has never been particularly commercial but has consistently moved his mares up during his career, sporting an Average Earnings Index of 2.48 against a Comparable Index of 2.08. From 954 foals 3 years old and older, Rahy has sired 520 winners (54.5%) and 80 stakes winners (8.4%), including 2001 European Horse of the Year Fantastic Light, 1995 champion 3-year-old filly Serena's Song, and 2001 English highweight Noverre.
Rahy was produced from Canadian Horse of the Year Glorious Song, whose immediate family has a well-deserved reputation as a source of good stallions. Glorious Song herself produced the successful South African sire Rakeen (by Northern Dancer) and multiple champion Singspiel (IRE), sire of 59 stakes winners including 2007 champion turf female Lahudood (GB), while her dam Ballade is the dam of 1983 champion 2-year-old male Devil's Bag and Saint Ballado, also successful stallions.
Lateral was produced from Northabout (by Northern Dancer), an unraced half-sister to two-time champion Slew o' Gold (by Seattle Slew) and 1979 Belmont Stakes (gr. I) winner Coastal (by Majestic Prince). Both were horses that could stay 12 furlongs well and such stoutness has been a continuing characteristic of this female line. Their dam, Alluvial (by Buckpasser) is a half-sister to Batteur (by Bold Ruler), winner of the 10-furlong Santa Barbara Handicap in 1965, and is out of 1957 champion 3-year-old filly Bayou (by Hill Prince), runner-up in the Coaching Club American Oaks over 11 furlongs. Bayou's full sister, Levee, won the Coaching Club American Oaks in 1956 and produced the great staying mare Shuvee (by Nashua), a two-time winner of the Jockey Club Gold Cup at two miles.
An interesting point of Lattice's pedigree is the relationship between Danzig, broodmare sire of Arch, and Northabout, second dam of Lattice. Both are by Northern Dancer, and their respective broodmare sires, Admiral's Voyage and Buckpasser, share similar genetic backgrounds that combine Pharamond II, Teddy, War Admiral, Ultimus, Peter Pan, and Ben Brush. While it cannot be dogmatically stated that this is the spark driving Lattice's talent — his overall pedigree is, after all, quite good even without considering this angle — this pairing of similarly-bred animals cannot have hurt and is a pattern not uncommonly found in high-class stock. In any event, if bloodlines predict destiny, Lattice has every reason to improve during the year and may be a player in the distance turf races coming up later on.