Even though Big Brown didn't capture the Triple Crown, and Casino Drive didn't give Better Than Honour her third straight Belmont Stakes (gr. I) winner, the third leg of the Triple Crown was still historic in its own way. For as my colleague Avalyn Hunter brought to my attention — Da' Tara's victory was the first Belmont win for a male-line descendent of Man o' War since War Admiral completed his sweep of the Triple Crown in 1937.
War Admiral was a successful sire — he headed both the general sires and the 2-year-old sires classification — but, he turned out to be a more important sire of fillies than of colts, and it is not through War Admiral that Man o' War's line comes down to the present day. The horse who continued the sire line was the intriguingly-inbred War Relic. What made War Relic's pedigree so interesting was that he was out of a mare by Friar Rock — who was by Rock Sand (maternal grandsire of Man o' War) out of Fairy Gold (dam of Fair Play, the sire of Man o' War) — so as a result, he had 3 x 3 inbreeding to two of Man o' War's grandparents, Rock Sand and Fairy Gold.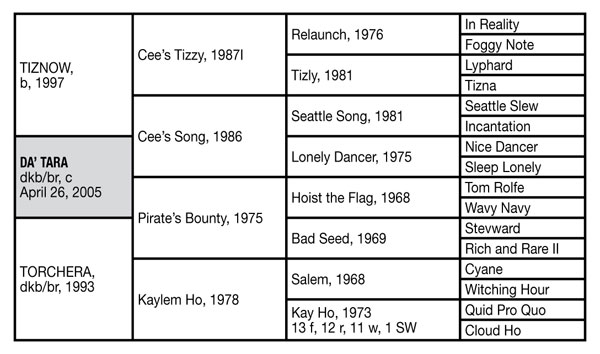 As so often happens, the inbreeding resulted in both good and bad traits. The good was that War Relic was a very effective race horse, if not quite in the class of War Admiral, and at 3 he defeated the leader of his crop, Triple Crown winner Whirlaway, in the Narragansett Special, and accounted for older horses in the Massachusetts Handicap. The bad was that War Relic was an extremely temperamental horse. (By one account he stomped a groom to death as a yearling.)
Savage temper notwithstanding, War Relic went on to be a very effective sire, his offspring including champion 2-year-old Battlefield; Relic, subsequently a good sire in Europe; and the horse who continued the sire line, the two-time San Juan Capistrano Handicap victor Intent. The next link in the chain is Intent's son Intentionally, a talented sprinter/miler who won 13 stakes events from 2 to 6, including the Futurity and Withers Stakes.
At stud in Florida, Intentionally sired 20 stakes winners, of which the most important was In Reality. A son of champion 2-year-old filly My Dear Girl, In Reality had War Relic 3 x 3 in his pedigree, so had an intense accumulation of Man o' War's background. In Reality wasn't a match for the best of his crop — Dr. Fager and Damascus — but he compiled a record of 14 wins 27 starts — including the Pimlico Futurity, Florida Derby, Jersey Derby, Carter Handicap, and Metropolitan Handicap — before going on to a stud career that saw him sire 81 stakes winners. In the U.S., the Man o' War male line through In Reality splits into two distinct branches, that of Valid Appeal and Relaunch. (Viability of another American In Reality branch rests on the Pennsylvania stallion Request for Parole now that his sire, Judge T C, by In Reality's son Judge Smells, was exported to Saudi Arabia.)
Valid Appeal, who stood his whole career in Florida, is now best represented by Successful Appeal , who came close to breaking the classic drought for the male line when Closing Argument — a member of his first crop —finished second to Giacomo in the 2005 Kentucky Derby (gr. I).
Meanwhile, Relaunch, who enjoyed a highly successful stud career in Kentucky, has extended the male line through several sons. Honour and Glory was the leading freshman sire of 2000 and is represented at stud by Put It Back, now one of the best young sires in Florida. Breeders' Cup Classic (gr. I) winner Skywalker has extended his branch through champion older male Bertrando, who is in turn sire of promising young stallion Officer. The branch is also represented by Saratoga Special (gr. II) winner Bright Launch and Conscience Clear, who is from the final crop of Relaunch. Finally, the lightly-raced Cee's Tizzy, who won three of six starts including a third in the Super Derby (gr. I), stands relatively inexpensively in California. Cee's Tizzy might seem an unlikely stallion to extend the Man o' War male line, but in fact he turned out to be a very effective sire, and to date has 34 stakes winners to his credit, headed by Eclipse Award winners Tiznow and Gourmet Girl.
A horse who really started to bloom in the second half of his 3-year-old season, Tiznow captured back-to-back renewals of the Breeders' Cup Classic (gr. I) and earned honors as champion 3-year-old, Horse of the Year, and champion older horse. Tiznow was something of a surprise leading freshman sire, beating out his more precocious rivals when his daughter, champion 2-year-old Folklore, captured the Breeders' Cup Juvenile Fillies (gr. I). That crop also includes Well Armed, winner this year of the San Antonio Handicap (gr. II) and also placed third in the Emirates Airline Dubai World Cup (UAE-I). Tiznow's second crop, now 4-year-olds, had even greater depth. The first to show high-class ability was Tiz Wonderful, who took the Iroquois Stakes (gr. III) and Kentucky Jockey Club Stakes (gr. II) — edging out Any Given Saturday — at 2, but whose subsequent career was sidelined and then ended by injuries. The crop also includes Tough Tiz's Sis, winner of the Lady's Secret Stakes (gr. I); and graded winners Bear Now and Slew's Tizzy. Tiznow's current crop of 3-year-olds includes not only Da' Tara, but also the Santa Anita Derby (gr. I) hero Colonel John and Tizdejavu, winner of the Crown Royal American Turf Stakes (gr. III-T).
Da' Tara is out of the Pirate's Bounty mare Torchera. A three-time winner and twice stakes-placed in California-bred restricted stakes company, Torchera is a sister to two better runners in Vanity Invitational (gr. I) victress Private Persuasion, and the Fleet Treat Stakes winner Sound Wisdom. By coincidence, Sound Wisdom is granddam of Denis of Cork, who finished runner-up in the Belmont Stakes (gr. I) after capturing the Southwest Stakes (gr. III) and finishing third in the Kentucky Derby Presented by Yum! Brands (gr. I) earlier in the year. Another sister to Torchera, Wisdom Keeper, produced the listed winner Seam Seeker to the Relaunch-line stallion Bertrando. Torchera is also half-sister to the listed stakes-winning and graded stakes -placed Wishful Splendor. Da' Tara's granddam, Kaylem Ho, was a four-time stakes winner by Salem (a son of the Turn-to horse Cyane). When Kalem Ho's dam, the Quid Pro Quo mare Kay Ho, was bred to Pirate's Bounty, she produced two stakes-placed horses. One of those, Toot Sweet, is dam of the2008 Rebel Stakes (gr. II) winner Sierra Sunset, who is another by Bertrando.
There have been more than 50 starters by Relaunch stallions out of Pirate's Bounty mares, and three of the four stakes winners for the cross — Da' Tara, Sierra Sunset, and Seam Seeker — are out of daughters or granddaughters of Kay Ho (Da' Tara' s third dam). By an odd historical quirk, Kay Ho's dam, Cloud Ho, is by Cohoes, a horse whose son Quadrangle ended Northern Dancer's Triple Crown bid in the 1964 Belmont Stakes. By English Derby winner Mahmoud, Cohoes is also closely related to The Axe II, the broodmare sire of Relaunch.