by Avalyn Hunter
For a moment, those watching Gainesway Thoroughbreds' homebred Ocean Colors make her debut at Churchill Downs recently might have thought they were watching her dam, the late Winning Colors. The picture was the same: a gray filly flying to the lead right from the start and daring everyone to catch her. No one could.
Although winner of the 1988 Kentucky Derby (gr. I) and champion 3-year-old filly that same year, Winning Colors suffered an ill-starred broodmare career despite matches to some of the finest stallions in Kentucky. Her first three foals, the Mr. Prospector fillies Shbakni (1991), Minden Rose (1992), and Golden Colors (1993), managed to win just four of 28 starts between them, with Golden Colors placing in a listed Japanese stakes and so becoming Winning Colors' only runner did not qualify for black type by international standards). Danzig Colors, a 1994 filly by Danzig, became a three-time winner in Japan, but the Derby winner's next two foals were unexceptional. Stormin Winnie, a 1995 daughter of Storm Cat, never even made it to the starting gate, and Will Will Win, a 1996 son of Rahy, scored a single victory in South Africa.
Winning Colors produced a dead foal in 1997. Two foals by Broad Brush followed – the winning filly Northwest Colors in 1998 and the unplaced colt Dr. Litin in 1999 – but after that, Winning Colors failed to produce a live foal for six straight seasons. Ocean Colors arrived in 2006, and Winning Colors produced a filly by Mr. Greeley in 2007. The latter proved to be Winning Colors' last foal as the mare had to be humanely destroyed Feb. 17, 2008, due to complications of colic.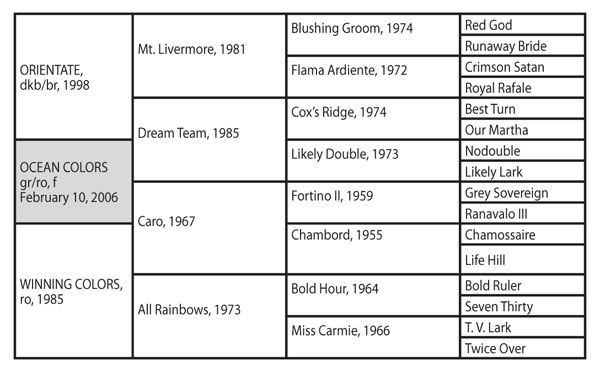 Winning Colors' history of woes paralleled the produce histories of her Derby-winning sisters, Regret (1915) and Genuine Risk (1980). Of the two, Regret fared the better: six of her 11 foals won, including the stakes-winning gelding Revenge (by Chicle) and stakes-placed Penitent (by Pennant), and four of her daughters produced stakes winners. As for Genuine Risk, a difficult delivery of a dead foal by Secretariat in 1983 may have compromised the remainder of her broodmare career. After a decade of barrenness and slips, she finally delivered a Rahy colt, Genuine Reward, in 1993 to a blizzard of media attention. A Chief Honcho colt, Count Our Blessing, followed in 1996, but neither of Genuine Risk's sons ever made it to the track.
Winning Colors' record is the more disappointing given the quality of her immediate female family. A big (16.3 hands), strapping mare who closely resembled her sire, 1970 Poule d'Essai des Poulains winner Caro (IRE), she was produced from the Bold Hour mare All Rainbows. All Rainbows was not only a stakes winner in her own right but was a half-sister to a still better racer in 1974 champion 3-year-old filly Chris Evert, winner of the Triple Tiara and a multiple stakes producer whose grandson Chief's Crown won the inaugural Breeders' Cup Juvenile (gr. I) on the way to honors as 1984 champion 2-year-old male.
The dam of All Rainbows and Chris Evert, Miss Carmie (by T. V. Lark), was also a stakes winner. She was produced from Twice Over, a daughter of 1949 Kentucky Derby winner Ponder and Twosy, a good stakes winner by Bull Lea out of 1936 Kentucky Oaks winner Two Bob and, thus, a full sister to multiple champion Two Lea. The female line has been in the United States since the mid-1830s, when the English-bred Catton mare Gallopade (GB) (also spelled as Galopade) entered the country by way of Canada. Her daughter Reel (by Glencoe) was considered one of the best American race mares of the 1840s, and along with her Leviathan (GB) half-sisters Cotillion and Fandango established a lineage commonly known as the "Dance Family" (the galopade, reel, cotillion, and fandango all being dances). Its history in North America has been a most distinguished one, including the champions and important sires Domino, Hamburg, Discovery, and Affirmed, as well as the great Canadian broodmare No Class and her clan.
Orientate, the sire of Ocean Colors, was a distinguished runner in his own right, earning an Eclipse Award as champion sprinter in 2002. A medium-sized, more refined sort of horse than Winning Colors, he appears to have been a good complement for her in conformational terms. To date, he has sired 10 stakes winners, headed by 2008 Humana Distaff (gr. I) winner Intangaroo and 2007 Alabama Stakes (gr. I) winner Lady Joanne. He is currently standing his sixth season at Gainesway, where he entered stud in 2003.
In physique, Orientate appears to have continued the tradition of his male line rather than the larger, coarser type of his maternal grandsire, Cox's Ridge. He is a son of the fine Blushing Groom (FR) horse Mt. Livermore, who also sired the brilliant two-time champion sprinter Housebuster, 1992 champion juvenile filly Eliza, and Canadian champions Peaks and Valleys (1995 3-year-old male and Horse of the Year), Mt. Sassafras (1996 champion older horse and Horse of the Year), and Mountain Angel (2001 champion older female). Generally speaking, the Blushing Groom male line has tended to medium to smallish horses of a neat, well-muscled, attractive type, sometimes a little light on bone but certainly not lacking in racing quality.
Ocean Colors still has a long way to go to prove herself the equal of her dam, of course. But her debut suggested a world of potential, and it would be very welcome to see her provide a posthumous flourish to the broodmare career of one of the most memorable race mares of modern times.