by Avalyn Hunter
It may have been late coming, but Duke of Marmalade has truly come into his own. With his resounding triumph in the Prince of Wales's Stakes (Eng-I) at Royal Ascot coming on the heels of group I victories in the Prix Ganay-Grand Prix du 40th Anniversaire Air Mauritius at Longchamp and the Tattersalls Gold Cup at the Curragh, the Duke has transformed himself from a mere maiden winner (his sole previous victory having come in a juvenile maiden race at the Curragh) to the leading older horse in Europe.
Of course, Duke of Marmalade was a bit more than an ordinary maiden winner, having run second to Excellent Art (GB) in last year's St. James's Palace Stakes (Eng-I) and to Dylan Thomas (IRE) in the Tattersalls Millions Irish Champion Stakes (Ire-I). Nonetheless, his performance this year has represented a great breakthrough, and is a tribute to the skill and persistence of legendary trainer Aidan O'Brien in bringing the horse back from repeated injuries.
Owned by the familiar Coolmore team of Mrs. John Magnier and Michael Tabor, Duke of Marmalade is from the final crop of the great sire Danehill, whose accidental death in May 2003 at age 17 was a great loss to international Thoroughbred breeding. The sire of 2,496 foals worldwide before his untimely passing, Danehill has to date been credited by The Jockey Club with 348 stakes winners and progeny earnings of over $266.5 million. He has led the Australian general sire list nine times, the French general sire list once (2001) and the English/Irish general sire list in 2005-2007.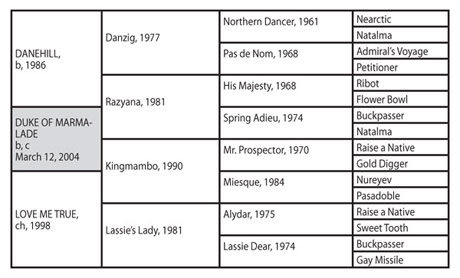 Like his grandsire Northern Dancer, Danehill was a high-quality racehorse who became a still better sire. The winner of the 1989 Ladbroke Sprint Stakes (Eng-I), Ladbroke European Free Handicap, and Cork and Orrery Stakes (Eng-III) as a sophomore, his form that year was good enough to earn a Timeform rating of 126 pounds, five pounds below Timeform's top-rated sprinter, the 4-year-old Cadeaux Genereux (GB).
Danehill was sired by three-time U.S. leading sire Danzig out of the His Majesty mare Razyana, whose dam Spring Adieu was sired by Buckpasser out of Natalma. As Danzig's sire was also produced from Natalma, Danehill's pedigree shows 3 x 3 inbreeding to that important matron. Conventional wisdom would have demanded outcrossing away from such close inbreeding, but Danehill appears to have blithely defied conventional wisdom, having to date sired 70 graded/group winners from mares carrying Northern Dancer and three more from mares whose pedigrees contain Raise the Standard, a daughter of Natalma by Hoist the Flag.
Duke of Marmalade is among Danehill's top runners carrying a reinforcing line of Northern Dancer. Bred by Southern Bloodstock, he was produced from Love Me True, whose sire Kingmambo is out of Miesque, by Northern Dancer's son Nureyev. Sired by Mr. Prospector, Kingmambo won three group I races during his career, including the classic Dubai Poule d'Essai des Poulains (Fr-I). He has been credited with siring 78 stakes winners so far, and to date his daughters have produced 29 stakes winners from 539 foals of racing age. Duke of Marmalade is the third group I winner to be produced from a Kingmambo mare, following in the hoof prints of Maid's Causeway (IRE) (2005 Coronation Stakes (Eng-I)) and Suzuka Mambo (JPN) (2005 Tenno Sho (Jpn-I)).
To read Receive weekly Thoroughbred Pedigree analysis from Avalyn Hunter and Alan Porter via email! Coming this November.
Sign up today!
Love Me True is from one of the best families in any Stud Book, that of Missy Baba. A daughter of 1948 Two Thousand Guineas winner My Babu out of 1941 Irish Oaks winner Uvira II and so a half-sister to five stakes-winning colts, Missy Baba produced six stakes winners including Raja Baba (by Bold Ruler), the leading U.S. sire of 1980. She also produced 1991 KTOB Broodmare of the Year Toll Booth (by Buckpasser), herself the dam of seven stakes winners including 1980 champion sprinter Plugged Nickle (by Key to the Mint).
The 1970 Ashland Stakes winner Gay Missile (by Sir Gaylord), another of Missy Baba's produce, did well as a producer herself, throwing four stakes winners. Among them was the Buckpasser mare Lassie Dear, who captured the 1976 Villager Stakes (gr. III) before producing four stakes winners of her own. The most important of her foals is 1992 KTOB Broodmare of the Year Weekend Surprise, whose Seattle Slew son, A.P. Indy, was Horse of the Year in 1992 and topped the U.S. general sire list in 2003 and 2006. Weekend Surprise also produced 1990 Preakness Stakes (gr. I) winner Summer Squall (by Storm Bird), a good stallion; 2000 Dogwood Stakes (gr. III) winner Welcome Surprise (by Seeking the Gold); the listed stakes winner Eavesdropper (by Kingmambo), who was recently credited with his first winner as a sire; and the useful sire Honor Grades (by Danzig).
Lassie's Lady, an Alydar half-sister to Weekend Surprise, was not so accomplished but still became a stakes-placed runner as well as the dam of 1989 Sanford Stakes (gr. II) winner Bite the Bullet (by Spectacular Bid) and English stakes winner Shuailaan (by Roberto). Love Me True, who placed in the Killavullan Stakes (Ire-III) as a juvenile, is one of four foals produced by mating Kingmambo to Lassie's Lady; the others are stakes-placed Black Mambo, recently represented by his first winner as a sire, the French runner Kupets, and the Japanese winner Asaka Mambo.
Love Me True, like Danehill, is closely inbred; in her case, the duplicated ancestor is Raise a Native, who appears as the sire of Kingmambo's sire Mr. Prospector, and as the sire of Love Me True's broodmare sire Alydar. As Raise a Native and Natalma are, respectively, a son and a daughter of Native Dancer, Duke of Marmalade is inbred 5 x 5 x 5 x 5 to that great runner and sire. He is also inbred 4 x 4 to Buckpasser, sire of Lassie Dear and Spring Adieu, and 4 x 5 to Northern Dancer. Such a concentration of the breed's best blood may or may not make Duke of Marmalade a great sire in days to come, but it certainly doesn't hurt his prospects.