by Alan Porter
The Independence Day holiday weekend featured two graded stakes contests for juveniles, and both gave an opportunity for freshman sires to take the spotlight. On the West Coast, the Hollywood Juvenile Championships (gr. III) went to Azul Leon, a son of Lion Heart, while earlier in the afternoon, at Churchill Downs, the Bashford Manor Stakes (gr. III) was captured by Screen Your Friend, a son of Friends Lake.
The victory of Azul Leon propelled Lion Heart to the leadership of the freshmen sire division. To date he has been represented by 16 starters and nine winners, including, in addition to Azul Leon, Lyin' Heart, a stakes winner who took runner-up spot in the Bashford Manor. Lion Heart always looked likely to make a major impression with his 2-year-olds. A son of Tale of the Cat — himself a leading sire of 2-year-olds — Lion Heart had strong claims to be considered the best of his division as a juvenile, even though he started only three times. A winner over six furlongs on his debut, he returned to take the Jack Daniel's Hollywood Prevue Stakes (gr. III), while flashing through the seven furlongs in 1:20.63. On his only other start of the year, Lion Heart led throughout to take the Hollywood Futurity (gr. I) by 3 1/2 lengths. At 3, Lion Heart prepped for the Kentucky Derby (gr. I) with seconds in the San Rafael Stakes (gr. II) — beaten a neck by Imperialism — and Toyota Blue Grass Stakes (gr. I). In the Derby itself, Lion Heart produced a bold performance, setting the early fractions, and then staying on gamely to take second behind Smarty Jones . He seemed to somewhat "bounce" off that effort in the Preakness Stakes (gr. I), in which he finished fourth. Given a break until summer, Lion Heart returned to win the Long Branch Breeders' Cup Stakes (gr. III) and the Haskell Invitational Handicap (gr. I). Lion Heart's final start came in the Travers Stakes (gr. I) in which he finished off the board and came out of the race with a career-ending injury.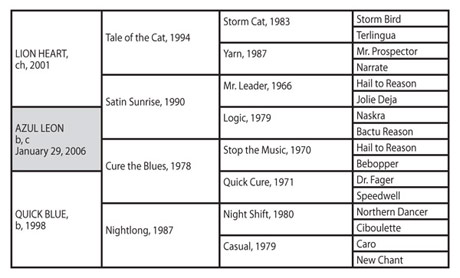 Bred and owned by Joseph LaCombe Stables, Azul Leon is the second foal of the Cure the Blues mare, Quick Blue. Campaigning primarily in Canada, Quick Blue proved herself to be a very smart performer, winning the Royal North Handicap (Can-III) and restricted Bison City Stakes, taking second in the listed Bob Slater Stakes and third in the Labatt Woodbine Oaks. A half-sister to stakes winner Yukon Pete, Quick Blue is out of the English-foaled Nightlong, a daughter of Night Shift (an unraced brother to champion Fanfreluche). Imported to the U.S., Nightlong won two of her eight starts. She is a half-sister to a more accomplished runner, a Green Desert colt named Dawson Place, who was a listed stakes winner in Germany and runner-up in the Jersey Stakes (Eng-III). Azul Leon's third dam, Casual, a daughter of Caro, was three times stakes placed, including a third in the Alcibiades Stakes (gr. II). She was half-sister to the Italian St. Leger (Ity-III) Sierra Star, and closely related to the good Canadian stakes winner, Jet Freighter (by Caro's son, Cozzene, out of a half-sister to Casual). It is in Canada that the family has its roots: Azul Leon's fourth dam, New Chant, is a half-sister to Canadian champion Giboulee and out of the prolific Canadian tap-root mare Victory Chant.
The choice of Lion Heart as a mate for Quick Blue was determined by the desire to try a Storm Catline horse. Storm Cat line stallions have done well with mares from the Stop the Music (sire of Cure the Blues) line in general. This is particularly so with mares by Cure the Blues, whose granddam, Speedwell, is a three-part-sister to Secretariat. At the time the mating was planned, Lion Heart's sire, Tale of the Cat, had already sired a stakes winner out of a mare by Cure the Blues. In addition, Storm Cat's sire, Storm Bird appealed here as he is bred on similar lines as both Azul Leon's granddam, Nightlong, and her sire, Night Shift. Lion Heart himself brought another attractive element to the pedigree pattern, as he is a reverse Northern Dancer/Hail to Reason cross to the mare. Incidentally, we can also note that Azul Leon is A++ rated by TrueNicks.
While it would be surprising if Lion Heart had not been represented by precocious juveniles, the same cannot be said of Friends Lake. A son of A.P. Indy— generally considered an influence for later maturity — Friends Lake gained his most important victory at 3, when capturing the Florida Derby (gr. I). A closer look at his record reveals a somewhat different picture, however. Although Friends Lake only ran three times at 2, he broke his maiden going 6 1/2 furlongs on his second start and then returned to take the Sleepy Hollow Stakes at Belmont Park by 3 1/2 lengths. In that contest, he earned a Beyer Speed figure of 99, the highest achieved by any 2-year-old stakes winning son of A.P. Indy.
So far, Friends Lake has been represented by just four starters, but one of those, Screen Your Friend, led throughout to take the Bashford Manor Stakes (gr. III). Despite his precocity, Screen Your Friend's potential for improvement is underlined by the fact that not only his sire, but also his dam, the Rare Performer mare, Screen Prospect, built on smart juvenile form to achieve their best efforts at 3 and up. Screen Prospect was stakes placed at 2 but was better at 3 and 4 when she took back-to-back renewals of the Fall City Handicap (gr. III). Screen Prospect also captured four other black-type events, and ran second in the Spinster Stakes (gr. I), Test Stakes (gr. I) and Rare Perfume Stakes (gr. II). Screen Your Friend is the first of Screen Prospect's seven starters to win a black-type event, but her Personal Flag filly, Screen Attraction, was listed placed. Screen Prospect was the only stakes winner for her dam, Classic Silence, but that mare was half-sister to Eff-Dee-Ar (who set a new track-record when winning the Swaps Stakes) and to the dam of the Flamingo Stakes (gr. I) and Monmouth Invitational Handicap (gr. I) winner, Our Native.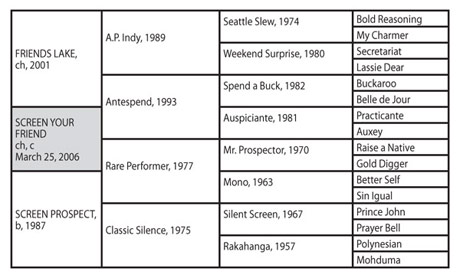 Screen Your Friend is rated B by TrueNicks and is another in the legion of good stakes winners bred on the oft-tried A.P. Indy/Mr. Prospector cross. What is intriguing about Screen Your Friend is the reinforcement of La Troienne that his dam brings to the pedigree. Friends Lake is a son of A.P. Indy, whose sire, Seattle Slew, is out of a mare inbred to La Troienne through the sisters, Striking and Busher. A.P. Indy adds more La Troienne through Buckpasser (dam, Busanda, a three-parts-sister to Busher and Striking). Friends Lake's broodmare, sire, Spend a Buck, is inbred to La Troienne, with one cross coming through Buckpasser/Busanda and also goes tail-female to Adargatis, a three-parts-sister to La Troienne. Screen Prospect, the dam of Screen Your Friend, is inbred 3 x 4 to Better Self. He was by Bimelech — a son of La Troienne — out of a mare by War Admiral, and therefore a reverse cross to Striking, Busher and Busanda (in Friends Lake a total of four times), who are all by War Admiral out of half-sisters to Bimelech.