by Avalyn Hunter
There's a new Brown in town. Not Big Brown, whose pre-Belmont Stakes (gr. I) reputation was a fitting match for the Big Apple, but a scrappy "Little Brown" who won his nickname and his own share of hearts on the New York circuit with his grit and determination. His name is Tin Cup Chalice, and after six wins from six starts, he has a Triple Crown in his sights – the Big Apple Triple for New York-breds, which offers a $250,000 bonus to any horse that can sweep the series. Tin Cup Chalice gets his chance to complete the series Aug. 20 in the nine-furlong Albany Stakes at Saratoga. The feat won't quite equal the "real" Triple Crown, but it's no small accomplishment for a horse that nearly died twice before he was a year old.
With the first two legs of the series under his belt – the Mike Lee Handicap at Belmont June 22 and the New York Derby at Finger Lakes July 12 – Tin Cup Chalice may be the most talented runner to emerge from his female family since Silky Sullivan. Wildly popular with California fans for his come-from-the-clouds stretch runs, Silky became one of the favorites for the 1958 Kentucky Derby after coming from 28 lengths off the pace in the Santa Anita Derby to win going away. Unfortunately, the Kentucky Derby came up muddy and Silky was never able to get untracked, nor did he ever reach the same heights afterwards.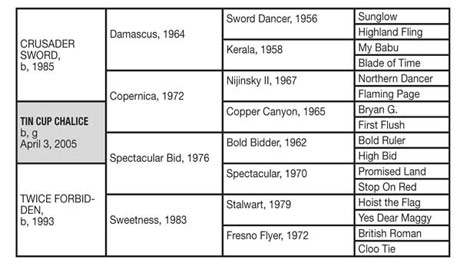 Silky Sullivan came from rather obscure origins. His sire, Sullivan, was a stakes-placed runner in Ireland and California; his dam, Lady n Silk (by Ambrose Light), had failed to place in four starts. She had some solid Whitney breeding in her background, though. While her dam, Foxhole (by Chance Play), and her granddam, Coffee Cup (by Whichone), were both non-winners, her third dam was Afternoon, who produced three stakes winners for Harry Payne Whitney as well as Flyatit, dam of two-time champion filly Top Flight.
Lady n Silk produced nothing else in the same street as Silky Sullivan, but her 1960 Poona II filly, Cloo Tie, wasn't bad, winning three of her nine starts. She produced three stakes-placed runners among her nine foals, among them Fresno Flyer (by British Roman). Fresno Flyer, in turn, produced seven winners from seven foals, including the Ohio-bred restricted stakes winner Namori.
Sweetness, Fresno Flyer's 1983 daughter by Stalwart, won just twice from 44 starts, but all five of her foals were winners, including her 1993 daughter by Spectacular Bid, Twice Forbidden. Rather surprisingly, given the soundness and durability demonstrated by both parents, Twice Forbidden made just seven starts, winning twice. She was from the first New York-bred crop sired by Spectacular Bid, who had moved to Milfer Farm from Claiborne in 1992.
To date, Twice Forbidden has produced six foals of racing age (including a 2-year-old of 2008). Three have started, and all three of those starters have won, including Don Corleone (by Incurable Optimist), winner of the 2004 New York Derby. The mare's 2006 colt, Sultan of Dubai (by E Dubai), was the sales topper at the Fasig-Tipton Mid-Atlantic 2-year-olds in training sale this past May, selling for $230,000, and Twice Forbidden is now in foal to Forest Wildcat.
Despite his status as a half-brother to Don Corleone, no one so much as put in a bid for Tin Cup Chalice when he passed through the ring at the 2006 New York Breeders sale at Saratoga. An unfashionable sire was partly to blame; although Crusader Sword (a son of Damascus) won the 1987 Hopeful Stakes (gr. I) and Saratoga Special Stakes (gr. II) and has been a reliable sire of winners (269 winners from 438 foals), he has not sired a horse approaching top class since multiple graded stakes winner Isitingood, a 1991 foal. Further, the young Tin Cup Chalice was small and narrow. Only his breeder and now co-owner (with Scott Vanlaer) and trainer, Mike Lecesse, knew the toughness within the undersized colt. Before he was a year old, Tin Cup Chalice had survived a case of botulism and a nearly-fatal bout with colic.
Lecesse must be thankful these days that Tin Cup Chalice failed to sell. In his first start, the gelding wired an open maiden special weight field at Finger Lakes, winning easily by 15 1/4 lengths. Eleven days later, he won the open Finger Lakes Juvenile Stakes to close his juvenile season. He showed even more ability in his first race in 2008, a five-furlong allowance. Tin Cup Chalice was bumped at the start, was bothered again about a furlong into the running, then had to be checked going into the turn. Most horses would have called it a day at that point, but not Tin Cup Chalice, who still won easily by just over four lengths. After an easier allowance score in his next start, the little gelding again ran into trouble at the start of the Mike Lee Stakes, getting soundly bumped at the break, and still came home a winner. By comparison, his New York Derby score was easy as he cruised wire to wire.
An outcross within five generations, Tin Cup Chalice does not have much in the way of fancy pedigree patterns in his breeding. He does, however, have something else worth looking at: a high percentage of ancestors that could run, win, and consistently produce winners when used as breeding stock. In his first three generations, only Kerala, the dam of Damascus, failed to start and win, and besides Kerala, only Twice Forbidden and Sweetness failed to earn any black type. That kind of consistency in a pedigree is worth looking for, particularly for the small owner-breeder whose survival depends on the ability of his stock to start and win.