by Alan Porter
Prior to her recent triumph at Calder Race Course, Mistical Plan had tried for grade one glory on five occasions over a three-year career. On four of those she had failed to hit the board, and in the fifth, The Ogden Phipps Handicap (gr. I) at Belmont Park in June, she had gained a third, but had been beaten nearly nine lengths. At the Summit of Speed July 12, Mistical Plan cut back to six furlongs – a trip she had tried only one other time since her 5 1/2-furlong debut – and produced the performance of her life to take the Princess Rooney Handicap (gr. I) by 5 3/4 lengths. Although obviously well-suited by the three-quarters of a mile trip – she also won the Sunshine Millions Oaks at the same distance – Mistical Plan's overall record is that of a rather versatile filly. She has also won the Cover Gal Stakes at seven furlongs as a juvenile, and stretched out a mile and a sixteenth to take the Fair Grounds Oaks (gr. II) over the excellent Octave at 3.
Mistical Plan comes from a hitherto less-dynamic branch of a family that is currently a rather lively one. In tail-female line the family goes back to Maecloud –Mistical Plan's sixth dam. Out of half-sister to the 1925 Kentucky Derby victor Flying Ebony, Maecloud was one of the best 2-year-old fillies of 1936, winning the Spinaway and Schuylerville Stakes. Despite her own talent and her excellent pedigree, Maecloud proved to be a disappointing broodmare, producing only two minor winners from nine foals. The family didn't really regain momentum until the appearance of Cloud High (a granddaughter of Maecloud) and her daughter Cloud Ho, the third dam of Mistical Plan. Cloud Ho produced two minor stakes winners – Salem Ho and M. A.'s Date – but her most important impact has been via her daughters Princess Met (by Mehmet) and Kay Ho (by Quid Pro Quo, a son of Swaps).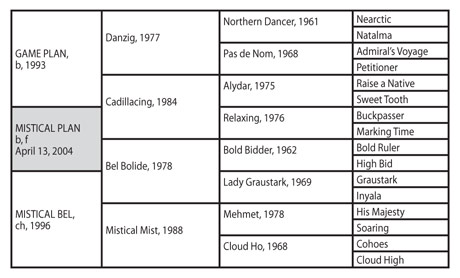 Princess Met won once, but is dam of stakes winner Fridgette, who in turn produced Windsor Castle (successful in the Remsen Stakes (gr. II) and the Hal's Hope and William Donald Schaefer Handicaps (both gr. III), and stakes winner North Coast Ltd. Another daughter of Princess Met, Cry Me a River, is dam of Mint Slewlep, recent winner of the Da Hoss Stakes at Colonial Downs.
Kay Ho, who failed to win, has become a very successful foundation mare. She produced only one black type winner, Kaylem Ho, but that mare's daughter Private Persuasion (by Pirate's Bounty, and line-bred to the CCA Oaks-winning sisters How and Cherokee Rose) captured the Vanity Invitational Handicap (gr. I). Sound Wisdom, a stakes-winning sister to Private Persuasion, is granddam of Denis of Cork, winner of the Southwest Stakes (gr. III), runner-up in the Belmont Stakes (gr. I) and third in the Kentucky Derby Presented by Yum! Brands (gr. I). Torchera, another sister to Private Persuasion, couldn't emulate her siblings' achievement of a black type win, although she was multiple stakes-placed in Cal-bred company, but achieved later glory as the dam of this year's Belmont Stakes (gr. I) hero Da' Tara. Private Persuasion, Sound Wisdom, and Torchera also share a similar breeding pattern with Toot Sweet (by Pirate's Bounty out of Kay Ho), dam of this year's Rebel Stakes (gr. II) winner Sierra Sunset.
We have mentioned that mating Pirate's Bounty with Kay Ho and her daughters gave line-breeding to the classic-winning sisters How and Cherokee Rose, and the branch of the Cloud Ho family that leads to Mistical Plan has also been given increased genetic potential by clever inbreeding and line-breeding. Mistical Plan's granddam, Mistical Mist, is by Mehmet out of Cloud Ho (this makes her similarly-bred to Kay Ho, as Mehmet is out of a mare by Kay Ho's grandsire, Swaps). Mehmet's dam, Soaring, is particularly interesting here, as she is by a grandson of Hyperion (GB), out of a mare by Mirza II (FR), while Cloud Ho is by a son of Mahmoud (a close relative to Mirza II) out of a mare by a son of Hyperion. Mistical Mist won only once, but has four winners from six starters, and her best runner is Mysterious Cat, a son of Distinctive Cat, who has won nine times and captured second in the San Bernardino Handicap (gr. II).
Mistical Plan's dam, Mistical Bel, is a daughter of the Bold Bidder stallion Bel Bolide. This creates a very interesting pattern, as Bel Bolide is out of a mare by Graustark, a brother to Mehmet's sire, His Majesty (giving Mistical Bel the brothers 3 x 3). Flower Bowl, the dam of Graustark and His Majesty, is by a son of Hyperion out of a mare by Beau Pere (the same cross that produced Swaps, who is also in this pedigree) and her second dam is by Mahmoud (giving a similar background to Soaring and Cloud Ho). Bel Bolide's second dam is by My Babu, a horse whose maternal grandsire, Badruddin (FR), is a close relative to Mirza II and Mahmoud. Bel Bolide also adds a cross of Nasrullah's dam, Mumtaz Begum (FR), a genetic relative to Mahmoud, resulting in six crosses of this branch of the Mumtaz Mahal (GB) family in the pedigree, through four different relatives (Mahmoud, Mirza II, Mumtaz Begum, and Badruddin).
Mistical Plan is sired by Game Plan, an unraced son of Danzig who stands at E. A. Ranches in Santa Ysabel, Calif., at a fee most recently advertised at $5,000. Although Game Plan never ran, he has pedigree aplenty. Out of the grade I-winning Cadillacing, he is a brother to the Futurity Stakes (gr. I) captor Strolling Along, and to The Jogger, a minor winner who is a graded stakes sire in New Zealand. Game Plan is also half-brother to multiple graded stakes winner Cat Cay; to graded-placed Lion Hearted, now a successful regional sire in Maryland; and to Easing Along, a successful young stallion in Argentina, who is now shuttling to Claiborne Farm. A sister to champion Easy Goer, Cadillacing is out of champion Relaxing. From relatively limited opportunities in terms of the quality of his mates, Game Plan has been a very solid regional sire, getting 21 stakes winners from 312 foals (7%) stakes winners.
Rated an
A++
mating by TrueNicks, the pedigree of Mistical Plan is rather intriguing for its similarity to that of Game Plan's only other graded winner, the British Columbia Derby (gr. III) winner Celtic Dreamin (a member of the same crop as Mistical Plan). We have noted that the dam of Mistical Plan: is inbred to the brothers Graustark/His Majesty; has four examples of the Hyperion/Mahmoud combination (Flower Bowl, twice; Soaring; and Cloud Ho); and has several crosses of Mahmoud and genetic relatives. Astral Dreamer, the dam of Celtic Dreamin, is a Graustark-line mare (via Sauce Boat, a Graustark/My Babu cross like the dam of Bel Bolide, broodmare sire of Mistical Plan), out of a mare inbred to Kentucky Derby winner Determine (a Hyperion/Mahmoud cross), and has five crosses of the Mumtaz Mahal family via Mahmoud, Badruddin, and Mumtaz Begum.