by Avalyn Hunter

Few of the major racing nations are further removed from the United States in their approach to racing than Germany. Where miler speed is the name of the game here, Germany has a long tradition of breeding for the stamina to win top-level events at the European classic distance of 12 furlongs, barely giving a nod of acknowledgment to champion juveniles or sprinters. Soundness, too, is prized; conformation inspections for prospective stallions are required, and horses that have raced on medications have not been permitted to enter stud in the country since 1997.
Germany has also preserved a number of bloodlines that are all but extinct elsewhere, providing a potential outcross for the Northern Dancer and Mr. Prospector lines that have come to dominate breeding in the rest of the world. Among them is the male line of 1935 English Triple Crown winner Bahram, the direct ancestor of this year's BMW Deutsches Derby (Ger-I) winner Kamsin (GER).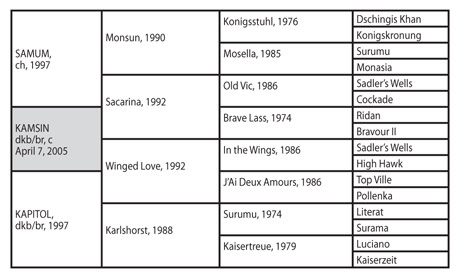 Unbeaten in nine starts, Bahram stood in England, Kentucky, and Argentina but was by far most influential in his native land, where he sired the 1942 New Two Thousand Guineas winner and important sire Big Game (GB); the 1940 Yorkshire St. Leger Stakes winner Turkhan (GB); and the 1944 Coronation Cup winner Persian Gulf (GB). A big, powerful, elegant horse, Persian Gulf ranked seven times among the top 10 English sires and sired horses successful all along the distance spectrum.

Thanks to a speed-oriented female family, Tamerlane (GB) was among the fleeter of Persian Gulf's progeny, his best races (a victory in the 1955 St. James's Palace Stakes and a runner-up performance in the same year's Two Thousand Guineas) coming over a mile. His progeny included 1970 Deutsches Derby winner Alpenkonig (GER), a two-time leading sire in Germany, and the quicker Dschingis Khan (GER), a German champion sprinter and miler.

Despite the German bias against non-stayers and his own proclivity to sire horses that did not stay classic distances, Dschingis Khan proved a successful stallion, leading the German sire list in 1979 and 1981. Among the 30 stakes winners with which he is credited by The Jockey Club is Konigsstuhl (GER), who proved the exception to the rule regarding the staying ability of his sire's progeny by becoming the first (and to date only) horse to take the German Triple Crown in 1979. Konigsstuhl died at the age of 19 in 1995, but not before heading the German sire list in 1988 and 1994 – and earned the honor again, posthumously, in 1996.
Konigsstuhl sired a worthy successor in two-time Europa Preis (Ger-I) winner Monsun (GER), a foal of 1990. The sire of 71 worldwide stakes winners from 447 foals per The Jockey Club, Monsun has headed the German sire list four times (2000, 2002, 2004, and 2006) and is the sire of first-rate international performers Royal Highness (GER), Shirocco (GER), Schiaparelli (GER), and Manduro (GER). The last-named horse was weighted atop the World Thoroughbred Rankings for 2007 as a 5-year-old and is now at stud at Darley's Kildangan Stud in Ireland.

Samum (GER), another son of Monsun, did not achieve the international renown of Manduro but did win the 2000 BMW 131 Deutsches Derby. So far, however, he has only gotten three known stakes winners to date from 109 foals of racing age. In that, he has paralleled his broodmare sire, 1989 English Horse of the Year Old Vic (GB), rather than his sire. Although a high-class runner whose victories included the 1989 Budweiser Irish Derby (Ire-I) and Prix du Jockey Club Lancia (Fr-I), Old Vic has gotten but 25 known stakes winners so far from 1,445 foals of racing age.

Old Vic is by the great European sire Sadler's Wells, who also figures in Kamsin's pedigree as the paternal grandsire of the colt's broodmare sire, 1995 Irish Derby winner Winged Love (IRE) (by multiple grade/group I winner In the Wings (GB)). Kamsin is the first graded/group winner to carry inbreeding to Sadler's Wells in his pedigree (in his case, 4 x 4) but probably will not be the last, given the great sire's influence through his daughters as well as his sons.

Kamsin is also inbred 4 x 3 to another notable sire in Surumu (GER), winner of the 1977 Deutsches Derby and frequent leading German sire and broodmare sire. While he begot a more-than-worthy successor in 1985 Deutsches Derby winner Acatenango (GER), a four-time leading German sire, he seems likely to have substantial long-term influence through his daughters, which have so far produced 74 stakes winners (including Monsun) among them.

Kamsin is the best of three winners produced from German group III winner Kapitol (GER) (by Winged Love), whose dam Karlshorst (by Surumu) produced five winners from five foals despite never making it to the track herself. The dam of Karlshorst, Kaisertreue (GER) also never raced but was sired by 1968 Deutsches Derby winner Luciano (GB), an important broodmare sire in Germany, out of the group-placed mare Kaiserzeit, whose dam Kronungspracht is a half-sister to Konigskronung, dam of Konigsstuhl.

Possessing a stamina-laden pedigree with solidly German sire and dam lines, Kamsin is fairly typical of modern German breeding, which is finding ways to blend successfully with the top Anglo-Irish-French lines as both Kamsin and his sire Samum demonstrate. Whether Kamsin will make a mark on the international scene has yet to be proven, of course, but he has demonstrated himself to be among the leaders of his generation in Germany and will doubtless receive the chance to follow in Manduro's hoofprints in due course.