by Avalyn Hunter
In the modern world, a 5-year-old stakes runner is getting along in years; a 6- or 7-year-old draws questions about retirement with every minor setback. But to Evening Attire, such horses are mere youngsters. At 10 years old, the veteran gelding isn't just competitive in stakes company; in his last start, he dusted five rivals in the Greenwood Cup Stakes at Philadelphia Park, none of which had even been conceived when Evening Attire won his first race. As if that were not enough, he set a new track record for 12 furlongs and earned a berth in the inaugural Breeders' Cup Marathon.
With nine graded stakes wins including the 2002 Jockey Club Gold Cup (gr. I), and earnings of over $2.9 million notched on his tally, Evening Attire is the leading American runner sired by 1991 Breeders' Cup Classic (gr. I) winner and Horse of the Year Black Tie Affair (IRE). (Kentucky-bred Washington Color, a foal of 1994, earned nearly $3.1 million racing exclusively in Japan.) A hardy performer in his own right, Black Tie Affair racked up 18 wins from 45 starts over four seasons of racing. He has not been a great stallion but has sired 35 stakes winners from 833 foals so far and is still active at O'Sullivan Farms near Charles Town, W.V. His other top runners include 1997/98 Brazilian champion juvenile filly My Tie and multiple grade I winner Formal Gold, now at stud at Rancho San Miguel in California.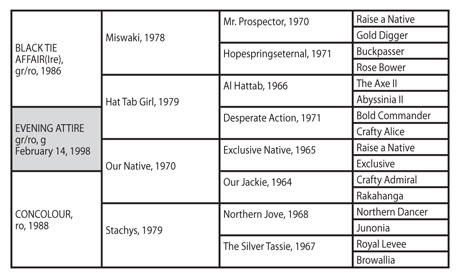 Black Tie Affair is the leading American runner sired by the good Mr. Prospector stallion Miswaki, who was pensioned at Walmac Farm in 2004. A winner of the 1980 Prix de la Salamandre (Fr-I), Miswaki has 100 worldwide stakes winners to his credit, including European champions/highweights Urban Sea, Misil, Kistena (FR), Miswaki Tern, Rossini, and Mister Slippers. He is also the sire of Allied Forces, a divisional highweight in the United Arab Emirates. In addition, Miswaki is the broodmare sire of 136 stakes winners and currently stands 14th on the leading broodmare sire list.
Although Black Tie Affair has been perceived as having something of a blue-collar pedigree, he is actually a fairly well-bred horse, being a half-brother to 1993 Premio Presidente della Repubblica (Ity-I) winner Great Palm (by Manila) and restricted stakes winner Start a Tab (by Matsadoon). His dam, Hat Tab Girl, numbered the 1982 Coral Gables Handicap among her six wins from 23 starts and is sired by 1969 Monmouth Invitational Handicap and Jersey Derby winner Al Hattab, winner of 16 of 45 starts and the source of Black Tie Affair's gray coat as well as at least some of his soundness and hardiness. By the good stallion The Axe II and so a grandson of 1936 Epsom Derby winner Mahmoud, Al Hattab was unusual in that he appears to have been homozygous for the dominant gray gene and sired nothing but gray/roan progeny during his stud career. (A few of his foals were initially registered as bays or chestnuts but later had their data updated as their gray color emerged.)
Evening Attire is the only stakes winner produced by his dam, Concolour, a winner of one of her four starts. A half-sister to restricted stakes winner Alstroemeria (by Plugged Nickle), Concolour is by multiple grade I winner Our Native (by two-time leading sire Exclusive Native, by Raise a Native), winner of 14 of 37 starts in a fine crop that included Secretariat, Forego, and Sham.
Concolour was produced from the winning Northern Jove mare Stachys, whose dam, The Silver Tassie (by Royal Levee) had three runners that made over 100 starts each among her 15 foals. Herself a winner of three of 32 starts and a half-sister to stakes winner Paris Violets (by Tobin Bronze), The Silver Tassie was produced by Browallia, a non-winner by the high-class handicapper Hillsdale out of Plumbago, by Nearco (ITY). Plumbago, in turn, was produced from Gold Mary, a Solario (GB) half-sister to the famous broodmare Rough Shod II (GB) (by Gold Bridge (FR)–Dalmary (GB)).
Evening Attire serves as a warning against blanket statements such as "inbreeding to X horse produces unsoundness." In his case, he is inbred 4 x 4 to Raise a Native, a blazing-fast horse whose combination of extreme speed, heavy muscling, and inadequate underpinnings led to his retirement with a bowed tendon after just four starts. At stud, Raise a Native had a justified reputation for throwing progeny that shared both his great virtue (speed) and his great fault (unsoundness). In the case of Evening Attire, Raise a Native is the paternal grandsire of the gelding's sire, Black Tie Affair, and of the broodmare sire, Our Native, but these were horses that were both much sounder and more durable than the average among Raise a Native's descendants. They were, presumably, less likely to pass on Raise a Native's fragility than less sound sons and daughters, and in Evening Attire's case, the horse appears to have inherited some of Raise a Native's speed and quality without inheriting the soundness problems with which the Raise a Native line is often associated.