In just her third start on grass, Forever Together announced her arrival in the turf female division with a visually impressive win July 26 in the Diana Stakes (gr. IT) at Saratoga. Her last-to-first stretch run over a good field nailed down both her first grade I victory and an automatic berth in the Emirates Airline Breeders' Cup Filly & Mare Turf (gr. IT).
Forever Together hails from one of the rarer families in the American Stud Book, that of an unnamed daughter of Diomed (the first Derby Stakes winner, who became a great sire after his export to the United States in 1798 – at the age of 21, no less!) and a mare of unknown ancestry owned by a Colonel Lyles of Maryland. Foaled near the turn of the 19th century, the Diomed Mare became the foundation dam of American Family 29.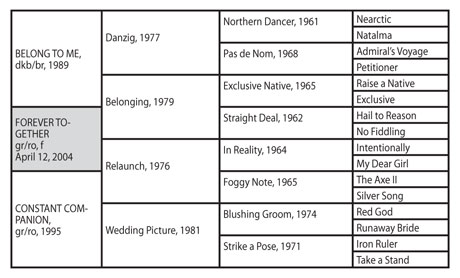 The primary modern branch of this family descends from Torch Rose, a 1934 daughter of Torchilla whose produce included two good stakes-winning colts by Alibhai: On Trust and Trusting. Her most important foal, however, was the colts' full sister, Alibhai Rose. This filly never raced and lived to produce only two foals, but her 1955 filly by Better Self, Self Control, won nine of 60 starts before producing seven winners from eight foals, among them the stakes winners Dun-Cee (by Dunce) and Controlled Landing (by First Landing).
Bred to the talented but temperamental Amerigo in 1965, Self Control produced Take a Stand the following spring. A winner of two of 15 starts, Take a Stand did her part to add to the family's reputation by producing French group III winner French Friend (by Herbager) and multiple stakes winner Stage Luck (by Stage Door Johnny). Stage Luck, in turn, produced three stakes winners including two-time champion female Open Mind (by Deputy Minister). Take a Stand's stakes-placed daughter Strike a Pose (by Iron Ruler) also became a good producer, throwing the stakes winners Tonka Wakhan (by Big Spruce) and Wedding Picture (by Blushing Groom), as well as Strike a Balance (by Green Dancer), dam of 1995 Canadian Horse of the Year Peaks and Valleys.
Winner of the listed Revidere Handicap as a 4-year-old in 1985, Wedding Picture produced four stakes winners headed by 1996 Fort Lauderdale Handicap (gr. IIIT) winner Winged Victory (by Nijinsky II). Forever Together was produced from her unraced 1995 Relaunch daughter, Constant Companion, and is one of 105 stakes winners produced from Relaunch mares.
Forever Together is a daughter of
Belong to Me
, a stallion who shares a number of similarities with Boundary, sire of Kentucky Derby Presented by Yum! Brands and Preakness (both gr .I) winner Big Brown. Both are sons of Danzig who made their reputation as sprinters, each winning two grade III events at six furlongs, and both have been fairly useful sires. The more lightly-made Boundary (now pensioned) was somewhat more consistent as a sire of winners, getting 59.6% winners from foals as opposed to 48.8% for Belong to Me thus far, while Belong to Me has sired more grade or group I winners, with nine to Boundary's three. (In fairness to Boundary, however, Belong to Me has sired 1,182 foals of racing age compared to 421 for Boundary.)
In contrast to his daughter, Belong to Me hails from one of the best-known families in American breeding, that of La Troienne. His particular branch, that of Big Hurry, has as fine a record as any – champions Bridal Flower, Regal Gleam, Straight Deal, Easy Goer, and Zoman all descend from Big Hurry – but has not been a good source of sires. Belong to Me has been about as good as any of them, and in fact has a stallion profile not too dissimilar to that of Commemorate (Exclusive Native–Reminiscing, by Never Bend), another useful speed sire and a close relative of Belong to Me's dam, Belonging (an Exclusive Native half-sister to Reminiscing).
Belong to Me's best previous runner was probably Jersey Girl, a fast filly whose nine wins from 11 starts included three grade I events. Like Forever Together, Jersey Girl was produced from a mare from the male line of Relaunch's sire In Reality; in Jersey Girl's case, the broodmare sire is Valid Appeal, a son of In Reality best known as a progenitor of sprinters and milers. Relaunch, however, stayed up to a mile and a half well and showed his best form on the grass, proclivities that Forever Together appears to have inherited.
Now that she has answered the question of class, the biggest question still facing Forever Together is that of stamina. Taken as a whole, her pedigree suggests that eight or nine furlongs may be her best trip, a tad short of the 10 furlongs of the Filly & Mare Turf. Her late-running style may help her carry her game to longer distances, however, and if she has inherited a measure of Relaunch's stamina, she has shown the ability to be a contender.