By Alan Porter
Meet the new boss, quite a different horse from the old boss. That's been the story for runners in California's sprint division that have found themselves unable to deal with Street Boss, who is a far better horse this year than in 2007.
Street Boss , a 3-year-old in 2007, did win his first time out, taking a six-furlong maiden at Del Mar last September. On his second start he was second to subsequent Malibu Stakes (gr. I) winner Johnny Eves in an Oak Tree at Santa Anita allowance contest, but was off the board in his final two starts of the year.
Given a break of more than two months, Street Boss reappeared in mid-January in a 5 1/2-furlong allowance at Santa Anita, and set a new track record while scoring by five lengths. Street Boss was beaten a neck on his next start, but has been perfect in his five subsequent outings, which have seen him win a pair of 6 1/2-furlong Santa Anita allowance events; the Los Angeles Handicap (gr. III), in which he established a new six-furlong track mark of 1:07.55; the Triple Bend Invitational Handicap (gr. I); and the Bing Crosby Handicap (gr. I).
Together with champion 2-year-old and Kentucky Derby Presented by Yum! Brands and Travers Stakes (both gr. I) victor Street Sense , and the undefeated multiple grade I winner Zenyatta, Street Boss completes a trio of truly exceptional performers from the first crop of Street Cry.
That crop has also produced 11 other stakes winners, including the Kingdom of Bahrain Sun Chariot Stakes (Eng-I) victress Majestic Roi, and group and graded winners Street Sounds, Summer Doldrums, Street Magician, and Per Incanto.
From his second crop--currently 3-year-olds--Street Cry is sire of the Oak Leaf Stakes (gr. I) heroine Cry and Catch Me; Tomcito, a two-time grade I winner in Peru, including the local Derby Nacional (Per-I), while running as a Northern Hemisphere 2-year-old, and placed this year in the Florida Derby (gr. I); and the Grey Breeders' Cup Stakes (Can-III) winner Globetrotter. From his current 2-year-old crop, he already has impressive Sanford Stakes (gr. II) winner Desert Party.
It was hard to know exactly what to expect when Street Cry retired to stud, as he might have been designated as having a case of "benign schizophrenia" in terms of pedigree and performance. Foaled in Ireland, he was sired by the speedy European juvenile champion Machiavellian — the most important European son of Mr. Prospector — out of Helen Street (GB), winner of the Gilltown Stud Irish Oaks (Ire-I) at a mile and a half. Although he was apparently bred to run on turf, Street Cry never tackled that surface, spending his entire career racing on dirt (except for his appearance on sand in the Dubai World Cup (UAE-I)). It appeared that the Machiavellian influence might be predominant in Street Cry's makeup when he won a 6 1/2-furlong Del Mar maiden by seven lengths in his second start — running the fastest Beyer Speed Figure of the year by a juvenile — before losing out to Flame Thrower in close battles for the Del Mar Futurity and Norfolk Stakes (both gr. II), and finishing third in the Breeders' Cup Juvenile (gr. I). Sidelined by injury for much of his 3-year-old career, at 4 Street Cry proved conclusively that he could stay 10 furlongs with a 4 1/4-length tally in the Dubai World Cup, and took the Stephen Foster Handicap (gr. I) by 6 1/2 lengths. These performances earned him the highest Timeform rating of any horse in the world that year.
So, when Street Cry retired to stud, one had to wonder whether he would sire precocious runners or horses that would do best with maturity; would he be an influence for speed or middle-distance ability; and would his runners excel on dirt or turf? The short answer has turned out to be: all of the above. As one can tell from the sampling of Street Cry's best runners previously mentioned, depending on the influence of the mare, Street Cry can get an example of almost any kind of horse. It took him only one crop to get group/grade I winners on dirt, turf, and all-weather tracks; he has two Northern Hemisphere juvenile grade I winners — one of them a champion — and two grade I winners at 4 from his only crop to reach that age; and he has group/grade I winners at six, seven, eight, 8.5, nine, 10, and 12 furlongs.
Receive weekly Thoroughbred pedigree analysis from Avalyn Hunter and Alan Porter via email! Coming this November.
Sign up today!
Street Boss's distaff pedigree is even more cosmopolitan than that of Street Cry. If we go back six generations we come to the Marcel Boussac-bred Pretty Lady (GB), a daughter of Umidwar (GB) (best-known in the U.S. as sire of Uvira II, ancestress of A.P. Indy, Summer Squall, and Lemon Drop Kid ) and Boussac's Prix de la Foret winner and Poule d'Essai des Pouliches second La Moqueuse (FR). For Boussac, Pretty Lady turned out to be an outstanding producer, her offspring including the two-time Champion Stakes winner Dynamiter; Abdos (FR), a brilliant champion 2-year-old in France, and one of the last outstanding horses bred by Boussac; and Street Boss's fifth dam, Dalama, winner of the black-type La Coupe de Maisons-Laffitte. By the time that Dalama retired to stud, Boussac's outstanding stallions Teddy, Pharis II (FR), and Dejbel (FR) (sire of Dalama), were long since gone. In the wake of their departure, the decline of the once mighty Boussac breeding machine was hastened by his importation of U.S. stallions Whirlaway (Triple Crown winner of 1941); 1949 U.S. Horse of the Year Coaltown; and 1957 Kentucky Derby winner Iron Liege, who despite their merits on the track, were virtually unmitigated disasters as stallions. It was Iron Liege who sired Street Boss's fourth dam Revada, a mating that may have appealed to Boussac as Iron Leige was inbred to Teddy through the brothers Bull Dog and Sir Gallahad III, and Dalama inbred to Teddy through daughters.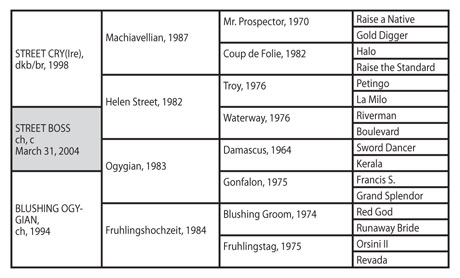 Dalama never produced a runner of note and like most of Iron Liege's offspring, Revada was no better than moderate. She did, however, have half-sister Djebellina, whose daughter Darazina (FR) became a foundation mare for the Aga Khan (her descendents include Prix de Diane Hermes and Prix Vermeille (both Fr-I) winner Daryaba (IRE); Japanese-foaled half-sister Utrillo (JPN) (dam of Yushun Himba-Japanese Oaks (Jpn-I) winner Noah No Hakobune); and sister Becky (GB), who is granddam of the Prix du Conseil de Paris (Fr-II) winner Sleeping Car. Revada was also a better producer than runner, throwing French steeplechase stakes winner Crystal Tear (FR); Osterreichisches Derby victor Opalus (FR); and the mare who would continue the line, Fruhlingstag (FR).
A daughter of the great German racehorse and sire Orsini II, Fruhlingstag never won a black type race, but did take second in the group I Poule d'Essai des Pouliches. At stud, Fruhlingstag became a more than useful producer. She produced three stakes winners — all by Nasrullah-line stallions, the best of which was the Cozzene horse Running Stag, who was a listed-placed runner in England, a group winner in France, winner of the Massachusetts, Brooklyn, and Saratoga Breeders' Cup Handicaps (all gr. II) in the U.S, and grade I-placed in Hong Kong. To another Nasrullah-line stallion, Blushing Groom (FR), Fruhlingstag foaled Fruhlingshochzeit. Campaigned in France, Fruhlingshochzeit won only once in that country, but placed in six black type events. Fruhlingshochzeit spent her entire stud career in the U.S. Here she produced nine winners, none of which won a black type event, although she is granddam of group winner Fruhlingssturm (GB), and third dam of German listed winner Fantastica (GER). Fruhlingshochzeit's best runners were a pair of siblings by the brilliantly speedy but unsound Damascus horse Ogygian. They are the Walmac International Lone Star Oaks third Tiny Decision, and Street Boss's dam, Blushing Ogygian, who placed third in the Jersey Jumper Stakes as a 2-year-old.
Street Boss's pedigree is an outcross at five generations, but he is TrueNicks rated A++ on the basis of the Street Cry/Damascus cross that has also produced grade I winner Tomcito and graded winner Summer Doldrums.