by Avalyn Hunter
Solid, tough, and workmanlike is a good description of Sky Mom's Aug. 2 victory in the Arlington Oaks (gr. III). It is also a pretty good description of her pedigree, which may be a little short on fashion but is strong on racing quality.
Sky Mom is a daughter of the late Maria's Mon, whose death last September was a sad loss to Kentucky-based Pin Oak Stud. The champion juvenile male in 1995, Maria's Mon looked the part of a top-class colt while winning the Sanford Stakes (gr. III) and the Futurity and Moet Champagne Stakes (both gr. I), but was unable to compete in the Breeders' Cup Juvenile due to injury. Although he returned to the track as a 3-year-old, he showed none of his earlier form in two starts before retiring to Pin Oak for the 1997 breeding season.
Maria's Mon did not particularly impress anyone when his first juveniles came to the track in 2000, as only 12 of 72 named foals won that year and only one, Lady Andromeda, won a stakes. But the stallion's stock went up considerably in 2001 when his son Monarchos won the Florida Derby and the Kentucky Derby (both gr. I) and his daughter Silver Tornado won the Reeve Schley, Jr. Stakes (gr. III). (Another member of Maria's Mon's first crop, Wander Mom, won the My Charmer Handicap (gr. III) as a 4-year-old.)
Those results began bringing better mares to the court of Maria's Mon in 2002, and the results were not long in coming. In 2006 champion 3-year-old filly Wait a While and Malibu Stakes (gr. I) winner Latent Heat both emerged from the first crop conceived following Monarchos' Derby triumph, along with multiple grade II winner Strong Contenderand El Camino Real Derby (gr. III) winner Cause to Believe. To date, Maria's Mon is the sire of 385 winners (51.7%) and 38 stakes winners (5.1%) from 745 foals of racing age, and his statistics seem likely to improve as his later crops reach maturity.
Maria's Mon was much the best of the 41 stakes winners sired by Wavering Monarch, a two-time grade I winner and the best son of Majestic Light at stud. Majestic Light, a grade I winner on both dirt and turf, sired 72 stakes winners from 891 foals (8.1%) and was the best stallion sired by 1969 Kentucky Derby and Preakness winner Majestic Prince (by Raise a Native), whose stud career was greatly overshadowed by the similarly-sired Mr. Prospector and Alydar but was nevertheless good despite a tendency to pass along soundness problems. Also the sire of 1979 Belmont Stakes (gr. I) winner Coastal, Majestic Prince sired 33 stakes winners from 362 foals (9.1%).
The distaff-side pedigree of Maria's Mon was also of good quality but a departure from the Northern Dancer/Mr. Prospector lines that dominated American racing and breeding during the 1980s and 1990s. His dam, Carlotta Maria, never won but was by Caro (IRE), a French group I winner at 2100 meters (approximately 10.5 furlongs), out of Water Malone, a graded stakes-winning daughter of 1970 Belmont Stakes third Naskra. Like Naskra, Caro was a male-line descendant of the great sire *Nasrullah but not through the high-profile line of Bold Ruler, who was to the 1960s and early 1970s what Northern Dancer was to the late 1970s and the 1980s.
Sky Mom is the third foal and third winner produced from the Sky Classicmare Swiftly Classic, a winning full sister to 2001 Natalma Stakes (Can-III) winner Sky Alliance and to listed stakes winner Classic Alliance. A multiple champion in Canada and U.S. champion turf male in 1992, Sky Classic (who is still active at Pin Oak Stud) has never gotten a lot of respect from the commercial market thanks to his proclivity for siring horses that usually need time to mature and often prefer the turf. Nonetheless, he has been a solid breed-to-race sire whose percentages of winners (60.9%) and stakes winners (7.8%) best those of a fair number of more fashionable stallions. His progeny include six champions, among them 1999 Canadian Horse of the Year Thornfield; 2006 Canadian champion turf male Sky Conqueror, a grade I winner in the United States; and Magnetic Eyes (ARG), a champion older female in Argentina.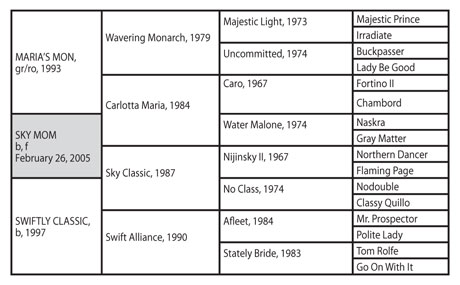 Sky Classic was produced from the great Canadian matriarch No Class (by another quality but not very fashionable sire in Nodouble) and was sired by Nijinsky II, an excellent sire and broodmare sire but a stallion who has been historically maligned in some quarters as an indifferent sire of sires in spite of numbering Caerleon, Niniski, Royal Academy, and Baldski among his other sons. Another horse in Sky Mom's pedigree that probably commanded less respect than he should have is the Mr. Prospector horse Afleet, sire of Swiftly Classic's dam Swift Alliance. Horse of the Year in Canada in 1987 and a good competitor in the United States against one of the best crops of the last quarter-century, Afleet was exported to Japan after six seasons in Kentucky. The sire of 59 stakes winners, Afleet begot the grade I-winning fillies Twist Afleet and Flat Fleet Feet and multiple grade II winner Northern Afleet , sire of 2005 U.S. champion 3-year-old male Afleet Alex, prior to his departure.
Sky Mom's pedigree contains a nice touch in its pairing of Majestic Light (a grandson of Raise a Native out of a daughter of Ribot) with Swift Alliance, a Raise a Native-line mare whose broodmare sire is a good son of Ribot. Overall, however, the attraction of this pedigree is its reliance on stallions who were classy runners themselves and who were solid sires whose reputations did not depend on the whims of the commercial market. In a day when breeding fashion often seems to be the tail that wags the dog called Thoroughbred racing, that's a nice thing to see.