by Alan Porter
In general, one might expect outstanding broodmares to have been talented runners, or at least to boast quality pedigrees. Every now and then, however, a mare emerges from "nowhere" to become an important producer. Such a mare is Lavayssiere (FR). The French-bred daughter of Sicyos was virtually devoid of commercial credentials as a broodmare when she retired to stud — there was not a single black type winner under the first six generations of her catalog page. Yet with her first three foals — all by stallions of relatively modest accomplishments as sires — she has produced three stakes winners, including Spirit One (FR), hero of the Arlington Million Stakes (gr. I) on August 9.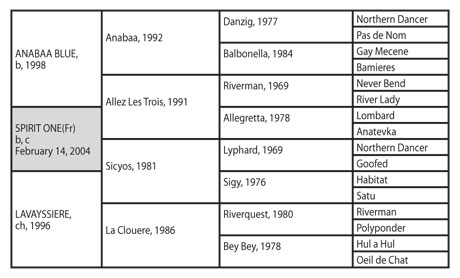 One thing that could be said for Lavayssiere is that she was tough. She started 57 times — including a handful of hurdle races — in four years, winning seven times on the flat at tracks in the French provinces. Lavayssiere began her stud career by visiting the Kingmambo stallion Kingsalsa. The product of that mating, the gelding Salsalava (FR), won the listed Prix des Sablonnets and Prix Policeman, and is one of only three black type winners for his sire. Lavayssiere's next mating – the one that produced Spirit One — was with the Prix du Jockey Club (Fr-I) winner Anabaa Blue (GB), then in his first season at stud. Spirit One was one of the better French 2-year-olds of his crop, winning the Prix des Chenes (Fr-III) and Criterium du Fonds Européen de l'Elevage, and finishing a close second to Mount Nelson (GB) in the Criterium International (Fr-I). Despite this bright start to his career, Spirit One failed to score in six 3-year-old outings, his best performance being seconds in the Prix Noailles and Prix Guillaume d'Ornano-Haras d'Etreham (both Fr-II). This year, he won the Prix Exbury (Fr-III) on his seasonal debut, and between that March 15 race and the Arlington Million, he added seconds in the Prix d'Harcourt (Fr-II) and La Coupe (Fr-III) and a fourth in the Prix Ganay-Grand Prix du 40th Anniversaire Air Mauritius (Fr-I). In his races in France, Spirit One has frequently set the pace then faded close to home. In the Million he again adopted a front-running role but this time kept on well to account for Archipenko and his old rival Mount Nelson, a pair of invaders who were far more strongly fancied. Spirit One is by a considerable margin the best runner from the first crop sired by Anabaa Blue, although that group does also include listed winner Claire et Bleu (FR). From his second crop, Anabaa Blue is sire of French listed winner Anacarde (FR). Lavayssiere's third foal, Salsalavie (FR), is a colt by Fly to the Stars (GB) (a son of the Storm Bird stallion Bluebird). He became the only black type scorer for his sire when taking the Prix du Haras de la Huderie at Deauville last year, and this year he added a second in the SG Private Banking Prix La Force (Fr-III). Lavayssiere's fourth foal, the 2-year-old Spirit of the King (FR) (a brother to Salsalava) has placed second on her only start to date. Lavayssiere also has a yearling, Spirit of America (IRE), by American Post (GB).
If there is an answer to the mystery of Lavayssiere's dramatic improvements over the production record of her immediate family, it probably lies in the recesses of her female line. If one goes back to her third dam, Oeil de Chat, some potential clues begin to appear. First, Oeil de Chat's own third dam is a half-sister to the Poule d'Essai des Poulains winner Klairon (this is a branch of an extremely important female line that is usually identified by Klairon's granddam, Sweet Lavender (GB), or third dam, Marchetta). Klairon was by a grandson of Tourbillon (FR), out of the mare Kalmia (FR), and Oeil de Chat's granddam, Matines (FR), was similarly bred, as she was by Tourbillon's son Micipsa out of a daughter of Kalmia. Micipsa is also important to this story, as he was by Tourbillon out of the mare Thaouka, while Oeil de Chat's sire was by the Tourbillon stallion Djebel (FR) out of a daughter of Thaouka. This is typical of the kind of inbreeding pattern made popular in France by Marcel Boussac, whose influence is prevalent in the pedigree of Oeil de Chat.
The mating with the relatively obscure Native Dancer horse Hul a Hul that produced Lavayssiere's granddam, Bey Bey, was an almost complete outcross. However, when we come to Lavayssiere's dam, La Clouere, we find that she was by Riverquest (FR). That horse was a son of Riverman and, strangely enough, we find that Riverman has an extremely similar background to Oeil de Chat. He is by Never Bend (reverse Pharos (GB)/Djebel cross to Flores (FR), the sire of Oeil de Chat) out of a mare by a son of Princequillo (Prince Rose (GB)/Papyrus cross), where Oeil de Chat is out of a mare by Northern Light (FR) (Prince Rose/Papyrus cross). Both Riverman and Oeil de Chat have line breeding to Teddy, including through Asterus (FR), and while Oeil de Chat is inbred to Tourbillon, Riverman carries Djeddah, who is a grandson of Tourbillon and inbred to Tourbillon's family (which traces to Frizette, also the ancestress of Seattle Slew and Mr. Prospector).
The mating with Sicyos that produced Lavayssiere continued the line breeding process. Sicyos's dam, the brilliantly speedy Sigy (FR), is inbred to the mare Lavendula (FR) through her grandsons Turn-to and My Babu. Lavendula is a daughter of Oeil de Chat's fifth dam, Sweet Lavender (GB), so comes from the same female line. My Babu is interesting in particular, as he is by Djebel, a son of Tourbillon (bringing in more of that strain), and so bred on similar lines to both Oeil de Chat and her own granddam, Matines. My Babu also has a very similar genetic background to Never Bend, the sire of Riverman.
Moving along to the mating that produced Spirit One: his sire, Anabaa Blue, is inbred to Riverman and thus inherits that stallion's genetic similarities to Oeil de Chat. This means that Spirit One has Riverman 5 x 3 x 4 along with the similarly-bred Oeil de Chat also in the fourth generation. For good measure, Anabaa Blue's sire, Anabaa, brings in the mare Gay Missile (dam of Anabaa's maternal grandsire, Gay Mecene). She inbred to Lavendula through Turn-to and My Babu in a similar pattern to Sigy, the dam of Lavayssiere's sire, Sicyos.
Without diagrams, these complex relationships become hard to follow. To simplify: Lavayssiere's third dam, Oeil de Chat, is inbred to Tourbillon through genetic relatives and is from the Sweet Lavender family. Lavayssiere's broodmare sire, Riverquest, is by Riverman, who has a very similar genetic background to Oeil de Chat and who has line breeding to Tourbillon's family.
Lavayssiere's sire, Sicyos, adds line breeding to the Sweet Lavender family, including through My Babu, who is similarly bred to Oeil de Chat, and has a strong relationship to Never Bend, the sire of Riverman. The mating that produced Spirit One added two more crosses of Riverman and another individual inbred to Sweet Lavender through Turn-to and My Babu. The overall effect of this is to create a background of individuals carrying concentrations of Tourbillon and his female line, and the Sweet Lavender family (which clearly had an affinity for Tourbillon).
We can see similar patterns when we look at the other matings that produced black type winners for Lavayssiere. Kingsalsa, sire of her first stakes winner, has a granddam who is inbred to Tourbillon, once through Klairon (remember that this family goes back to a half-sister to Klairon). Fly to the Stars, the sire of her third stakes winner, is out of a mare by Mill Reef. Like Riverman, he is a son of Never Bend with a Princequillo-line dam, and so again is bred similarly to Riverman and Oeil de Chat.
While this all may seem rather esoteric, there are sound reasons why an accumulation of concentrations of genetic relatives may revive a dormant family. Genetic alleles are often transmitted in groups or blocks known as haplotypes. As confirmed by geneticists, these groupings can remain intact over many generations. For example, if Oeil de Chat inherited valuable recessive haplotypes from strains in her pedigree – such as Tourbillon (and his female line) and Sweet Lavender – continued reinforcement of those strains, as likely happened here, could retain genetic potential in her descendents until critical mass is finally reached.