by Avalyn Hunter
If American racing has such thing as a surefire formula, it seems to be this: Take a reasonably well-bred horse that has been struggling against good runners in Europe and drop it into an American graded stakes on the grass. Presto! Instant success.
It isn't quite that simple, of course, or European transplants would be taking down every decent turf race on the calendar. Nonetheless, Magical Fantasy became yet another example of this route to an improved race record Aug. 16 in the Del Mar Oaks (gr. IT). It wasn't quite instant success, as this was the filly's fourth start in the United States, but Magical Fantasy could hardly have picked a sweeter spot to nail down her second career victory.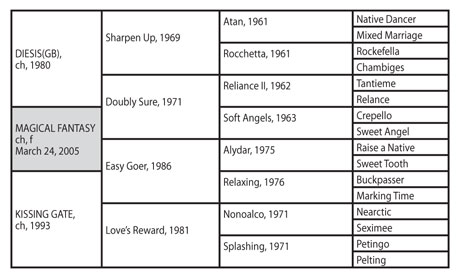 Magical Fantasy is the 85th worldwide stakes winner and 15th grade/group I winner sired by Diesis (GB). A solid if rather undervalued sire of turf runners during his stud career, Diesis was pensioned at Mill Ridge Farm in April 2006 and was humanely destroyed the following November after fracturing a hip. He sired nine European champions or highweights, including the dual Classic winners Diminuendo and Ramruma, placing him in the tradition of other grass-oriented American-based sires such as Nijinsky II and Lyphard whose best runners for the most part raced abroad.
The English champion juvenile male of 1982, Diesis might well have stood in his native land except for the presence of his older full brother Kris (GB). The co-champion European miler of 1979 (with Irish River (Fr)), Kris was a more substantial individual with great presence and was already at stud in England. Like Diesis, Kris was a successful sire, his best progeny including the English Filly Triple Crown winner Oh So Sharp (IRE) and dual Classic winner Unite (IRE). Kris was pensioned in 2002 and died in 2004.
Both sons of the very good sire Sharpen Up (GB) (by Atan, by Native Dancer), Diesis and Kris were the best of four stakes winners produced from Doubly Sure (GB), whose sire Reliance II (FR) was arguably the second best 3-year-old colt of his year in Europe. Considering that he had won the 1965 Prix du Jockey Club (French Derby), Prix Royal Oak (French St. Leger), and Grand Prix de Paris, that speaks volumes for his lone conqueror, the great Sea-Bird, who led Reliance II home by five lengths in the Prix de l'Arc de Triomphe. Doubly Sure inherited absolutely none of her sire's talent on the racecourse, failing to win in five starts, but her broodmare career can hardly be faulted. In that, she was the reverse of her dam, the Crepello (GB) mare Soft Angels: the English champion juvenile filly of 1965, she failed to train on at 3 and produced only four foals, none particularly distinguished on the race course.
Bred by Rodes S. Parrish and Charles Beach IV, Magical Fantasy was produced from a proven cross. Her dam, Kissing Gate, is a half-sister to two good stakes winners by Diesis in Keen Hunter (1991 CIGA Prix de l'Abbaye de Longchamp (Fr-I)) and Altibr (2000 Shadwell Keeneland Turf Mile Stakes (gr. IIT)). Kissing Gate herself is by 1989 Belmont Stakes (gr. I) victor Easy Goer, the American champion juvenile male of 1988. One of five champion sons of Alydar, Easy Goer sired some very good individuals in an uneven career before his death at the age of 8. The best of them is generally considered to have been My Flag, a daughter of the great race mare Personal Ensign and who included the 1995 Breeders' Cup Juvenile Fillies and the 1996 Coaching Club American Oaks among her four grade I wins.
Easy Goer left just 53 producing daughters, but 11 of them have become the dams of graded or group stakes winners. His best runner as a maternal grandsire has been My Flag's daughter Storm Flag Flying, the American champion juvenile filly of 2002, and he is also the broodmare sire of Poule d'Essai des Poulains (French Two Thousand Guineas (Fr-I)) winner Astronomer Royal and grade I winners Corinthian and Monba.
Kissing Gate was produced from the Nonoalco mare Love's Reward (IRE), a half-sister to 1984 Middle Park Stakes (Eng-I) winner Bassenthwaite (GB) (by Habitat) and 1981 Prix d'Arenberg (Fr-III) winner Glancing (GB) (by Grundy (Ire)). The siblings were produced from 1973 Cornwallis Stakes (Eng-III) winner Splashing, a daughter of the speedy 1968 St. James's Palace Stakes winner Petingo (GB). This is a female line that has shown a strong bias towards speed, so in one sense, Magical Fantasy has already outrun her pedigree by winning a grade I event at nine furlongs. If she is to be considered as a possibility for the Emirates Airline Breeders' Cup Filly and Mare Turf (gr. IT) by owners David Bienstock, Paul Mandabach, and Charles Winner, she will need to continue improving, but she has at the least taken a step in the right direction.