On paper, some horses appear to be bred to have four-cylinder engines; others should have afterburners instead of ordinary feet and legs. Juddmonte Farms' homebred First Defence falls into the supercharged category, having displayed his inherited speed with an impressive win Aug. 30 in the Forego Stakes (gr. I) at Saratoga.
The colt is a son of Unbridled's Song, the leading son at stud of 1990 champion 3-year-old male Unbridled. A tall, lengthy gray with a resemblance to his broodmare sire, Caro (IRE), Unbridled's Song had an enigmatic racing career in which he flashed marked talent but failed to demonstrate the consistency required of a truly great runner. His five wins from 12 starts included the 1995 Breeders' Cup Juvenile and the 1996 Florida Derby (both gr. I), but he flattened out in the stretch of the 1996 Kentucky Derby (gr. I) and finished fifth after having briefly assumed the lead in the stretch. He had been troubled by foot problems during his Derby preparation and after that performance never returned to the level of brilliance he had displayed earlier, though he did win the listed Olympic Handicap at 4. His first crop, foals of 1998, included grade I winners Songandaprayer and Unbridled Elaine, and he has been a popular commercial stallion since then, with a lifetime yearling average of $325,943.
Unbridled's Song has a reputation for not getting the soundest of horses (he actually has 53.9% winners and an average of 12.9 starts per starter from foals 3 years of age and older, comparable to sires such as A.P. Indy and Kingmambo) but can throw some very good individuals. His best progeny have generally excelled over eight or nine furlongs, but he has both successful sprinters to his credit (Forest Music and Half Ours) and good 10-furlong horses (Octave and Political Force). As of this writing, the 15-year-old stallion is still active at Taylor Made Farm, where he has stood throughout his stud career.
Unbridled's Song has not been as great a source of precocity as his early runners suggested he might be (he has sired 11.8% 2-year-old winners from foals, not significantly above the breed average), and on the whole, his offspring seem to do better if given time to mature into their big frames. He has shown an affinity for mares returning In Reality, who appears in his own pedigree as the second damsire of Unbridled. Four of his nine grade I winners have In Reality on the distaff sides of their pedigrees, including First Defence.
First Defence is a scion of a family that has done Juddmonte great service. Out of the Seattle Slew daughter Honest Lady, his great-granddam, the In Reality mare Image of Reality, was acquired by Juddmonte after having produced four foals for other breeders, including the listed stakes winner Image of Class (by Codex). For Juddmonte, Image of Reality provided an immediate return by producing Navarra (by El Gran Senor), a grade III winner, four months after she was purchased at the 1987 Keeneland November bloodstock sale. Navarra has since produced grade III winner Indygo Shiner (by A.P. Indy).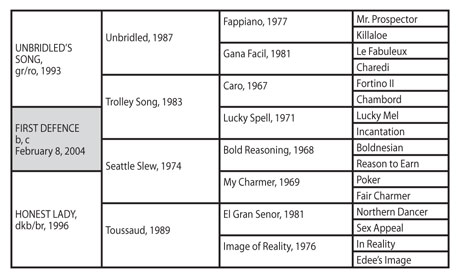 Image of Reality did still better with her sixth foal, Navarra's full sister Toussaud. Although temperamental, Toussaud was a group III winner in England at 3 and won three graded stakes in North America at 4, including the 1993 Gamely Handicap (gr. IT).
As good as she was as a racer, Toussaud reached still higher status as a broodmare, being named the KTOB Broodmare of the Year for 2002. Of her first six foals, five of them became graded or group stakes winners, four at the grade/group I level. Her first, the Mr. Prospector horse Chester House, won the 2000 Arlington Million (gr. IT). Unfortunately, he died of cancer following his third breeding season, but the foals he left have proven him a good sire. His 26 stakes winners from 223 foals include 2008 grade I winners Divine Park (Metropolitan Handicap) and Ventura (Just a Game Stakes).
Juddmonte has another son of Toussaud at stud in 2003 Belmont Stakes (gr. I) winner Empire Maker (by Unbridled). A talented runner whose career had its ups and downs due to mental immaturity and foot issues, Empire Maker stood his first season in 2004 and to date has sired six stakes winners from 188 foals of racing age. His best runner to date is multiple grade I winner Country Star, one of the best juvenile fillies of 2007.
Toussaud's other sons to stand at stud include 1992 Frank E. Kilroe Mile Handicap (gr. IIT) winner Decarchy (by Distant View), now at Magali Farms in California, and Civilisation, a non-winning son of Gone West who stands at Naylee Farm in West Virginia. Her 1999 colt by Woodman, Chiselling, won the 2002 Secretariat Stakes (gr. IT) and was sold for stud duty in South Africa but contracted equine protozoal myeloencephalitis (EPM) and never sired any foals.
Honest Lady, Toussaud's 1996 filly by Seattle Slew, is the only one of Toussaud's five daughters to have scored in a stakes. Her four graded stakes wins included a score in the 2000 Santa Monica Handicap (gr. I). First Defence is her first graded stakes winner, but she has also produced the French listed winner Phantom Rose (by Danzig) and Honest Quality (by Elusive Quality), who won an English listed stakes in July.
Although Unbridled's Song had not previously produced a graded or group stakes winner from a Seattle Slew-line mare, Toussaud did extremely well with Mr. Prospector and his sons, making the mating of Honest Lady to Unbridled's Song a logical enough choice. In the case of First Defence, the logic came through. It now remains to be seen whether he can frank the form he showed in the Forego with a top performance in the Breeders' Cup World Championships.