Victory is doubly sweet when you win with a homebred. When you win a graded stakes with a fourth-generation homebred, as Jack Dreyfus did with Hobeau Farm's Delightful Kiss in the Turfway Park Fall Championship Stakes (gr. III) — a "Win and You're In" race for the Breeders' Cup Marathon — the feeling has to be indescribable.
Dreyfus certainly didn't enter Thoroughbred breeding in the conventional way. An outsider to the game (he made his money as a Wall Street investment broker), he started his operation in 1956 with next to nothing as a broodmare band and one stallion, Beau Gar, who had not exactly impressed anyone as a racer. He was well-bred enough (by 1943 Triple Crown winner Count Fleet out of the good race mare Bellesoeur, by two-time New Zealand champion sire Beau Pere) but had proven unsound as a racer and had won only four minor races from 15 starts. Virtually no one other than Dreyfus cared to breed to him, and Dreyfus ended up actually leasing mares from other breeders to give the horse a chance.
After Beau Gar's first crop started running, Dreyfus had a lot less trouble getting mates for his horse. The star of that 1957 crop was Beau Purple, a front-running speed merchant who won the 1960 Derby Trial at 3 and, after a shortened 4-year-old campaign, returned from injury at 5 to become one of the best handicap males of 1962. All he did that season was to win five major stakes, upset Horse of the Year Kelso twice, and set three new track records. He won the Widener Handicap at 6 and retired having won 12 of 32 starts for earnings of $445,785. Beau Purple failed at stud, but Beau Gar eventually sired 24 stakes winners and still appears in modern pedigrees as the third damsire of leading California regional sire Bertrando.
Beau Gar also played a role in building up the Hobeau Farm family that produced Delightful Kiss, although he does not figure directly in the gelding's ancestry. That family was founded by Marullah, a daughter of Nasrullah out of Marguery, a full sister to 1930 Triple Crown winner Gallant Fox. Winner of the 1956 Sorority Stakes as a juvenile, Marullah was acquired by Dreyfus as a young broodmare. To the cover of Beau Gar, she produced Handsome Boy, who defeated Buckpasser in the 1967 Brooklyn Handicap, and Blessing Angelica, a graded winner two-time victress of the Delaware Handicap.
Blessing Angelica did not prove to be a good broodmare, however, and it fell to her Dr. Fager half-sister Med Coed to carry on Marullah's family by producing Bishop's Delight, who was a grade I-placed listed stakes winner before retiring to the paddocks. Bishop's Delight is a 1983 daughter of Sawbones (by The Axe II out of Bebopper) and so a full brother to the good racehorse and sire Hatchet Man and a half-brother to another good runner and sire in Stop the Music.
Bishop's Delight has produced 13 live foals, all now of racing age (her last, the Smooth Jazz filly Delightful Music, was foaled in 2006). Ten of them have won, among them Just Dance (by Duck Dance), dam of 2000 Forego Handicap (gr. II) winner Shadow Caster, and Deputy's Delight, by 1995 Jerome Handicap (gr. II) winner French Deputy.
Delightful Kiss, also the winner of last year's Ohio Derby (gr. II) and Iowa Derby, is the third foal and third winner produced by Deputy's Delight. He was sired by 1993 Haskell Invitational Handicap (gr. I) winner Kissin Kris, a good Florida sire of late-maturing, staying runners before being transferred to Kentucky in 2004 and on to California in 2007. His best runners previous to Delightful Kiss have been 2000 Canadian champion 3-year-old male Kiss a Native, 2003 Grey Breeders' Cup Stakes (Can-II) winner Smoocher, and 2005 San Carlos Handicap (gr. II) winner Hasty Kris.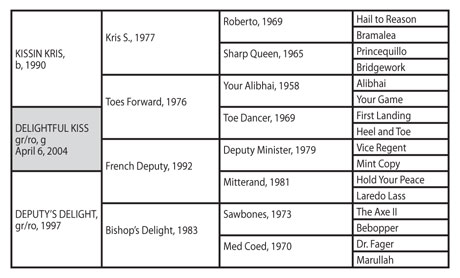 Kissin Kris is by Kris S., a son of Roberto who was bred by Florida's Red Oak Farm. A minor stakes winner, Kris S. began his stud career at Meadowbrook Farm in Florida for an initial fee of $3,500. After siring grade I winners Evening Kris (1988 Jerome Handicap), Stocks Up (1988 Hollywood Starlet Stakes), Cheval Volant (1989 Hollywood Starlet Stakes and 1990 Las Virgenes Stakes), and Prized (1989 Breeders' Cup Turf and San Luis Rey Stakes; a useful sire), Kris S. transferred to Prestonwood Farm (now WinStar Farm) in 1993. Kissin Kris, Hollywood Wildcat (1993 U.S. champion 3-year-old filly), and Brocco (1993 Breeders' Cup Juvenile and 1994 Santa Anita Derby (both gr. I)) all emerged as major winners following the stallion's transfer, and Kris S. eventually commanded a stud fee of $150,000 before his death in 2002, paralleling the similarly-sired Dynaformer. His Kentucky-conceived crops include the grade or group I winners You and I (1995 Metropolitan Handicap), Dr Fong (1998 St. James's Palace S.), Arch(1998 Super Derby, and a useful sire for Claiborne Farm), Soaring Softly (1999 U.S. champion turf female), and Rock Hard Ten(2004 Malibu Stakes and 2005 Santa Anita Handicap).
Delightful Kiss is outcrossed through five generations (with the exception of Kissin Kris' inbreeding to Turn-to), but his pedigree contains a high number of animals in the fifth and sixth generations that feature the Domino/Teddy cross or its reverse, primarily through Blue Larkspur and Sir Gallahad III. The repeated crossing and re-crossing of these compatible strains may be a key to his pedigree. In any event, the staying heritage of the Roberto male line certainly will not hurt Delightful Kiss's chances should Dreyfus and trainer Pete Anderson decide to take a shot at what is shaping up to be a competitive Marathon field.