by Alan Porter
The Three Chimneys Hopeful Stakes (gr. I) – the first grade I event of the year for 2-year-old colts, run Sept. 1 at Saratoga – featured a pair of expensive youngsters, both of whom had flashed exciting potential. One was the $1.7 million Fasig-Tipton February 2-year-old purchase Munnings, a member of the first crop of champion sprinter Speightstown, and an impressive winner on his debut in a maiden special weight at Saratoga in August. The other was the Street Cry (IRE) colt Desert Party, a $2.1 million buy at the same Fasig-Tipton sale of 2-year-olds in training, and already winner of the Sanford Stakes (gr. II).
However, with Munnings stumbling at the break and Desert Party failing to fire, the Hopeful went to a horse with a far less glamorous background, Vineyard Haven, who had been beaten four lengths into third by Desert Party in the Sanford. The Sanford was only Vineyard Haven's second career start. On his debut, running for owner/trainer/breeder Lynne Scace, the Florida-bred had taken a 5 1/2-furlong Calder maiden special weight by 4 1/4 lengths. Following that victory, Vineyard Haven was purchased by current trainer Bobby Frankel and partners Louis Lazzinnaro and Diamond Pride.
Vineyard Haven is from the second crop of the Chilean-bred stallion Lido Palace. Sired by the Forty Niner stallion Rich Man's Gold (who went on to become a successful sire in South Africa before his early death at age 13 in 2005), Lido Palace was a dominant performer in Chile. Successful in six of his 10 starts in his native land, Lido Palace was a champion at 2 and again at 3, when he added the title of Chilean Horse of the Year. Purchased by Amerman Racing Stables, Lido Palace made his Northern Hemisphere debut in the UAE Derby (UAE-III), finishing third to Express Tour and Street Cry. In the U.S., Lido Palace made four starts that year and quickly established himself among the leading older horses of his generation, winning the Whitney Handicap (gr. I), followed by a victory in the Woodward Stakes (gr. I) while accounting for grade I winners Albert the Great, Tiznow , and Red Bullet, after taking second in the Suburban Handicap and Hawthorne Gold Cup (both gr. II) in his first U.S. starts. Returning to action as a 5-year-old, Lido Palace enjoyed another good year, capturing a second Woodward Stakes and the Clark Handicap (gr. II), and taking second in the Jockey Club Gold Cup (gr. I) and Suburban Handicap (gr. II) and third in the Whitney Handicap (gr. I).
Lido Palace retired to stand at Lambholm South in Reddick, Fla., for the 2004 breeding season. From his first crop, 3-year-olds of 2008, he has been represented by Down for Double, winner of the Copa 4 de Julio (PR-I) in Puerto Rico.
Lynne Scace combines training duties with co-ownership of Double-S Farm in Ocala, and she also bred Vineyard Haven's dam and granddam, Princess Aloha and Prestigeous Lady. Vineyard Haven is Princess Aloha's third foal. The first, a Lite the Fuse filly called Lulu Cascade, was unraced, but the second, Lulu Cascade's full brother, On the Vineyard, won the Collegian Stakes at Suffolk Downs last year, again representing Scace as owner, breeder and trainer.
Princess Aloha (by Aloha Prospector, a son of the Mr. Prospector stallion Native Prospector) won two of her eight starts, taking a six-furlong maiden special weight at Monmouth by eight lengths and ended her career with a head score in a non-winners of two allowance event at Saratoga. Princess Aloha's dam, Prestigeous Lady, was foaled in Maryland and was by the local sire Bold Josh (a son of Tentam). She broke her maiden at the Meadowlands in her sole race at 3, and won three allowance events at Rockingham Park, but ended her career finishing off the board in a $4,200 claiming event at Atlantic City.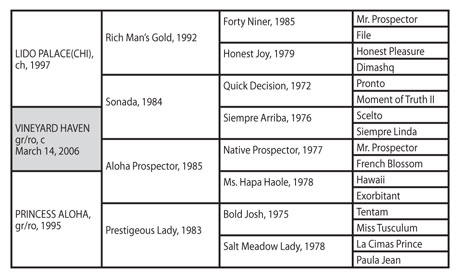 Vineyard Haven's third dam, the unraced Salt Meadow Lady, was bred in New York and was by La Cimas Prince, a stallion that I confess I had never previously heard of. A little research reveals that La Cimas Prince ran eight times, and won twice for earnings of $16,760. He was a son of another relatively obscure sire, the Saranac Handicap winner La Cima (by Reneged, from the now-defunct Blue Larkspur sire line). The female line goes back to the English-foaled mare Jean K.M., the third dam of Salt Meadow Lady. By the brilliant sprinter Abernant (GB) (who incidentally is the source of Vineyard Haven's gray coat), Jean K.M. was half-sister to the English listed winner Oserian (GB). Remarkably, Bright Crest (GB), the dam of Jean K.M. and the seventh dam of Vineyard Haven, holds the distinction of being the most recent mare in the direct female line to produce a black type winner, prior to the appearance of Vineyard Haven and On the Vineyard. In fact, there is not even a previous black type horse descending from Vineyard Haven's first six dams.
A few weeks ago, when we looked at the pedigree of Arlington Million (gr. I) winner Spirit One, we found that his dam, a multiple stakes producer from a family that had failed to produce a black type winner for several generations, had an unusual build-up of key strains. It is possible to observe something similar in the background of Vineyard Haven's tail-female line. His sixth dam, Jean K.M., was inbred 3 x 3 to Hyperion (GB), English Derby winner and several times champion sire and damsire. Her daughter Island House had Hyperion's dam, Selene (GB), 4 x 5 x 5. Vineyard Haven's fourth dam, Paula Jean, had Hyperion 4 x 5 x 5, and Selene 5 x 5 x 5 x 6 x 6 (once through Hyperion's similarly-bred half-sister All Moonshine). La Cimas Prince, Bold Josh, and Aloha Prospector, sire of Vineyard Haven's third, second and first dams, all add more Hyperion (in the case of Bold Josh, through Tudor Minstrel, a close relative to Jean K.M.'s sire, Abernant) and Princess Aloha also has double of Polynesian (a grandson of Hyperion's half-brother, Sickle). Of course, by now the strains of Hyperion and Selene have become pervasive in the breed, so it is very difficult to assert that this build-up, even if of unusual degree, is the key influence in the pedigree of Vineyard Haven, and to substantiate what strains in the pedigree of Lido Palace might have acted as a catalyst.
When we look at the cross that produced Vineyard Haven, we can note that he is by a Mr. Prospector-line stallion out of a Mr. Prospector-line mare. In general, the pattern crossing a mare with a stallion from her own male line tends to yield results which are below opportunity. There are exceptions, however, and the negative impact of the pattern tends to lessen as the subject horse recedes further into the pedigree, and the branches of the male line begin to diversify. Vineyard Haven has Mr. Prospector 4 x 4, and we can note that Lido Palace's sire, Rich Man's Gold, has achieved above-opportunity results with Mr. Prospector-line mares. In fact the mating that produced Vineyard Haven was rated B+ by TrueNicks (regard by this system as a very strong rating) even prior to Vineyard Haven's win, and it now registers an A.