At first glance, the grade II rating for this year's Futurity Stakes at Belmont Park seems something of a gift, considering that most of the field could have been entered in a "non-winners of one other than maiden or claiming" allowance. But the professionalism with which Mr. and Mrs. W. K. Warren Jr.'s Charitable Man won the race supports the idea that he is a pretty nice colt regardless of the strength of his competition.
Charitable Man has a pedigree constructed on a reverse plan to the classic American speed-over-stamina cross, for his fifth dam, 1986 KTOB Broodmare of the Year Too Bald, had speed to burn. A two-time winner of the seven-furlong Barbara Fritchie Handicap, Too Bald knew just one way to run — full out from the start, making her a confirmed sprinter. Her lack of staying ability was something of a surprise, given that her sire, 1960 champion handicap male Bald Eagle, had won in top company at up to 16 furlongs, and her dam, Hidden Talent, was a Kentucky Oaks winner. Nonetheless, Too Bald appeared to be a throwback to her great-granddam, 1946 Irish champion juvenile filly Lady Kells (IRE), who never won beyond five furlongs.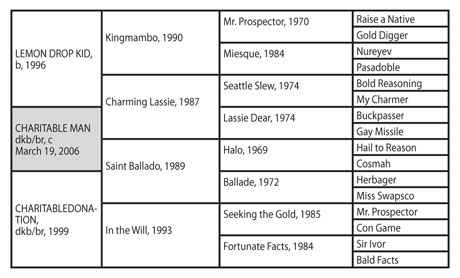 As a broodmare, however, Too Bald possessed not only the invaluable ability to pass on speed but the ability to blend it with stamina transmitted by her mates. She produced five stakes winners, ranging from the sprinter American Standard (by In Reality) to the juvenile champion Capote (by Seattle Slew) to the excellent stayer Exceller (by Vaguely Noble). She was also a good dam of sires, as both Capote and Baldski (by Nijinsky II) had solid stud records.
Too Bald's colts were much superior to her daughters as racers, but the breeding shed proved something of an equalizer. Her daughter Blazon (by Ack Ack) produced the good English hurdler Battalion (by Vaguely Noble) and is the second dam of multiple grade III winner D'Hallevant (by Ogygian), while her stakes-placed daughter My Song For You (by Seattle Song) produced 1997 Arlington Heights Oaks (gr. III) winner Minister's Melody (by Deputy Minister), dam of 2006 Wood Memorial Stakes (gr. I) winner Bob and John (by Seeking the Gold).
Bald Facts, a full sister to American Standard, was also a successful broodmare, producing 1999 William P. Kyne Handicap (gr. III) winner General Royal (by A.P. Indy) and listed stakes winner Fortunate Facts (by Sir Ivor). The last-named filly also became a stakes producer, throwing the Japanese stakes winner Admire Mambo (by Kingmambo). Her winning daughter In the Will (by Seeking the Gold), in turn, produced the listed stakes winner Charitabledonation (by Saint Ballado), dam of Charitable Man.
Bred in Virginia by Edward P. Evans, Charitable Man is the 31st stakes winner for 1999 Belmont Stakes (gr. I) winner Lemon Drop Kid, whose stallion career seems to have come around nicely after a slow start. The champion older male of 2000, Lemon Drop Kid was best known for his prowess at distances of nine furlongs and up but came to hand quickly enough to win the 1998 Futurity Stakes (gr. I) and run second in the Champagne Stakes (gr. I).
A handsome, rangy individual, Lemon Drop Kid is an extremely well-bred horse. A son of 1993 Dubai Poule d'Essai des Poulains (French Two Thousand Guineas, Fr-I) winner Kingmambo — himself by Mr. Prospector out of multiple champion and multiple Classic producer Miesque — he is out of Charming Lassie, a daughter of Seattle Slew and a member of one of the finest families on the planet, that of Missy Baba. A winning half-sister to four stakes winners including 1993 European champion sprinter Wolfhound (by Nureyev) and 1992 KTOB Broodmare of the Year Weekend Surprise (by Secretariat), Charming Lassie is very closely related to 1992 Horse of the Year and two-time leading sire A.P. Indy (by Seattle Slew–Weekend Surprise). Her other produce include 1998 Railbird Stakes (gr. II) winner Brulay (by Rubiano) and 2002 Coventry Stakes (Eng-III) winner Statue of Liberty (by Storm Cat).
Given that Lemon Drop Kid possessed such a tremendous pedigree and had been a grade I winner at 2, much was hoped from him early on. His early record was somewhat disappointing, however. Although six of his initial crop of 58 foals have won stakes, the only graded stakes winners among them are multiple grade III turf winner Cosmonaut (whose first graded win did not come until age 4) and Lemon Maid, winner of the 2005 Duchess Stakes (Can-III).
But just as Lemon Drop Kid was beginning to be written off as a disappointment, his 2003 crop started making noise. His son Bear's Kid struck first, winning the 2005 Summer Stakes (Can-II), and Lemons Forever became her sire's first grade I winner by taking down the 2006 Kentucky Oaks. She was followed by Malakoff (Marine Stakes, Can-III) and minor stakes winner Kiss the Kid and Citronnade. While Lemons Forever faded after her Oaks win, Citronnade developed into a grade I winner in 2007. The same year, Christmas Kid added another grade I win by winning the Ashland Stakes.
So far, Lemon Drop Kid, who stands at Lane's End Farm, has sired 8% stakes winners from 383 foals of racing age, of which 50 are juveniles of 2008. He sires a fair measure of stamina, and if he does not get much precocity (only 11% of his foals have won as juveniles), he does get horses that can win quality races if given some time to develop. He has yet to sire a male grade I winner, but if Charitable Man continues to develop in the right direction, that hole in his resume may soon be filled.