by Alan Porter
Susan Moore and M and M Thoroughbred Partners are having an extraordinary year. They already had an outstanding 3-year-old filly in the shape of Zaftig, who defeated Indian Blessing for the Acorn Stakes (gr. I) in June, and now they also have a very promising juvenile in the shape of Doremifasollatido, winner of the Matron Stakes (gr. II) held Sept. 13.
A New York-bred, Doremifasollatido ran against state-breds in her first two starts, finishing second by a neck on her debut then scoring by six lengths July 4. On her only other outing prior to the Matron, Doremifasollatido broke slowly but recovered to take second, seven lengths behind Mani Bhavan, in the Adirondack Stakes (gr. II).
Doremifasollatido's sire, Bernstein, also showed considerable ability at 2. In fact, early in his racing career Bernstein had the reputation of a champion in the making. A $925,000 weanling purchase, he was sent to Ireland to be trained by Aidan O'Brien, and captured his first two starts — a maiden event and the Anheuser Busch Railway Stakes (Eng-III), both over six furlongs — in effortless fashion. At that stage the superlatives were flying freely; he was compared favorably with King of Kings (IRE), O'Brien's highweighted 3-year-old and Sagitta Two Thousand Guineas (Eng-I) winner of a couple of years earlier. O'Brien called him "very special," mentioning that "it's a big problem to get horses to lead him even cantering." Michael Tabor, joint-owner of both Bernstein and Fasliyev — who ultimate reigned as that season's undefeated champion 2-year-old — was unhesitating in saying that he preferred Bernstein as his Two Thousand Guineas prospect.
Bernstein was to start only one more time that year. For the one-mile Aga Khan National Stakes (Eng-I), he was sent off as 4/11 favorite, but on very soft ground could do no better than finish a tired fifth behind Sinndar (IRE). Perhaps the hard race, which came 12 weeks after his previous start, left its mark on Bernstein, for he never subsequently threatened to attain the level of performance that he had once seemed capable of achieving. He debuted at 3 in the Two Thousand Guineas, but finished twenty-sixth of 27 runners, more than 40 lengths behind the winner King's Best. Off the course for over three months, Bernstein returned to capture a six-furlong condition race at Ascot by a neck. Brought back to five furlongs, and equipped for the first time with a visor, Bernstein next challenged for the Victor Chandler Nunthorpe Stakes (Eng-I), but was never able to go the pace, finishing eleventh of 13. Bernstein did return to winning form in the Coolmore Stud Home of Champions Concorde Stakes (Eng-III), finishing well to get home a head to the good of the 4-year-old Cobourg Lodge (IRE). After this effort, the Breeders' Cup was initially mentioned as Bernstein's next goal, but when he did appear stateside, it was in the River City Handicap (gr. III). Here he finished fifth to another ex-European runner, Brahms, appearing not able to stay the nine-furlong trip.
That ended Bernstein's racing career, and for 2001 he retired to stand at Doug Arnold's Buck Pond Farm in Versailles, Ky., at a fee of $10,000. If Bernstein was an underachiever, relative to his potential, on the racetrack, the opposite might be said of his career at stud so far. This is not totally surprising, as he has a classic profile for a horse that overachieves at stud — raw talent that was never fulfilled, combined with a high-class pedigree. A son of Storm Cat, Bernstein is a brother to two other graded stakes winners, including Caress (also the dam of the grade I-winning Sky Mesa ), and a half-brother to classic-placed group winner Della Francesca. Another of Bernstein's half-sisters, Emmaus, produced the two-time graded stakes winner Wisemans Ferry, to Storm Cat's son Hennessy. Bernstein's dam, La Affirmed, is an Affirmed mare who is a similarly-bred half-sister to champion 2-year-old filly Outstandingly, and his third dam is a half-sister to Buckpasser.
Bernstein's first Northern Hemisphere crop — 3-year-olds of 2005 - numbered only 38 foals, of which all 38 have started and 31 have won. Seven of these captured stakes events, their number being headed by the Astarita Stakes (gr. III) victress Toll Taker; the Providencia Stakes (gr. III) winner Berbatim; and Rugula, a stakes winner who also ran second in the Fantasy Stakes (gr. II). Bernstein's early success led to him moving to Castleton Lyons near Lexington for the 2005 breeding season. (Incidentally, Bernstein's close relative, Wiseman's Ferry, moved from New York to stand alongside Bernstein in 2006). Bernstein had only 29 foals from his second year at stud, 44 in his third, and 50 in his fourth, but has added at least two stakes winners apiece from each of those crops. Doremifasollatido is from the first crop sired since Bernstein's successful freshman year and is from a group of juveniles that have already yielded 31 starters and 17 individual winners.
While Bernstein underwent a quieter period in the Northern Hemisphere, the story has been quite different in Argentina, where he has shuttled during the Southern Hemisphere season. There he has become a sensation and has already sired eight grade I winners, including Storm Mayor (ARG), twice winner of the Gran Premio Carlos Pellegrini (Arg-I), South America's most important race; champion miler Storm Military (ARG); and Savoir Bien (ARG), heroine of this year's Polla de Potrancas (Arg-I).
Doremifasollatido is out of Consider It Done, a Green Dancer mare who never raced but who has made an excellent start to her stud career. Her first named foal was the Runaway Groom filly Fortunate Damsel, won two stakes events, including the Pebbles Stakes (gr. III). Between Fortunate Damsel and Doremifasollatido, Consider It Done produced three other named foals, two of them winners. Consider It Done was one of only two foals produced by her dam, Consider the Lily, but the other, Lily's Affair (a daughter of Colonial Affair) won five stakes events and over $543,000.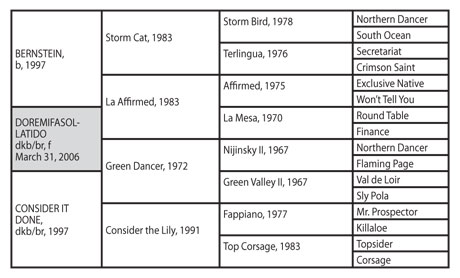 Consider the Lily won two of nine starts, but was an extremely well-bred mare. A daughter of Fappiano, she was out of Top Corsage, a Topsider mare who was a stakes performer every year from 2 to 6, and ended her career with a record of 15 wins in 53 starts and earnings of $1,110,028. She captured 12 stakes events, including the Spinster Stakes (gr. I), in addition to the Sixty Sails Handicap, California Jockey Club Handicap, Arlington Oaks, Falls City Handicap, Dahlia Handicap, and Pucker Up Stakes (all gr. III). Top Corsage's granddam, Rare Bouquet, an unraced daughter of Prince John, also produced Slewpy, who defeated Deputy Minister for the Meadowlands Cup (gr. I) and later became a good sire of sprinters, and the Oak Leaf Stakes heroine Fresh Pepper, and is ancestress of several other good winners, including the graded scorers Songster, Party Leader, Water Bank, Seafood, Ocean Crest, and Could Be.
Doremifasollatido is another of the growing multitude of good runners whose pedigrees combine the somewhat similarly bred Windfields Farm products Nijinsky II and Storm Bird. The direct Storm Bird/Nijinsky II cross has not been the most prolific version, but there are two other stakes winners by Storm Cat or his sons out of Green Dancer mares, the most notable being the Entenmanns Irish Two Thousand Guineas (Ire-I) winner Black Minnaloushe. Here the cross is probably assisted by the fact that Bernstein and Consider It Done are both Northern Dancer/Raise a Native crosses. In addition, Bernstein's granddam, La Mesa, is by Round Table out of a mare by Nasrullah, and so the product of the same cross that produced Drumtop, the dam of Topsider, sire of the third dam of Doremifasollatido.