For this year's sophomore filly championship, Seattle Smooth's upset of Proud Spell in the Fitz Dixon Cotillion Stakes (gr. II) was probably too little, too late; the divisional title will most likely be decided between multiple grade I winners Music Note and Proud Spell. But if family history means anything, the big filly's win in the Cotillion may be hinting at good things to come for the Mercedes Stables color bearer.
Seattle Smooth's family, a branch of Bruce Lowe Family 13, is descended from Helen Barbee, who is generally considered to be the champion older female of 1912. A winner of 42 of 109 starts, Helen Barbee earned her championship during the nadir of American racing — the New York racing blackout of 1911-1912 — but was nonetheless a tough and consistent runner who passed a good measure of her toughness on to her best daughter, Helen's Babe. Sired by the Dark Ronald horse Brown Prince II — also sire of 1927 Travers Stakes winner Brown Bud — Helen's Babe took on both males and females with equal aplomb while racing primarily in the Midwest and Kentucky, eventually winning 13 of her 78 starts (including seven stakes races) and placing in another 28. She was a better runner than broodmare, producing six minor winners from nine foals, but her winning daughter Rockabye Babe (by Supremus) continued the line through Flying Streak (by Royal Minstrel), winner of the 1940 Prairie State Stakes against colts as a juvenile.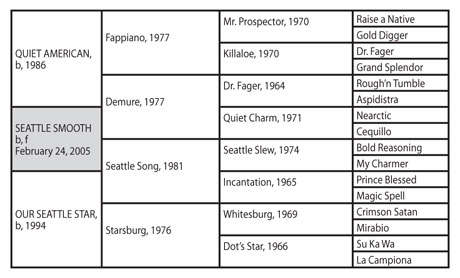 Flying Roman, Flying Streak's 1946 daughter by Roman, won once in six tries and produced 1957 Arkansas Derby winner Kentucky Roman (by Ky. Colonel) and 1959 Westchester Stakes winner British Roman (by Endeavour II). Her 1952 daughter by Revoked, La Campiona, was apparently sound enough, making 31 starts over three seasons, but failed to win. She did somewhat better as a broodmare, her seven winners from 10 foals including the minor stakes winner Dot's Star (by 1961 Kentucky Jockey Club Stakes winner Su Ka Wa, a son of 1956 champion juvenile male Barbizon).
Dot's Star spent most of her broodmare career being put to obscure sires, managing to produce one minor stakes winner in Bold Decision (by Handsome Boy). But in 1975, she visited the useful Crimson Satan horse Whitesburg. The resulting filly, Starsburg, placed in four restricted stakes races for Ohio-breds before a broodmare career in which she produced 100% winners from starters, among them the multiple Ohio-bred stakes winner Rare Star (by Rare Performer).
Three of Starsburg's top four earners were sired by Mr. Prospector-line stallions, which may have influenced the decision of breeders Dr. Oscar Benevides and Darley to send Starsburg's unraced daughter Our Seattle Star (by Seattle Song) to Quiet American. (Of course, considering that Quiet American is a Darley stallion, availability may also have been a factor.) Whatever the reason behind the mating, the choice proved a good one. Not only has Seattle Smooth proved herself much the best of Our Seattle Star's six foals of racing age, but she generated a nice profit for her breeders as well, fetching $340,000 at the 2006 Fasig-Tipton Keeneland July yearling sale.
Now 22 years old, Quiet American is nearing the end of an honorable stud career that has so far seen him sire 48 stakes winners (6.9% of his foals of racing age), including 1997 U.S. champion older female Hidden Lake, 1998 U.S. champion 3-year-old male Real Quiet, and 2000 English/Irish highweight Warrior Queen. He has arguably been the second-best son at stud (behind 1990 champion 3-year-old male Unbridled) of the fine Mr. Prospector stallion Fappiano. He has also established a good reputation as a broodmare sire; of the 531 foals produced by his daughters worldwide, 29 have become stakes winners, including 2005 Horse of the Year Saint Liam and 2006 champion 3-year-old male Bernardini.
Winner of the 1990 NYRA Mile (gr. I), Quiet American has one of the most closely inbred pedigrees among active sires. Not only does the great racer and sire Dr. Fager appear 3 x 2 in his pedigree as the broodmare sire of Fappiano and the sire of Quiet American's dam, Demure, but Quiet American is also inbred 4 x 3 to the important broodmare Cequillo, who is the granddam of Fappiano's dam Killaloe and of Demure. Killaloe and Demure are, thus, very closely related, being by the same sire out of daughters of the same mare. Such close inbreeding can bring out undesirable recessive traits in the offspring, but when it works with regards to performance — as it obviously did in Quiet American's case — it appears to have an above-average chance of producing a good breeding animal as well.
Quiet American was at his best as a 4-year-old, and the family descended from Helen Barbee has featured a number of individuals that did very well as older runners, including 1953 champion handicap female Sickle's Image, 2003 Chilean multiple champion mare Wolanstonita, and 1986 Bowling Green Handicap (gr. IT) winner Uptown Swell; it is also the family of two-time champion sprinter Housebuster.
Should Seattle Smooth remain in training and follow this part of the family tradition, she stands a good chance of being a major player in next year's older female division.