by Alan Porter
The 2-year-old racing calendar is in its early days yet, but it appears as if we might have a particularly promising group of freshmen sires. Lion Heart already has three stakes winners, including the Best Pal Stakes (gr. II) victor Azul Leon and the Sapling Stakes (gr. III) winner Silent Valor. Tapit is represented by Del Mar Debutante Stakes (gr. I) heroine Stardom Bound. Medaglia d'Oro is sire of the impressive Arlington-Washington Lassie Stakes (gr. III) winner C. S. Silk. Candy Ride (ARG) has the Sorrento Stakes (gr. III) victress Evita Argentina; Congaree 's trio of stakes winners includes Maoineach, successful in the Go and Go Round Tower Stakes (Ire-III) on her debut. Friend's Lake is sire of the Bashford Manor Stakes (gr. III) winner Screen Your Friend. And finally, Speightstown became the seventh U.S. freshman sire to be represented by a group/graded winner Sept. 20 when Lord Shanakill took the Dubai Duty Free Mill Reef Stakes (Eng-II).
Lord Shanakill is one of 10 juvenile scorers for Speightstown. The others include Munnings, who took third in the Three Chimneys Hopeful Stakes (gr. I) after stumbling at the start, Reynaldothewizard who was third in the Saratoga Special (gr. II), and Gemswick Park, who impressed with a 6 1/2-length maiden win at Belmont Park.
A quick look at Speightstown's race record might make his success with precocious 2-year-olds seem a little unexpected; he started only once at 2, finishing unplaced, and he didn't win a stakes event until he was six, the age at which he earned an Eclipse Award as champion sprinter. Looks can be deceptive, as the expression goes, and the reality is that Speightstown's career was interrupted by a number of injuries, including a hairline fracture to a shoulder that caused him to miss his entire 4-year-old season. In fact, Speightstown showed enough early talent to make his juvenile debut at Saratoga and had clearly impressed at home, as he started as the favorite. He wasn't able to live up to those expectations, however, and tired after racing greenly in the early stages. Away from the track until the following February, Speightstown returned to captured a six-furlong Gulfstream Park allowance race by 6 3/4 lengths. Third in an allowance event next time out, Speightstown then tried tougher competition in the Gotham Stakes (gr. III) at Aqueduct, but finished unplaced, almost certainly finding the mile beyond him. Shipped to Woodbine, Speightstown reeled off three allowance wins before returning to the U.S. for the Amsterdam Stakes (gr. II). There, he battled through torrid fractions of :21.69 and :44.6 before succumbing to City Zip, who beat him a length.
That was the last time that Speightstown was to appear in public for more than 21 months. When the now 5-year-old did reappear, it was in a seven-furlong allowance at Belmont Park in May 2003. In front early, he lost the lead but rallied gamely to score by a neck from Volponi (the upset winner of the previous year's Breeders' Cup Classic (gr. I)). Returning later the same month, Speightstown finished second in the Jaipur Handicap (gr. III) run over seven furlongs in the slop at Belmont.
Following that effort, Speightstown again went to the sidelines, this time until the following March. Returning in the Artax Handicap, he took his first stakes victory in decisive style, leading throughout to score by 4 1/2 lengths. This effort promised that the persistence of Speightstown's connections was about to be rewarded and on his next three starts Speightstown fulfilled that promise. The Churchill Downs Handicap (gr. II) saw him tally by 3 1/2 lengths in 1:21.38. He took the True North Breeders' Cup Handicap (gr. II) in 1:08.04, following fractions of :21.58 and :43.72, then went on to equal Saratoga's six-furlong mark while winning the Alfred G. Vanderbilt Handicap (gr. II). Speightstown's triumphant progress was interrupted in the Vosburgh Stakes (gr. I), where he finished third to the redoubtable Pico Central (BRZ) after stumbling at the start. He set the seal on his championship season in his only other outing, capturing the Breeders' Cup Sprint (gr. I) by 1 1/4 lengths.
If the potential for precocity was not immediately obvious from the bare bones of Speightstown's past performances, it certainly could have been implied from his pedigree. A $2 million yearling, Speightstown is by Gone West— whose 2-year-olds have included European champion Zafonic and grade I winners Grand Slamand Came Home — out of Silken Cat, a Storm Catmare who reigned as champion 2-year-old filly in Canada.
As for Lord Shanakill, the $110,000 Keeneland September Yearling purchase has not only proved to be very precocious, but also extremely tough. He made his debut April 18, finishing third in a five-furlong maiden. After taking a six-furlong maiden race at York, Lord Shanakill then ran a good third in the Coventry Stakes (Eng-II) over the same distance at Royal Ascot. Beaten 1 1/4 lengths into second in the seven-furlong Veuve Clicquot Vintage Stakes (Eng-II) at Goodwood, Lord Shanakill then traveled to France, where he took third in Darley Prix Morny (Fr-I). Just eight days before his Mill Reef Stakes (gr. II) victory, Lord Shanakill was dropped back to five furlongs for the Polypipe Flying Childers Stakes (Eng-II). A little outpaced over this shorter trip, Lord Shanakill had some troubling finding an opening, but finished well when clear to take fifth, but beaten just 2 1/2 lengths.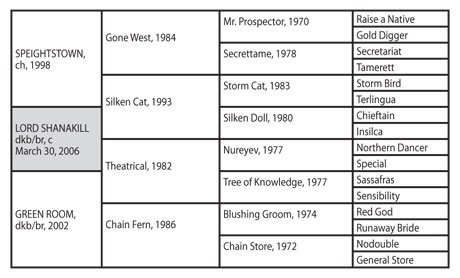 Lord Shanakill is the first foal of his dam, Green Room. She was unraced, but owns an attractive pedigree. A daughter of Theatrical(IRE), Green Room is a half-sister to the Yellow Ribbon Stakes (gr. I) winner Spanish Fern and to Rusty Back, dam of the Santa Anita Handicap (gr. I) victor Heatseeker (IRE) (by Giant's Causeway, a son of Speightstown's maternal grandsire, Storm Cat). Another half-sister to Green Room, the El Gran Senor mare Woodwardia, produced Italian listed winner Gran Zamir (GB) when bred to Zamindar, a son of Speightstown's sire, Gone West.
Lord Shanakill's granddam, Chain Fern, was unraced but is by Blushing Groom (FR) out of Chain Store, a Nodouble mare who won the Rare Treat Handicap at Aqueduct and subsequently became an outstanding producer. The best of her three stakes winners was Chain Fern's sister Al Bahathri, winner of the Goffs Irish One Thousand Guineas (Ire-I) and herself dam of three stakes winners, including the Ultimatebet.com Two Thousand Guineas (Eng-I) victor Haafhd (GB). Chain Store is also dam of the Diana Handicap (gr. II) and Violet Handicap (gr. III) winner Geraldine's Store, and ancestress of numerous other black type winners, including the group and graded winners Munir (GB) (out of Al Bahathri), Almaty (IRE), Democratic Deficit (IRE), Jibboom, Early March (GB), Radevore (GB), and Lateen Sails (GB).
Lord Shanakill is rated A by TrueNicks and is the second group winner sired by a son of Gone West out of a Theatrical mare, following Crossharbour (GB), winner this spring of La Coupe (Fr-III). Crossharbour is by Zamindar, who is bred along similar lines to Speightstown, as he is out of a mare by The Minstrel, a horse with a similar background to Storm Cat's sire, Storm Bird. Zamindar is also sire of Darjina (FR), winner last year of the Poule d'Essai des Pouliches and Qatar Prix du Moulin de Longchamp (both Fr-I) out of a mare by Zilzal, a son of Northern Dancer's great son Nureyev.
It will be no surprise if Speightstown turns out to be well-suited by Northern Dancer-line mares in general because breeding a stallion back to a mare from his own broodmare sire line often seems to work well, Speightstown's is Storm Cat/Storm Bird/Northern Dancer. Apart from being a son of a stallion who crossed well over a wide variety of Northern Dancer-line mares, Speightstown is inbred 3 x 4 to Secretariat, with his Northern Dancer strain sitting between that inbreeding. Duplicating horses that are situated between close inbreeding — as is Northern Dancer in this case — frequently pays dividends.